While we are happy to report the rebirth of the Cagiva brand, and the pending launch of MV Agusta's new Brutale 1000, we do have some bad news to report from Italy, as this will be the last year of the MV Agusta F4 superbike, for quite some time.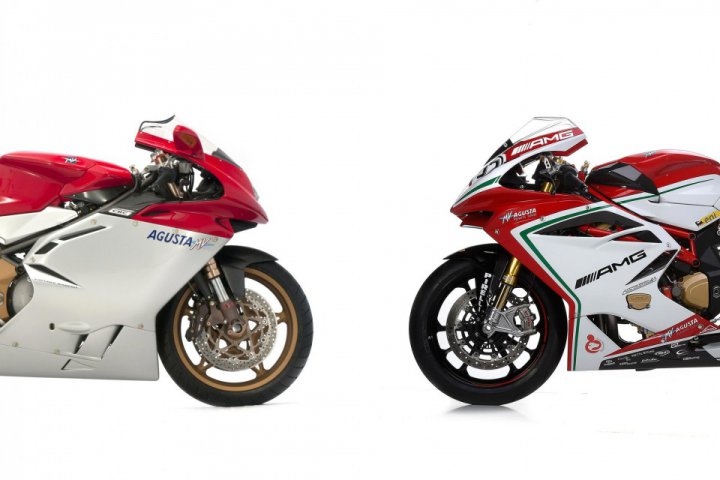 While the Italian brand plans to debut three new models from its four-cylinder platform over the next three years, the company's superbike offering will be the last to be revitalized.
As such, the Brutale 1000 will debut this year as a 2019 machine, a "neo-classical" bike will debut next year as a 2020 machine, and a new "F4" will debut a year after that, as a 2021 model year bike.

This news is about to get worse, before it gets better, so let me explain further.

Lower Emissions and Lower Sales

The crux of the situation comes from the mandate for Euro4 homologation, as the current MV Agusta F4 superbike does not meet. Operating on an emissions waiver right now, MV Agusta will have to stop selling the F4 at the end of the year, which creates a difficult situation.

Combine that issue with the decline in superbike sales, coupled with the delays made by MV Agusta's financial troubles, and a new F4 superbike gets shuffled to the back of the pack, which also means that its model revision will not come before its emissions waiver lapses.

"Sport bikes are a very niche market. We will have it, because it's our flagship, but the F4 will finish this year [2018]. This is the last year for the F4," MV Agusta CEO Giovanni Castiglioni told us.

"So we stop that, we will phase-out, and we will start the new inline-four with naked and neo-classical."

MV Agusta's priority right now with its four-cylinder platform is to produce the new Brutale 1000, and then follow it up with a Dragster-esque model, also built off the new four-cylinder engine.

With one new model per year, this means that the next MV Agusta F4 superbike will come as a 2021 model, likely debuting at the 2020 EICMA show in Milan, Italy.

"Strategic-wise, after we phase out the product, it's going to take time-to-market for like a couple years. There will be a 2019 and 2020 without a superbike. But, it is our decision…just because we want to make something different," explained Castiglioni.

Wait, It Gets Worse

Because of this, MV Agusta will also be leaving the World Superbike Championship, with the current season possibly the last for the foreseeable future. The 2019 season seems up in the air for MV Agusta, but the 2020 season is definitely out.

"We will race this year in Superbike, and potentially next year, yes. The year after, I don't know if its so convenient or interesting – or potentially even next year. We'll see," explained Castiglioni.

MV Agusta will likely continue racing in the World Supersport Championship however, with the MV Agusta F3 675 showing strong results last season with American PJ Jacobsen at the helm (6th overall, with three podiums).

It is possible that we won't see MV Agusta return to the World Superbike Championship, though that takes some explaining to understand.

"First, I don't think that the Superbike Championship is very popular. Second, I don't think there is a link between how much you win and how much you sell – that's proven."

"Therefore, I believe that it's not necessary to race in order to make something very good for the street. And last, how we want to think about the project, we would like to take into the market new technology and new applications, which is something that a big manufacturers may not do."

The Silver Lining

As hinted, it is not all bad news for superbike fans, however. MV Agusta CEO Giovanni Castiglioni revealed to us his plan for the future F4 models, and it is certainly an interesting proposition.

Looking to build superbikes that are not constrained by arbitrary rules for production racing, MV Agusta will pivot its superbike offering into a more halo bike category, with the next-generation of the F4 being more of a one-liter hyperbike than a one-liter superbike.

This means that MV Agusta can play with new technologies and materials that would have been unviable or illegal under current superbike regulations.

"We are developing something that is a bit unconventional," said Castiglioni. "Maybe it could be criticized. But, we are not looking to develop a superbike with the mentality of what is the World Superbike regulation. We need something cool."

"I think there is a lot of technology and new applications of engines, of combustion, electrics, or hybrids, that can be applied to the motorcycle world, but nobody is doing it. I think that's what MV should explore. This is what our clients expect from us, and we can make it, so this is why we moved on."

"It's not that we don't believe in that market. We believe we can do something different," he finished.

While Castiglioni is reluctant to get behind an electric sport bike model, the Italian sees a future for hybrid powerplants, which could use electric motors in supplementary way to augment power delivery.

This could mean seeing MV Agusta using electric drivetrain technology in performance hybrid application, like the "push-to-pass" or KERS technology that we have seen used successfully in Formula One.

"Hybrid, that is combustion and goes 350hp with a push of a button…that's cool, like KERS," exclaimed Giovanni.

The idea of a "superbike" that could have 300hp at the push of a button is certainly intriguing, and perhaps it is the shot in the arm that has been missing from the sport bike category, as of late.

Using the newest technology, and the most exotic materials, the next-generation MV Agusta F4 will certainly not be cheap, but it has an opportunity to be one of the more lusted after models from this historic Italian brand.

As we have seen from bikes like the Ducati 1299 Superleggera and Kawasaki Ninja H2/H2R – there certainly is a market for these ultra-premium, ultra high-tech machines.

"If we do it, and it is something that complies with regulations to race then perfect, and if it doesn't, then at the end of the day our clients are not run by that. They are more run by that 'my bike makes 300hp and makes fires.'"

Claudio

If this new F4 superbike is the sequel to MV Agusta's fabled superbike narrative, then the current story needs a final chapter. For that, there will be a "Claudio" edition of the current MV Agusta F4 superbike, which will be the most premium version of the F4 superbike yet.

"We will sell the F4 with a 'last bike' edition – it's very, very limited. It's basically Leon Camier's bike for the street, and it's a tribute to my dad, because that's the bike he did," explained Giovanni Castiglioni, giving a nod to the history of the original F4, which ended with a "Claudio Castiglioni" edition.

A WorldSBK-spec race bike with lights, Giovanni Castiglioni would later tell us that the F4 "Claudio" will have carbon fiber wheels, and a bevy of other top-of-the-line pieces, as an honor to his father, the late Claudio Castiglioni.

As such, we expect pricing to be stratospheric, and quantities to be minuscule, just like the original MV Agusta F4 CC, which also bore the elder Castiglioni's name.

A swan song for the current F4, we will have a considerable wait for its encore, which should only make the "Claudio" edition more sought after by collectors.

Source: MV Agusta .
Text courtesy of:asphaltandrubber.com