Michael Dunlop topped Friday's evening practice session for the 2018 Isle of Man TT. The Northern Irish enigma rider became quicker than any other rider with his first flying lap at a 132.331. But he didn't stop. Dunlop on his S1000RR continued to set a 132.659 and a 132.983, so the third lap was the fastest in the evening.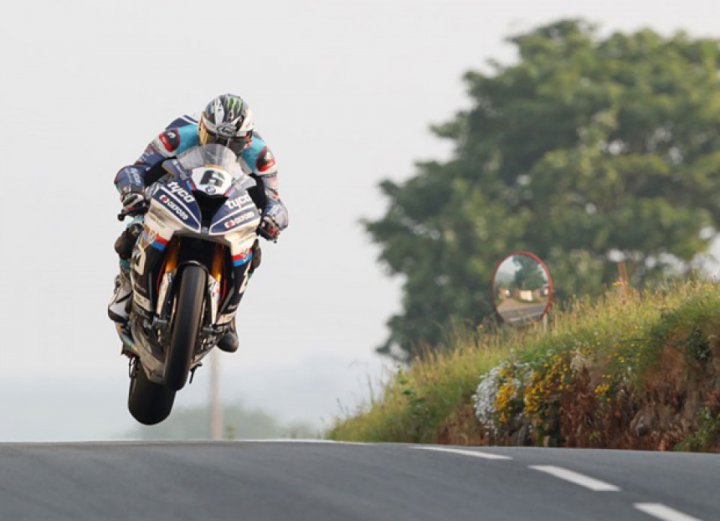 In addition to the evening's record, Michael Dunlop also set the unofficial record for the Cronk ny Mona to Grandstand sector at 57.945s.
Dean Harrison on his Kawasaki ZX10RR was second with a 17m10.107s at 131.858mhp, also showing the quickest time on the third lap. Nevertheless, Harrison still holds the title of the fastest man of the week.
JG Speedfit Kawasaki's James Hillier took the third position with a lap of 130.644mph. David Johnson, Gulf BMW rider, set a 130.097 and ended the session fourth. Padgett's Racing ace Conor Cummins completed the top five of fastest riders with his 129.461mph.
Smith's Racing rider Peter Hickman was pretty happy with his performance on the Superbike on Thursday, so he focused exclusively on his Superstock session. As a result, Hickman topped the Superstock timesheets with a 130.829 ahead of the two Johnsons – Aussie Davo and Gary – who set a 127.562 and 127.360 respectively.
Bathams BMW's Michael Rutter went fourth with a 127.040, with last year's Superstock race winner Ian Hutchinson above (125.020), completing the Superstock top five on his Honda.
In the Supersport class, McAdoo Racing's James Cowton was the top runner on his ZX-6R with a lap of 123.378mph in 18m20.911s. Gary Johnson went second quickest with a 122.874. Adam McLean (121.473mph) shadowed him on the timesheets. Michael Evans (Wilcock Consulting) and newcomer Davey Todd on the Cookstown Burrows Engineering bike rounded out the top five.
As it was the final practice, let's remind the top 10 from all the sessions in each class.
Superbike Qualifying – All Sessions – Top 10
1. Dean Harrison – Kawasaki – 133.462
2. Michael Dunlop – BMW – 132.983
3. Peter Hickman – BMW – 132.806
4. Dan Kneen – BMW – 132.258
5. Conor Cummins – Honda – 131.175
6. James Hillier – Kawasaki – 130.644
7. David Johnson – BMW – 130.097
8. Michael Rutter – BMW – 129.583
9. Joshua Brookes – Norton – 129.174
10. Philip Crowe – BMW – 128.491
Supersport Qualifying – All Sessions – Top 10
1. Dean Harrison – Kawasaki – 125.797
2. Michael Dunlop – Honda – 125.741
3. Conor Cummins – Honda – 125.152
4. James Hillier – Kawasaki – 124.919
5. Dan Kneen – Honda – 124.703
6. Peter Hickman – Triumph – 124.447
7. Ivan Lintin – Kawasaki – 124.376
8. Joshua Brookes – Yamaha – 123.718
9. James Cowton – Kawasaki – 123.378
10. Lee Johnston Honda – 123.367
Superstock Qualifying – All Sessions – Top 10
1. Peter Hickman – BMW – 130.829
2. Dean Harrison – Kawasaki – 130.553
3. Conor Cummins – Honda – 129.584
4. David Johnson – BMW – 129.202
5. Dan Kneen – BMW – 129.140
6. Lee Johnston – Honda – 128.288
7. James Hillier – Kawasaki – 128.110
8. Michael Dunlop – BMW – 128.012
9. Jamie Coward – BMW – 127.554
10. Gary Johnson - Kawasaki - 127.360