It was the most spectacular MotoGP race of the 2018 season. Six different leaders, representatives of four factories – Ducati, Yamaha, Suzuki and Honda – were fighting at Assen.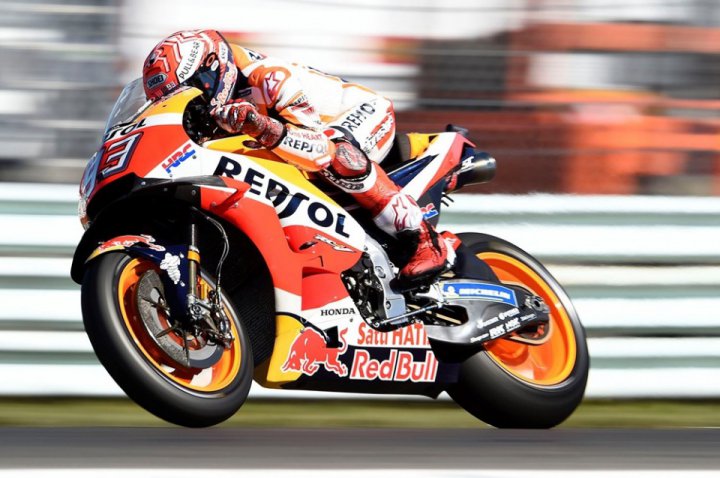 Such battles we used to watch in Moto3, but not in MotoGP. Change of positions in each turn, mistakes, risk, rapid passageways… Valentino Rossi, Marc Marquez, Alex Rins, Jorge Lorenzo, Andrea Dovizioso, Johann Zarco and Cal Crutchlow… double dueling, triple dueling, beautiful passes, dirty passes, failures and attempts to improve. But there was only one winner, and bookies named him on Friday – Marc Marquez.
Jorge Lorenzo (Ducati Team), who showed one of the fastest "clean" laps during the qualifying session, was the tenth on the grid, but made a sensational getaway to exit the Strubben in second. Poleman Marquez tried to get away from the rivals, but failed! He became embroiled in battle with Lorenzo, Dovizioso, Crutchlow, Rossi and Rins. Lorenzo passed his future Repsol Honda teammate later on the opening tour, helped by his unorthodox soft front tire selection, and became the leader on the second lap. Rossi then made his first attack of the race at the final chicane, passed Marquez and set off after Lorenzo.
Valentino Rossi followed Lorenzo so closely, that the Spaniard then suffered a moment soon after. Rossi smashed into the rear of the Ducati, unable to avoid him. The blow was so strong that Rossi broke Jorge's carbon black box under the tail of Desmosedici. Both riders somehow survived without losing places.
Later Andrea Dovizioso passed into the top three, Rins attacked Marquez and the two were only a hair's breadth apart – no contact, but the reigning Champion suffered a big moment as he got back on the gas. It saved the situation. An accident was considered by stewards, but they decided, that there was no intention from Rins. Marquez lost three positions, but soon after this unpleasant moment returned to press the offender.
There were no laps without leading changes. And it was repeated many laps in a row. Then the turning point happened three laps before finish. After all failures, that happened in this race, Marquez managed to speed up. He broke away from rivals and after passing only one lap he had a 1.7-second advantage. His way back was for the lead at least. After one of the closest, most spectacular races in the history of the world's oldest motorsport Championship, the reigning Champion was able to pull clear to take a stunning fourth win of the year – and increase his points lead.
Dovizioso, Rossi, Rins and Viñales lost any chances to win the race, but the battle behind wasn't over. Rins made the most important attack since the race started and managed to finish second, ahead of Maverick Viñales by just 0.04 seconds.
Dovizioso dropped to fourth. Rossi was ruled out of victory contention when he ran wide at Turn 1, which dropped him on the fifth position. The top five was followed home by Crutchlow and Lorenzo, with Zarco, Alvaro Bautista (Angel Nieto Team) and Andrea Iannone (Team Suzuki Ecstar) completing the top ten at Assen TT race.
Results:
1. Marc Marquez ESP Repsol Honda (RC213V) 41m 13.863s
2. Alex Rins ESP Suzuki Ecstar (GSX-RR) 41m 16.132s
3. Maverick Viñales ESP Movistar Yamaha (YZR-M1) 41m 16.171s
4. Andrea Dovizioso ITA Ducati Team (GP18) 41m 16.285s
5. Valentino Rossi ITA Movistar Yamaha (YZR-M1) 41m 16.826s
6. Cal Crutchlow GBR LCR Honda (RC213V) 41m 17.739s
7. Jorge Lorenzo ESP Ducati Team (GP18) 41m 18.325s
8. Johann Zarco FRA Monster Yamaha Tech3 (YZR-M1) 41m 20.864s
9. Alvaro Bautista ESP Angel Nieto Team (GP17) 41m 21.404s
10. Jack Miller AUS Pramac Ducati (GP17) 41m 26.919s
11. Andrea Iannone ITA Suzuki Ecstar (GSX-RR) 41m 28.118s
12. Pol Espargaro ESP Red Bull KTM Factory (RC16) 41m 29.739s
13. Aleix Espargaro ESP Factory Aprilia Gresini (RS-GP) 41m 29.849s
14. Scott Redding GBR Factory Aprilia Gresini (RS-GP) 41m 29.882s
15. Dani Pedrosa ESP Repsol Honda (RC213V) 41m 29.906s
16. Tito Rabat ESP Reale Avintia (GP17) 41m 30.279s
17. Bradley Smith GBR Red Bull KTM Factory (RC16) 41m 42.936s
18. Hafizh Syahrin MAL Monster Yamaha Tech3 (YZR-M1)* 41m 47.687s
19. Takaaki Nakagami JPN LCR Honda (RC213V)* 41m 47.900s
20. Thomas Luthi SWI EG 0,0 Marc VDS (RC213V)* 42m 1.716s
— Danilo Petrucci ITA Pramac Ducati (GP18) DNF
— Xavier Simeon ESP Reale Avintia (GP16)* DNF
— Karel Abraham CZE Angel Nieto Team (GP16) DNF
Nothing has changed in Top 4 in the World Championship after Assen, except numbers, and Rossi became 14 points further from the chance to get the tenth title:
The championship results:
1. Marc Marquez (Repsol Honda) – 140 points
2. Valentino Rossi (Yamaha Factory) – 99 points
3. Maverick Viñales (Yamaha Factory) – 93 points
4. Johann Zarco (Yamaha factory) – 81 points
#MotoSport #Race #Sportbike