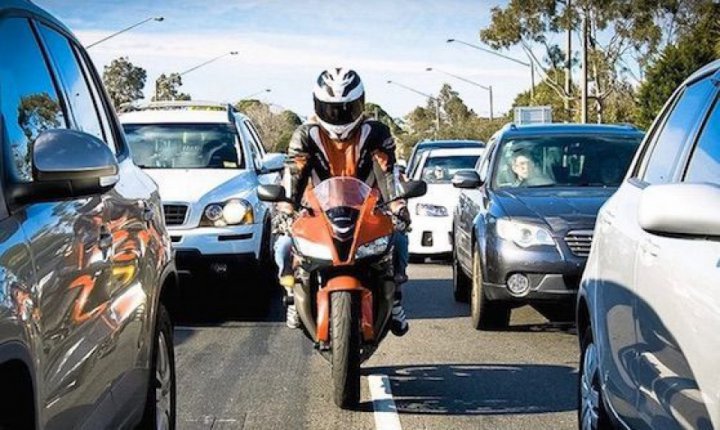 Filtering photo via Motorbike Writer
Toronto is the first city in Canada to adopt road use and parking provisions to encourage motorcycle use and enhance motorcyclist safety!
On June 26, 2018 a miracle happened in the City of Toronto, three policy changes will enforce designated parking for motorcycles, allow motorcycles to use lanes reserved for buses and taxis and allow motorcycles to filter to the front between stopped vehicles, up to the stop line!
The Proposal
City Council request the General Manager, Transportation Services, in consultation with the Toronto Parking Authority, to report to the Public Works and Infrastructure Committee on:
expanding the number of dedicated motorcycle parking zones;
the enforcement of motorcycle only parking within those parking zones; and
the revenue implications from the ticketing of prohibited vehicles within those zones.
City Council request the General Manager, Transportation Services, to report to the Public Works and Infrastructure Committee on expanding the Designated Class of Vehicles permitted to use the reserved lanes on the following streets to include motorcycles:
Bay Street, from Front Street West to Bloor Street East; and
Don Valley Parkway, from Lawrence Avenue East to north of York Mills Road.
A pilot project along busy Richmond Street and Adelaide Street corridors would allow motorcycles to filter between stopped vehicles, up to the stop line at controlled intersections where a stop signal is active, and only along lane boundaries that are not adjacent to any curb or pedestrian walkway, with implications for minimizing the risk of rear or front end collisions, and the overall flow of traffic.
Credit to Rider Training Institute (RTI)
The proposals were developed by Rider Training Institute (RTI) a national not-for-profit association that offers comprehensive motorcycle licensing and skills development training programs throughout locations across Ontario.
This is extremely exciting news because it represents a commitment from the city to create reports on how these three items can be accomplished.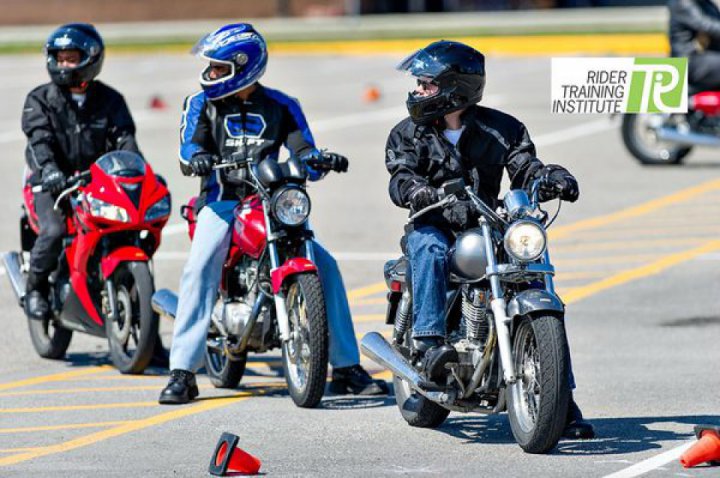 The proposal was made by Rider Training Institute (RTI); Course pictured at Central North York

Lane filtering allows motorcycles to move to the front of the line
Filtering is when motorcycles move between cars stopped at a red light to get to the front of the line at stop light. Once the light turns green, the motorcycle can move ahead of traffic. It's not Lane Splitting, which allows motorcycles to ride between vehicles moving on the road.

Filtering reduces rear end collisions
Filtering is actually all about safety. The infamous 1981 Hurt Report states that most common motorcycle accident is a rear end collision. When motorcycles are stopped at lights, something about their small size results in many drivers not approximating space correctly and rear-ending motorcycles. Filtering greatly reduces this threat when stopped at lights. Filtering also reduces congestion and keeps riders cooler because they spend less time waiting in traffic.

Legislation will support getting more motorcycles on the road
There are a lot of hurdles that we have to clear but these proposals position Toronto as a leader in promoting motorcycles as a viable transportation solution. These proposals will make the roads safer for motorcycle riders and allow riders to fully maximize the benefits of motorcycle use. Elsewhere in the world, except for the US (not including California) filtering and lane splitting is a regular practice.

Policy that helps motorcycle riders filter and eventually lane split are still a few years away but progress is being made. Thanks to RTI's efforts in 2017, motorcycles came to be recognized as a vulnerable road using group so hopefully we can now expect that measures aimed to protect riders will be taken more seriously. This adoption of these proposals is big step in the right direction.

View the City of Toronto adopted policy details here. Thanks to Councillor Anthony Perruzza, and Councillor Gary Crawford for putting the motion through. You can read the write-up from RTI here.

A pilot and studies come next
The city will prioritize the analysis of data and perhaps the creation of studies that will lead to the development of reports for the first two items. Eventually, the reports will be complete, available comment, revised, deliberated upon and eventually voted on. For the lane filtering initiative, the pilot will have to be designed, approved and executed to produce a report. These steps could be take some time however.

Credit: eatsleepride.com