Of course, we are talking about the "John Wick" franchise.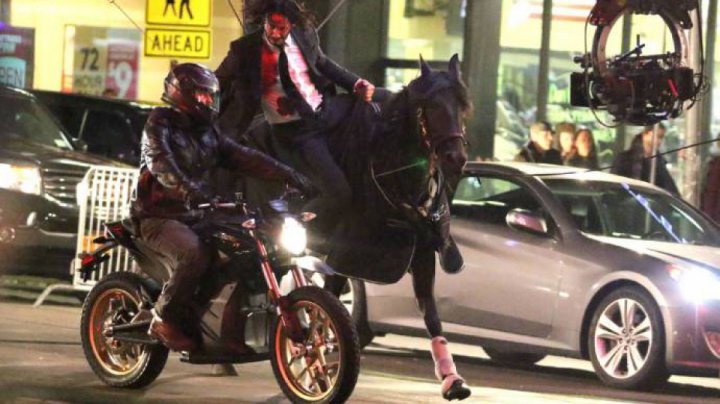 Now "John Wick 3: Parabellum" is shooting in Brooklyn, New York. The third part will include a lot of treats for adrenaline junkies, much like the previous 2 film. There are some shoots from an upcoming chase with at least two bad guys on motorcycles and Wick, riding not a motorcycle, but a horse, even though we know Keanu to be a passionate rider of bikes!
The motorcycle riders are bad guys and at the same time bad chasers, if we consider a horse gallops at an average speed of up to 30mph. And for sure, John Wick should be an excellent rider, who can brilliantly fighting off the enemies on a galloping horse. Not an easy task.
In this scene, Reeves is actually chasing one of the motorcycle riders, catching up with him and taking out his gun to shoot him. By the way, Keanu is doing his own stunt, while both riders are secured!
After watching the video, you can notice, how quiet the chase is. These bad guys on motorcycles are not so bad, as they both are straddling Zero DSR bikes – an excellent bike, which seems to disappear beneath you. Yes, it's silent, but riding it, you'll easily leave gas bikes behind. A great choice for those, who appreciate the environment.
In order to be able to see the full chase scene, fans will have to wait another while. "John Wick 3: Parabellum" will be out in May.