After a rather dramatic experience at Mike Cook's Top Speed Shootout in Bolivia, the Hunter Sills Racing team is walking away with an official speed record (pending FIM ratification) and an unofficial speed record.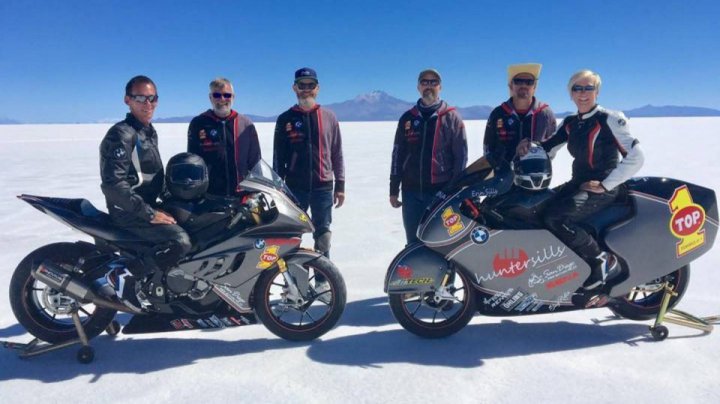 The HSR team broke the record for fastest speed achieved on a 1,000cc naturally aspirated four-cylinder partially streamlined motorcycle (very specific, yes, but still impressive) at 229 miles per hour. The same team hit 242 mph on its modified BMW S1000RR making it the fastest recorded speed ever for a BMW motorcycle. The bike was piloted by Erin Sills who broke her late husband Andy Sill's record of 221 mph at the Bonneville Salt Flats back in 2013.
The road to these records was quite bumpy. The team was waiting on shipping containers carrying critical equipment to be shipped from the U.S. to Bolivia which cut down on the time it was able to run from six days down to 2.5 days. When the team eventually started testing, things were looking good until they ran into serious electronic issues affecting the nitrous system resulting in a blown engine.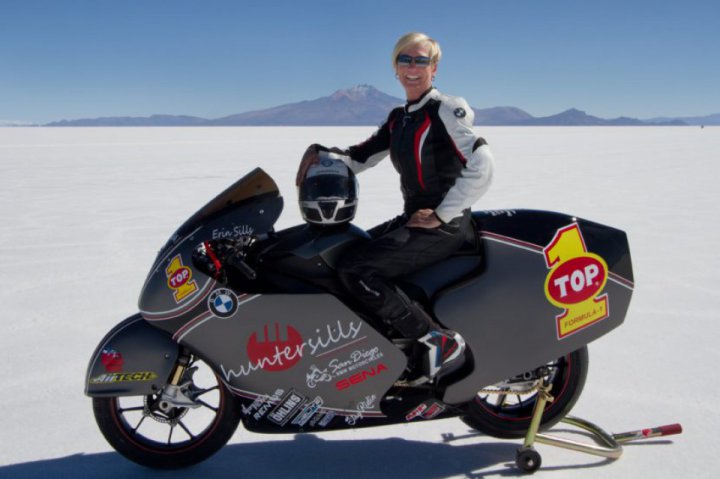 The HSR crew was able to swap out the blown engine with a spare, making the final day of the challenge the only day the team was able to make any serious speed record attempts. It was Sills' qualifying run where she hit 242 mph but she ran into another electrical issue which prevented her from securing that record officially with a second run. In the final hour of the meet, Sills managed to get an official speed of 229 mph and backed it up with another 229 mph effort.
So the more impressive 242 mph mark stands as the fastest speed ever recorded for a BMW motorcycle but unfortunately won't go in the FIM record books since it couldn't be backed up with a second run. However, 229 mph is still impressive and good enough for a record in its category. You can watch Sills' 237 mph qualifying run below.
#Sportbike #Moto #Bike #S1000RR #BMW