Not so much time has passed since the president criticized the company's decision to increase production abroad and recommended a boycott. And, as you can guess, it's not the end of this battle! The Uninformed division charged with Donald Trump's protection has already ordered one police motorcycle!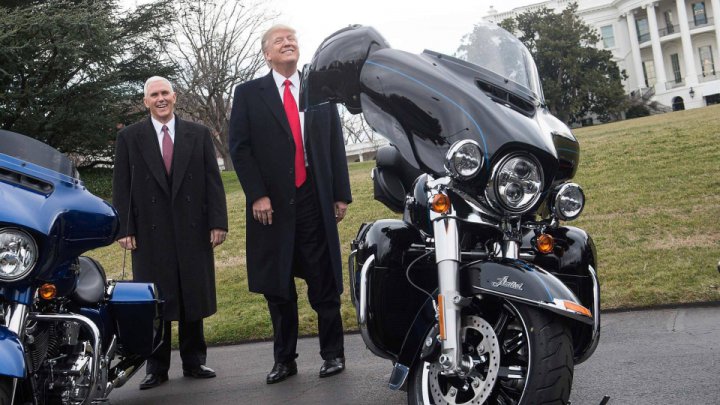 It looks like the team in charge of purchases for the US Secret Service can't be considered as an ally of the leader in his war against Harley-Davidson Inc. motorcycles or it was forced to turn a blind eye to these things.
The U.S. Secret Service Uniformed Division placed an order for a Harley-Davidson police motorcycle last week. The order included the requirement for "protective motorcade support functions", which didn't preclude protecting the president.
Also, according to the purchase order documents, it was required for motorcades to ensure the "consistency of appearance, performance, training and parts with the currently existing motorcade motorcycle fleet."
This war of words started, when Harley-Davidson announced it would be moving part of its European-bound production abroad to avoid having to increase the price of its already not cheap bikes in Europe.
Now let's remind the president's Twitter campaign: "Many @harleydavidson owners plan to boycott the company if manufacturing moves overseas," Trump wrote in August. "Great! Most other companies are coming in our direction, including Harley competitors. A really bad move! U.S. will soon have a level playing field, or better."
But why not order a different brand of motorcycles?? It all comes down to time and money. For example, if the Secret Service ordered another brand of motorcycle, it would require spending time training its support technicians, which is rather expensive. Then they would have to purchase spare parts and new sidecars, meanwhile, the Harley-Davidson police motorcycles come outfitted with a sidecar.
The Harley-Davidson representatives didn't immediately respond to a request for comment on the order. And one more thing. Since that post in August, there have been no words about Harley on the president's Twitter.