Neiman Marcus is a high-end retailer. For the past 90 years, Neiman Marcus has released a 200-page Christmas Book, a holiday gift catalog, aimed at the most wealthiest and aspirational countrymen, at people who already have everything. And this Book is an extra chance to spend a great part of their money.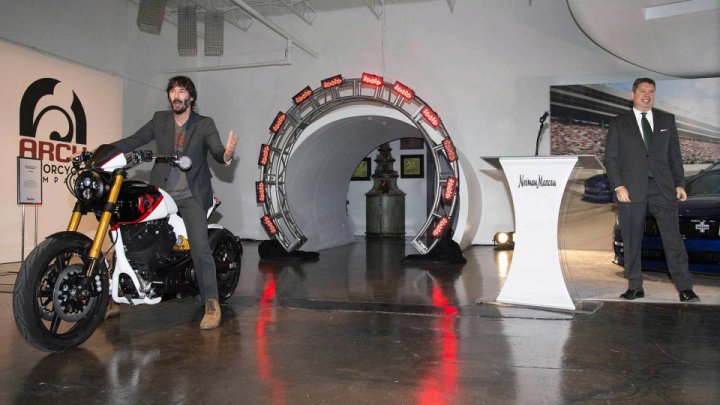 In fact, a few years ago the catalog offered a once-in-a-lifetime opportunity that was really pretty cool. For a relatively low cost ($150,000) you and your friend could join actor Keanu Reeves in California for a two-day motorcycle ride along the Pacific Coast and through the Santa Monica Mountains. And here we are talking not only about the trip, but also about the bike, one of the three special edition Arch KRGT-W motorcycles.
This "fantasy gift" was named "Arch Motorcycle Ride and Experience". And here is its description in the catalog:
"What happens when a movie star with a passion for motorcycles walks into the shop of an acclaimed custom bike builder? They create the bike of their dreams (and yours). Keanu Reeves and Gard Hollinger make up Arch Motorcycle Company, and the KRGT-1—hailed by one reviewer as "the Zen of motorcycle design"—is their first production bike. Framed of steel and aircraft-grade billet aluminum with carbon-fiber fenders and front cowling, it has a 124-cubic-inch V-twin engine that produces 121 horsepower and matching 120 pound-feet of torque. Definitely born to be ridden, this limited edition comes with custom race-inspired trim, performance suspension, and an exclusive two-day ride experience for you and a guest along the California coast with Reeves and Hollinger."
The package included the bike, an all-expenses-paid trip to hang out with the coolest actor and motorcycle fan Keanu, yummy dinners, etc. By the way, that year Neiman Marcus sold all three packages!
If riding with Keanu wasn't your dream on, you also had a chance to spring for a luxury trip to space ($90,000), a collection of rare craft bourbons ($125,000), Lyle Lovett's handmade guitar ($30,000) or a dream trip across India ($400,000). Not bad! Do you agree??
Source: Nieman Marcus, Racked, Washington Post