A few years ago Lazareth introduced a limited batch of just ten, Maserati-powered motorcycles. Today, he's giving that same model the power of flight, and holy hell is it impressive.
Lazareth is known for making far-out, imaginative vehicles. For the last two decades the company has been prototyping concepts, and churning out small numbers of elite, bespoke vehicles. Though for 2019, the French firm has its biggest plans yet.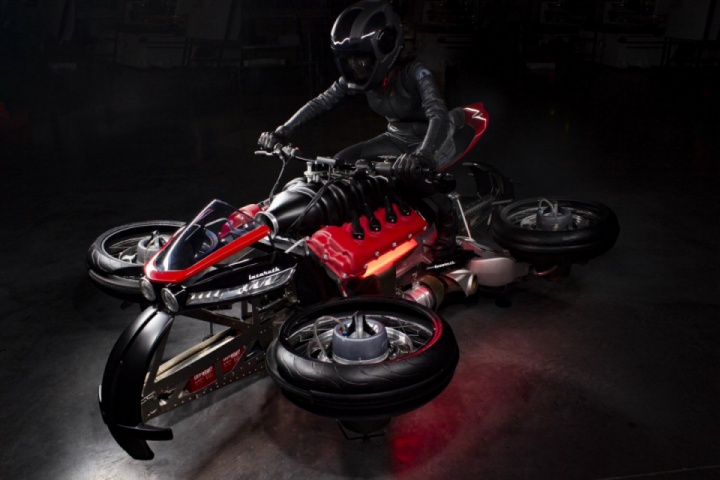 The Lazareth LMV496
The Company
France's Lazareth Auto-Moto was founded back in '98 by one Ludovic Lazareth. After graduating from the Espera Sbarro School in '92, Lazareth went on to be a protégé of auto-design legend, Franco Sbarro before accepting a position in AIXAM Mega's prototyping department. Half-a-decade or so later Lazareth abandoned his position at AIXAM in order to start his own operation, designing and building vehicles most would only dream up, or at most digitally render.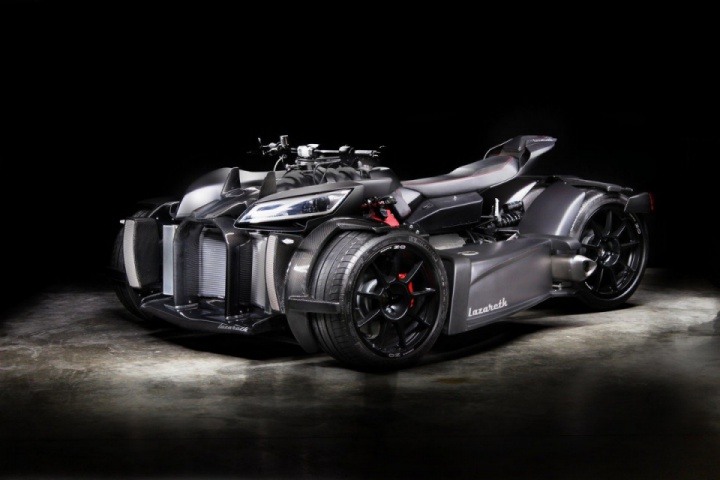 The carbon-clad Lazareth Wazuma
Seven-years after Lazareth A-M was founded, the French outfit received the necessary permits to enter production, though while on a relatively minute scale, is still a major hurdle. To date, Lazareth has produced well over 100 far-out vehicles of the two, three, and four-wheeled varieties — all of which are pretty insane in their own right.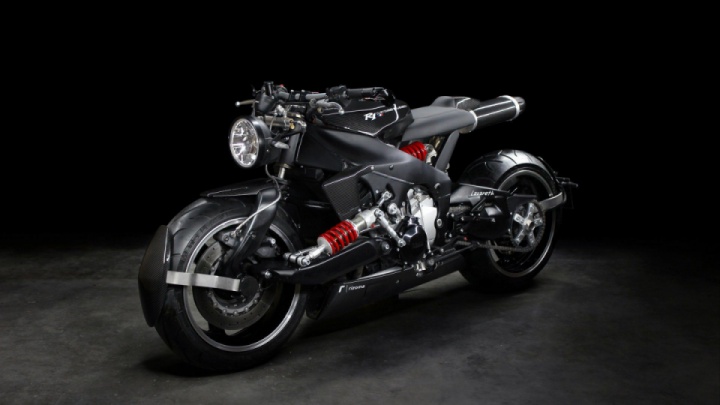 Lazareth's unique take on Yamaha's YZF-R1 Superbike
The current Lazareth operation is comprised of a dedicated design office, and a small array of highly-skilled craftsman, from welders and fabricators, to upholsterers and painters, to electricians and boilermakers. Last year Lazareth was also awarded the "Living Heritage Company" label by the State's Minister of Industry and the Higher Institute of Trades.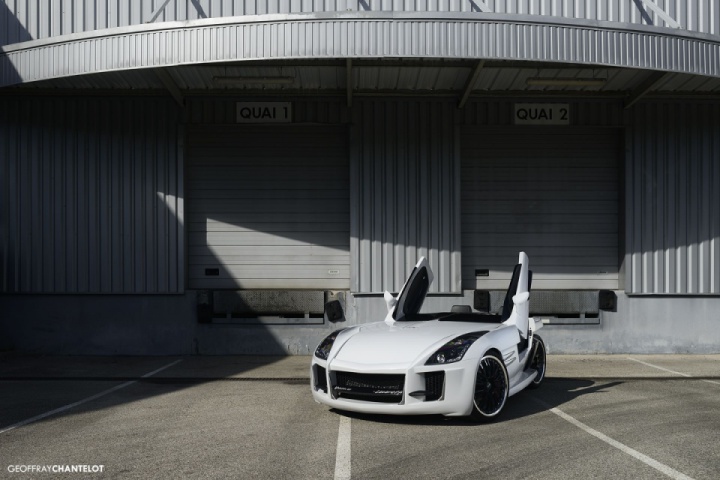 The Lazareth Wazuma GT
Maserati-Powered Foundation: The LM847
In 2016 Lazareth unveiled the LM847, a leaning, four-wheeled motorcycle powered by an eight-cylinder Maserati engine. The thing resembles a more functional, Italian version of Dodge's Viper-powered Tomahawk prototype, albeit the LM847 actually saw (limited) production.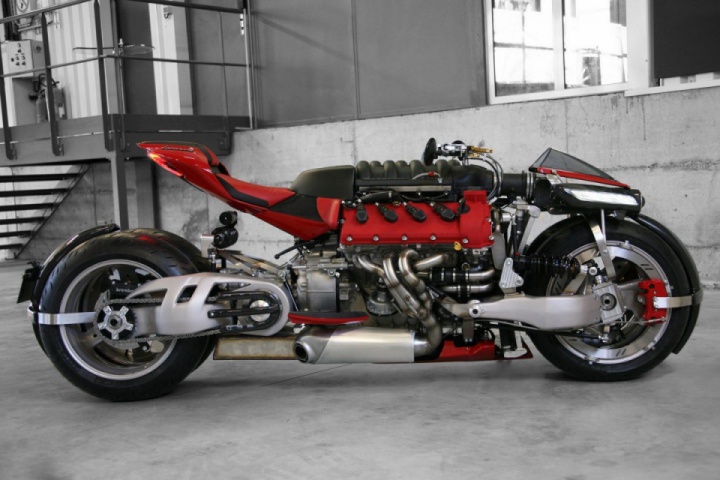 The Lazareth LM847
First unveiled at the Geneva Motor Show in March of 2016, the 847 features the 4,691cc, 32-valve V8 from Maserati's GranTurismo model — a mill that was co-developed with Ferrari and generates a whopping 470 horses at 7,000rpm and an equally ludicrous 457 foot-pounds of torque at 4,750. A three-speed transmission with hydraulic coupler and chain-final drive power both of the 847's 17" rear-wheels (17" up front too). Though the 847 technically has a three-speed, it's fed through a torque converter, making it a twist-and-go-style experience with just one speed. Although Lazareth fails to cite any specific figures, it does claim the 847 will do "0 to 100 mph in seconds".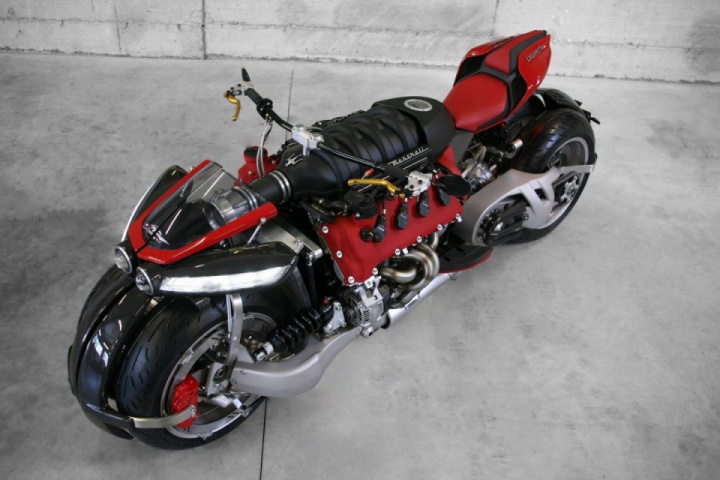 The LM847 is constructed around a 4.7L V8 engine
The massive 4.7L V8 has been slightly modified and given bespoke brackets to allow it to act as the vehicle's only structural member, operating as a stressed-member chassis connecting the rear swing-arms and dual front hub-center-steering setup. Suspension on the unconventional four-wheeler is courtesy of top-shelf Dutch outfit, TFX Suspension, while Nissin provides the massive dual (rim-mounted) 420mm discs and 8-pot calipers up front, and Brembo is responsible for the double 255mm discs pinched by four-piston units in back — both are which are ABS-linked.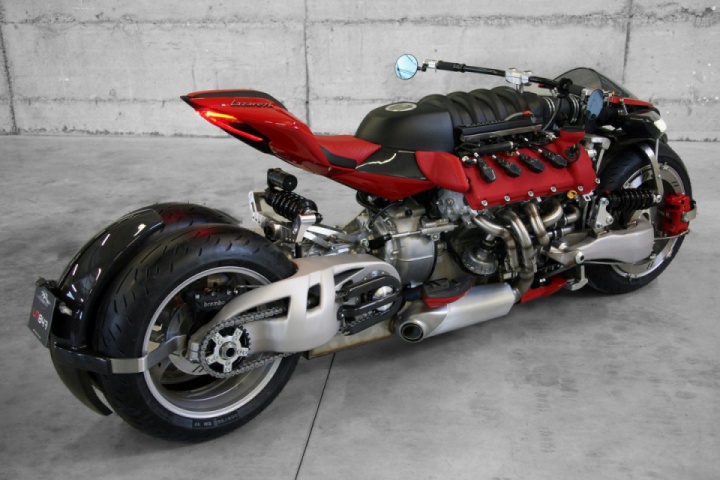 While the Panigale is a beautiful bike, for $225K, we'd love a unique tail section on the 847
Other odds and ends on the 847 included a bevy of bells and whistles from Rizoma (reverse-action levers, mirrors, fluid reservoirs, etc) as well as bespoke carbon fiber "fenders", headlight housing, heat-guards, and sprocket-cover, chain-guard. Interestingly, the 847 also blatantly cannibalizes several Ducati components including a pair of inward-facing single-sided swing-arms, Panigale's under slung exhausts and its entire seat/tail-section.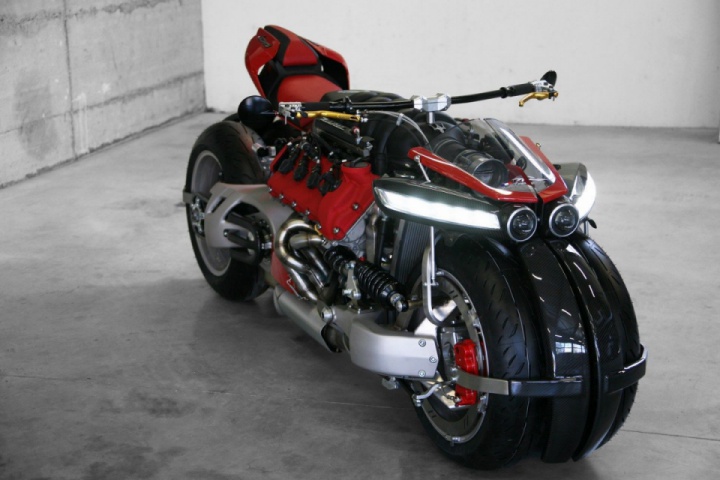 Lazareth doesn't give a top-speed, but with 470hp, we assume it's A LOT
There's a small carbon fiber gas-tank nestled just in front of the tail-section, connecting the seat to the engine(/frame), but aside from that, there's no other part of this bike we haven't mentioned. It's truly an engine, a seat, wheels, four swing-arms, and a headlight, that's it. With a weight of approximately 880lbs — the vast majority of which is the engine — the LM847 boasts a power-to-weight ratio of 0.533 (hp:lbs). Unsurprisingly, the small-batch 847's came with a hefty price-tag of 200,000 Euros, which translates to around $225,000US. And with only ten examples produced in total, there's little chance of scoring a discounted specimen on the used market.
Raising The Lazareth
After the success with the LM847, Lazareth AM opted to take the already-bonkers machine to the next level, almost in a literal sense. Meet the Lazareth LMV 496 (short for La Moto Volante which translates to "The Flying Motorcycle"), a rehashed version of the 847 that's capable of flight! And before you ask, the answer is "yes", in addition to flying the 496 is still a fully-functional motorcycle, only with thrusters.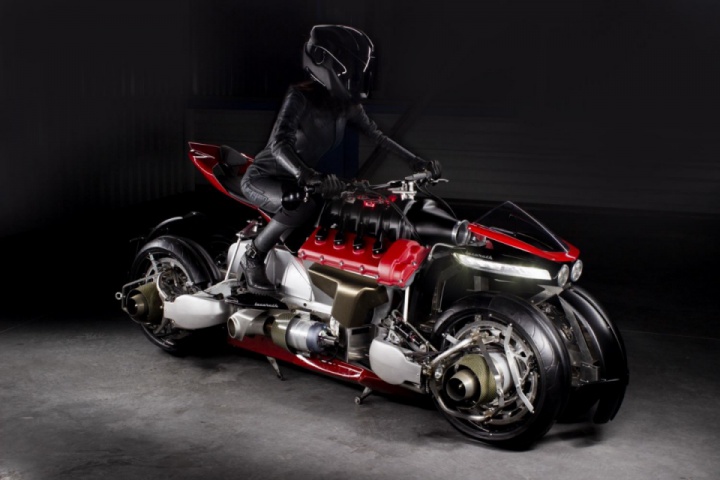 The LMV496 can operate is a motorcycle, or a futuristic flying machine
Just two-years after debuting the 847, the kooky Frenchman has inserted a set of aviation turbine engines into the front and rear-wheels that now act as hubs, while still being able to tilt up vertically for surface riding, or pivot horizontally, not unlike the flying Delorean from Back To The Future.
The ambitious flying machine was developed with German propulsion outfit, Jetcat, the same company that built the 496's four wheel-mounted turbines. The machine essentially acts very similarly to a quadcopter, only in place of the blades, the 496 sports full-on thruster-style aviation turbines that afford enough power to lift the entire machine and its pilot into the air.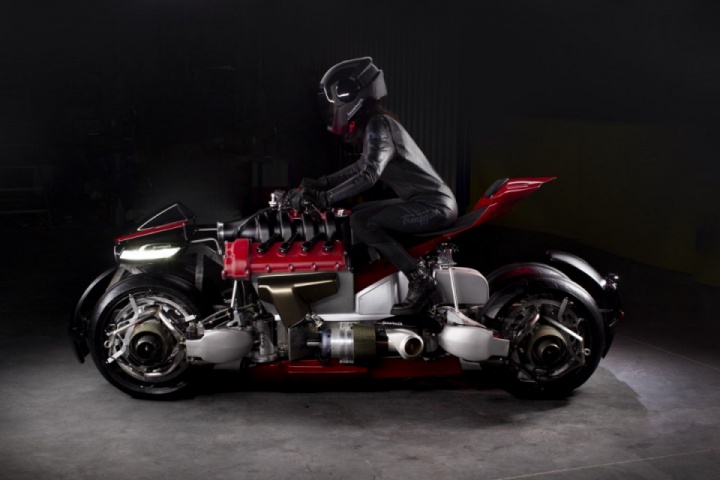 The Lazareth uses a number of parts off the Ducati Panigale
"Houston; We Have A Problem"
Lazareth produced teaser and promo videos for the project, but the grand reveal would take place at an official launch party where the cover would be pulled off the 496, and it would take lift-out in front of journalists, other media, and the public. Unfortunately, after wheeling the 496 onto the stage, it failed to perform (or live up to its name for that matter). It's also probably worth noting that unlike on the 847, the 496 wears Maserati engine cases, however there's nothing underneath, meaning the trick red parts on the engine are little more than display pieces, adding extra weight.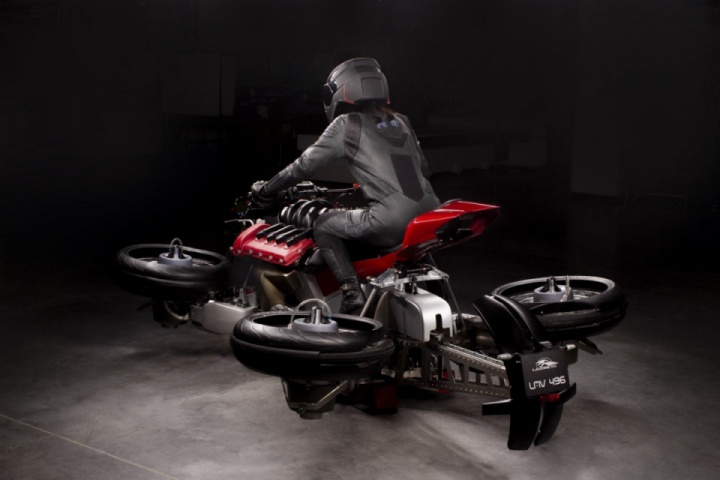 With more vehicles like the 496, the days of traffic could be behind us
Unlike in the Gospel of John, Jesus wasn't there at the flying four-wheelers' public unveiling to make the Lazareth rise. Bad luck I suppose. Though there're enough photos and videos of the machine taking to the skies, that there's no doubt as to whether this thing can actually achieve lift. Having said that — while there's undeniably a trend of using model-esque women to promote/market vehicles — we're willing to wager it's not a coincidence that the test pilot in the videos happens to be a really small woman.
Other Thoughts From The Managing Editor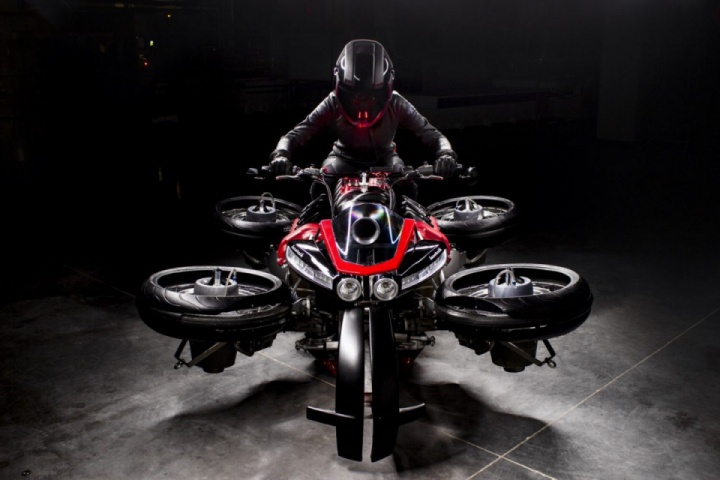 The LMV946 uses both a 4.7L Maserati V8, and four jet turbines
Regardless of the botched public launch, the fact Lazareth was able to construct this in the first place suggests he should be able to iron out the kinks necessary to achieve more satisfying results. Either way, it's a monumentally cool project, and you definitely have to commend Lazareth and his team for doing such an ace job.
It's probably worth pointing out that the motorcycle version of the 847 went for almost a quarter-million-dollars when all was said and done, so the fact Lazareth has now added a highly sophisticated and complex propulsion system using quad turbines, guarantees this dream vehicle will likely be in the high-six-figure, low-seven-figure range. Though there's been no word on production, much less pricing at this point. The company did put together a particularly cool video showing the 496 in flight, as well as its insides, and how it was made, and I worth giving that a watch of the 496 intrigues you.
We'll be sure to give you more updates and details as they trickle in.
Credit:eatsleepride,TimHuber