A new Ducati Panigale 959 was spotted during road tests.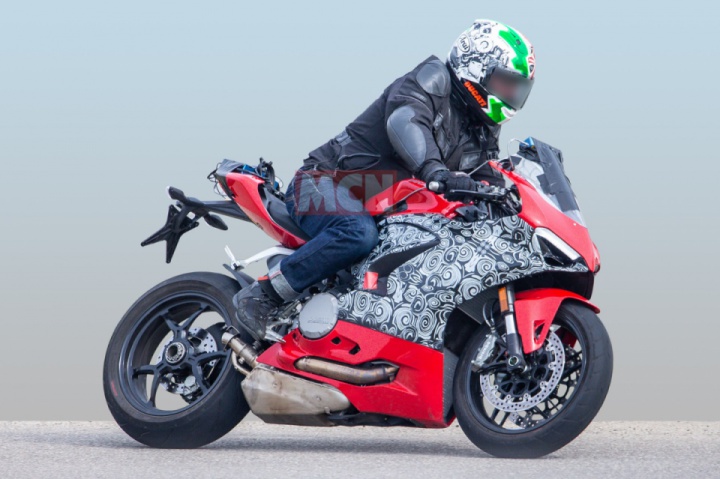 Rumors around the heavily updated Ducati model were spreading fast with the main question – what engine it would use? Thanks to the spied photographs, we know for sure that Ducati is still investing in twin technology.
The bike you see here is a clever bit of cost-saving on Ducati's part.It's a V-twin with the style of the Panigale V4, and it's set to replace the Panigale 959 in the firm's 2020 model range.
Externally the engine casings look very similar to the ones on the current 959,suggesting that Ducati is carrying over most of main mechanical bits. The new model will have to meet Euro 5 emissions limits, so there's a new exhaust hanging underneath.
By using the Superquadro V-twin engine, Ducati has got a vast array of options if we talk about replacing any power that's been limited according to Euro 5 emissions targets.Where the current Panigale 959 has a 955cc version of the engine making 150hp, that capacity comes as a result of relatively small 100mm bores. So the new bike should be even more awesome - the new Superquadro engine would produce around 170hp.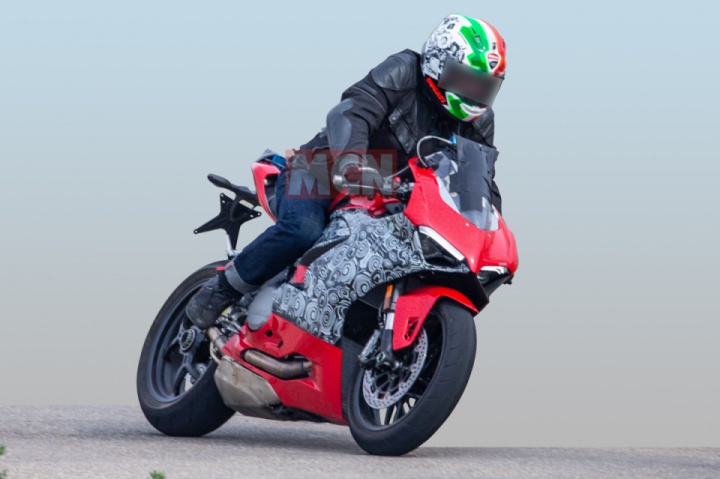 The bigger news is the swingarm. Ducati's Panigale 959 used a double-sided arm, while the new version gets the single-sider that was previously exclusive to the Panigale 1199 and 1299 models.It's the first time Ducati's second-tier machine has had a single-sider since the days of the 848.
They also form a bridge between nose bodywork (unchanged from the Panigale V4), including headlights, screen and front mudguard, and a bellypan that's straight from the existing Panigale 959. The style of the new side panels remains the design of the Panigale V4, with similarly-shaped air vents on either side. However, they are shaped to fit around the chassis and engine of the Panigale 959.
We can expect a vast array of electronics with top-spec launch and traction control, cornering ABS and other rider aids, but we wouldn't be surprised if the weight stays around the same or even creeps up. It's also possible that Ducati will extend its DVT variable valve timing system, so far used on the Multistrada and Diavel Testastretta engines, to the Superquadro motor to ensure its future compliance with emissions rules.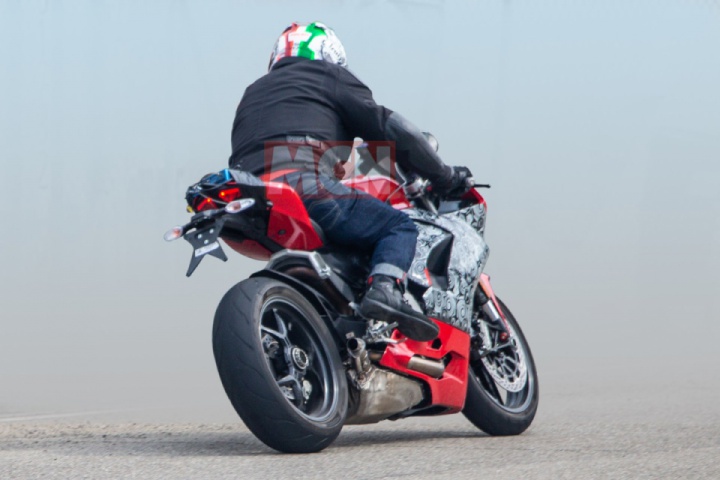 What about the price? Taking into account, that a base model V4 is $25,000 and the current 959 starts at $17,000, even if the price increases, it would still be a lot cheaper than the V4.
Many of the details were kept hidden from us in spy photos, so we have to wait until later this year, with Ducati expected to officially unveil the bike at the EICMA show in early November.
Photo credit:motorcyclenews