In Disney world these beautiful princesses are hard-working, strong-willed, but helpless damsels, who rely on Prince Charmings to rescue them. One graphic artist wanted to show their bad side. As a result we got a series of artwork featuring these beloved heroines, riding motorcycles by themselves, no male driver required.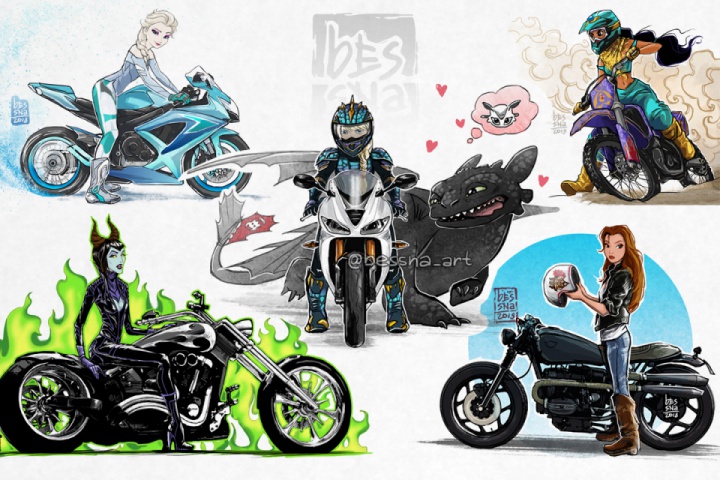 A 34-year-old Russian illustrator Lena with more than 11,000 Instagram followers (she has the nickname Bessna on social media), created stunning images of our favorite princesses as bikers in her recent series of portraits. Using digital drawing programs and a graphics tablet, Lena transformed popular Disney characters from gown-wearing ladies into tough motorbike-riders. The result is more than just incredible.
So far, Lena has reimagined Jasmine, Pocahontas, Elsa, Mulan, Ariel, and Belle on different motorbike variations, along with Sleeping Beauty's Maleficent and Princess Fiona from DreamWorks' "Shrek", who aren't technically Disney princesses, but we're still obsessed with them both!
Ariel
She is the youngest and prettiest princess of the sea. So Ariel is portrayed on the beach while soaking in the sun popping a wheelie not by accident.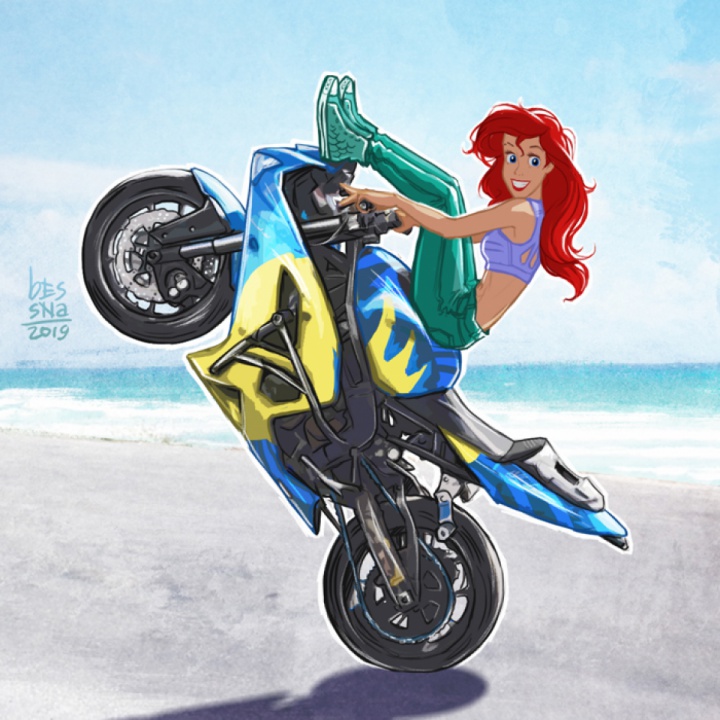 Mulan
This brave princess greatly fits her motorbike.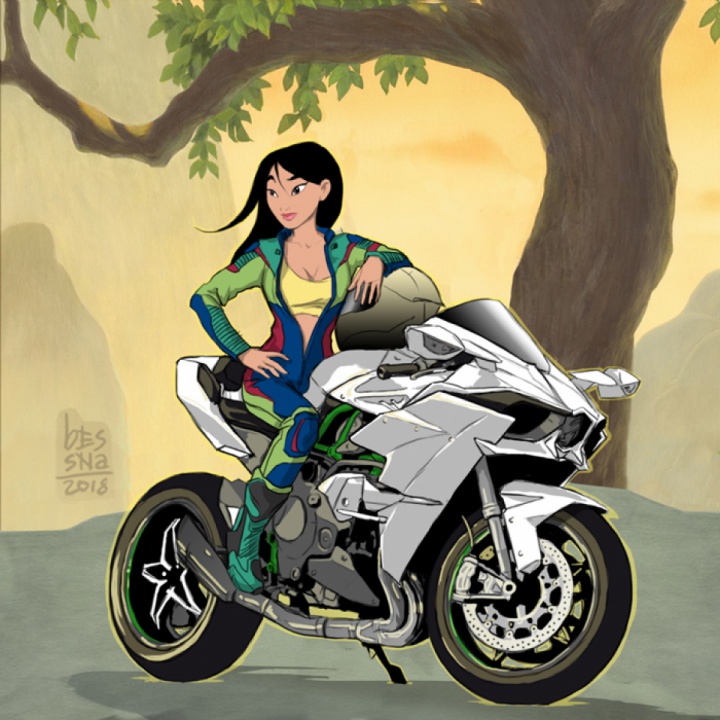 Belle
Belle is the very beautiful main female protagonist of Beauty and the Beast.Throughout the film, Belle wears various outfits depending on the occasion. Her most elaborate, recognized, iconic, and renowned is her golden ball gown, in which she shares her first dance with the Beast. But you must admit, this leather jacket looks perfect on her!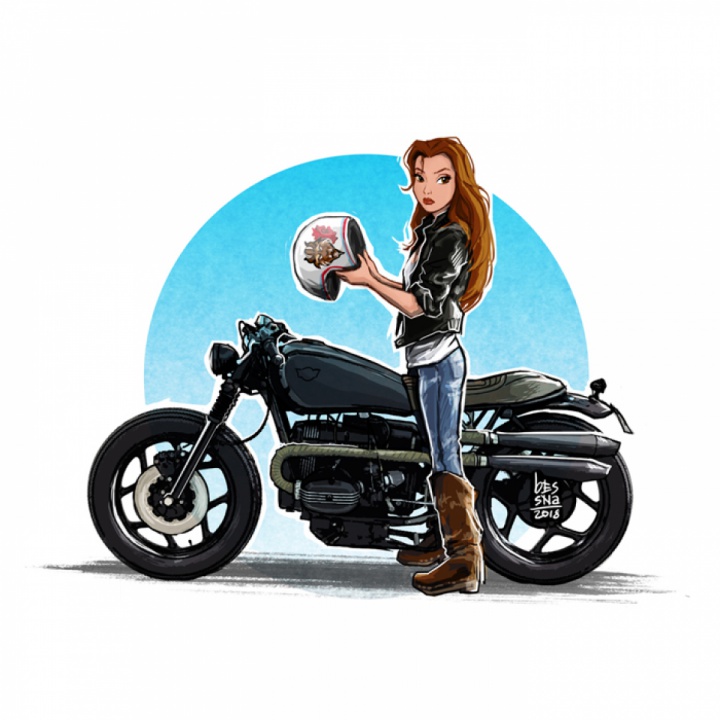 Pocahontas
Pocahontas, the daughter of the leader of a Native American tribe, is illustrated riding this red Indian motorcycle. As free as the wind!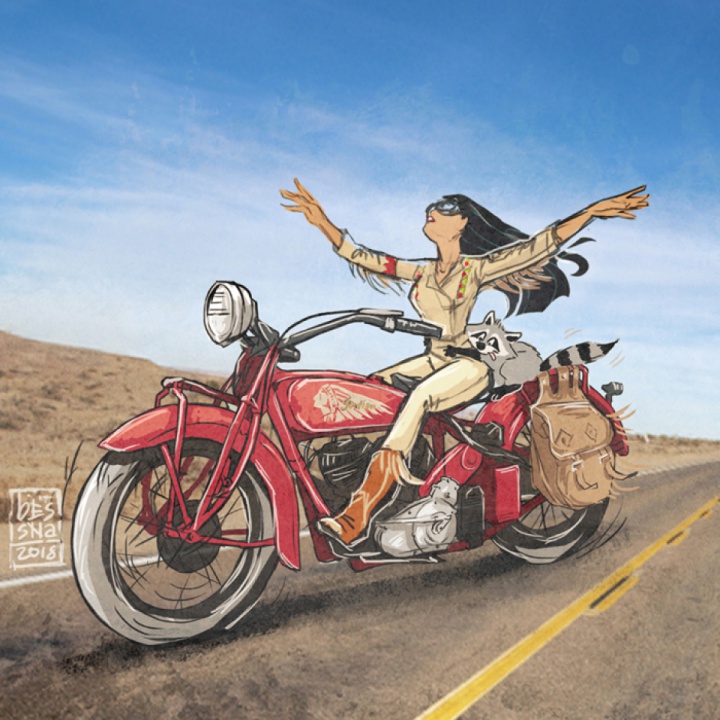 Jasmine
Jasmine is an independent and rebellious young princess from Agrabah, a Middle Eastern kingdom, located in the desert. Here the princess isn't afraid to get down and dirty in the sand dunes!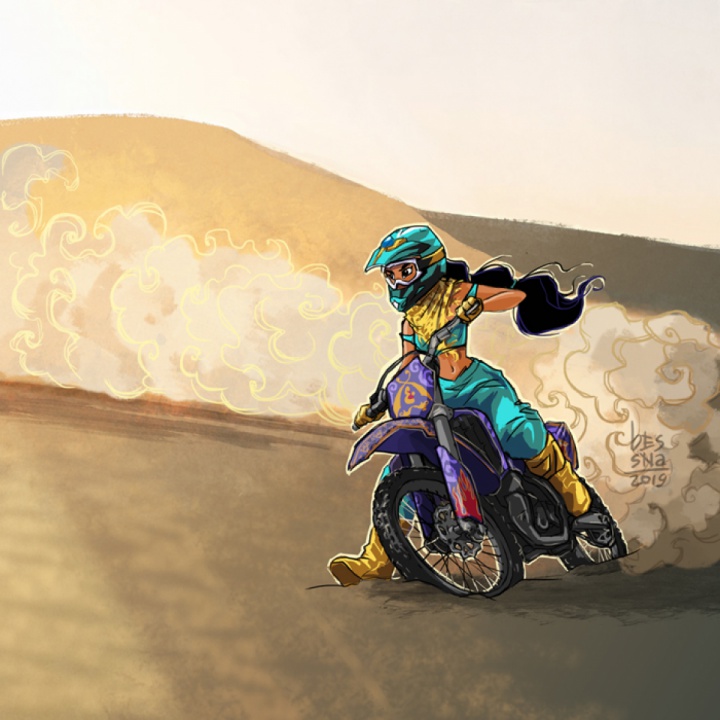 Elsa
Queen Elsa shows that even queens need to change their royal attire once in a while for a little motorized fun! Let's Freeze Some Stuff!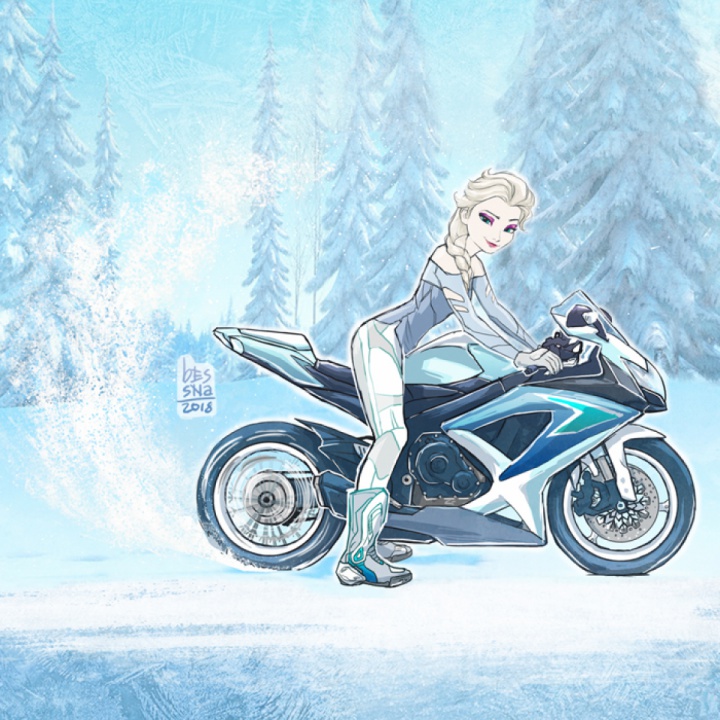 Maleficent
Maleficent, the most evil Disney character, seems to be even more badass while riding this motorcycle!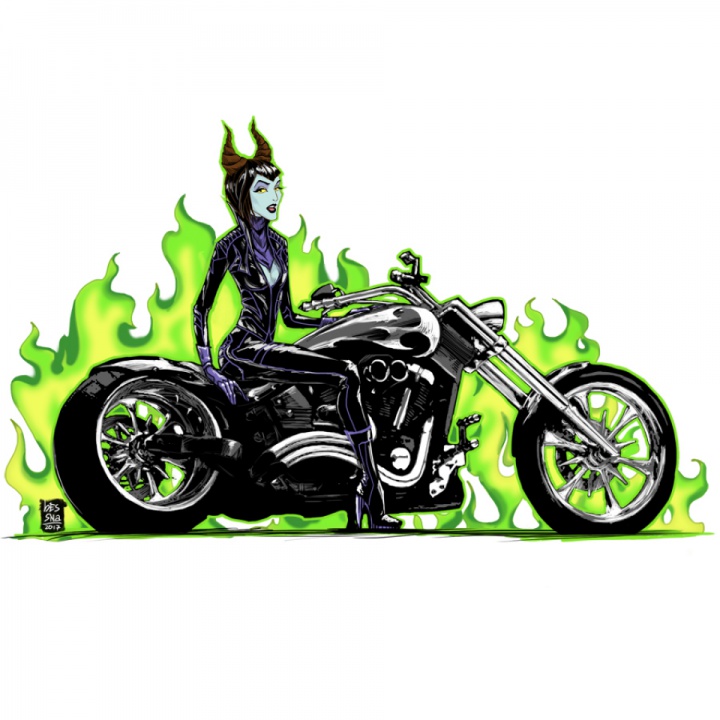 Fiona
Fiona is introduced as a beautiful princess placed under a curse that transforms her into an ogress nightly. And she may not technically be a Disney princess, but she looks extremely cool on a motorcycle! Agree?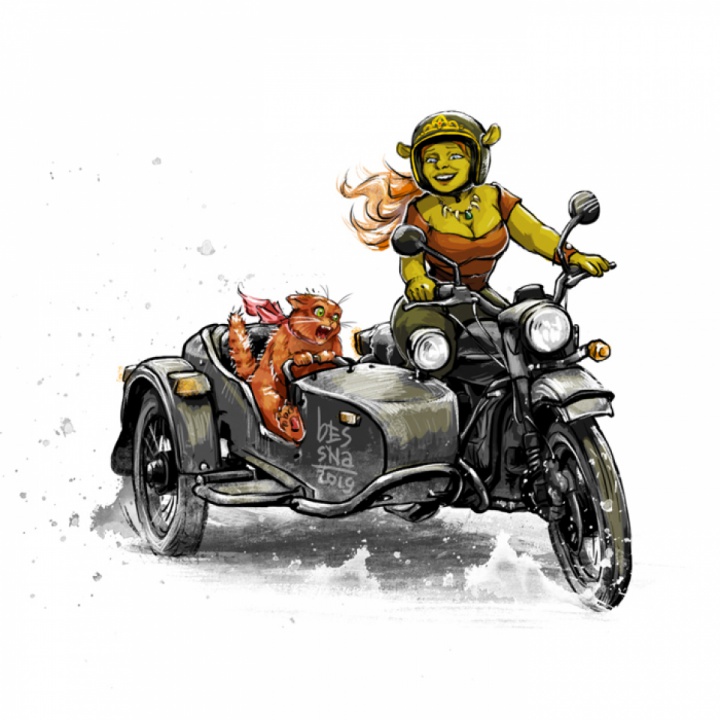 Astrid
Astrid and "How to Train Your Triumph". looks very similar. don't you?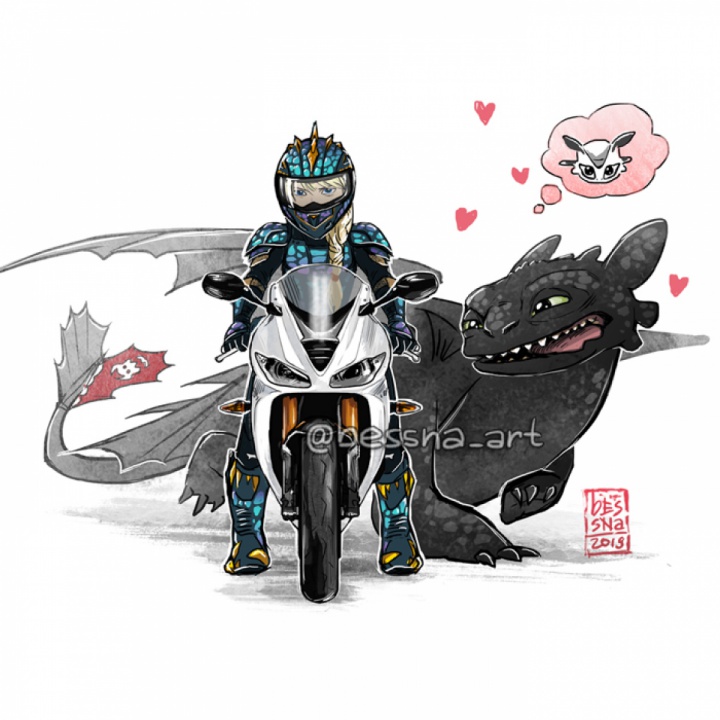 Tzipporah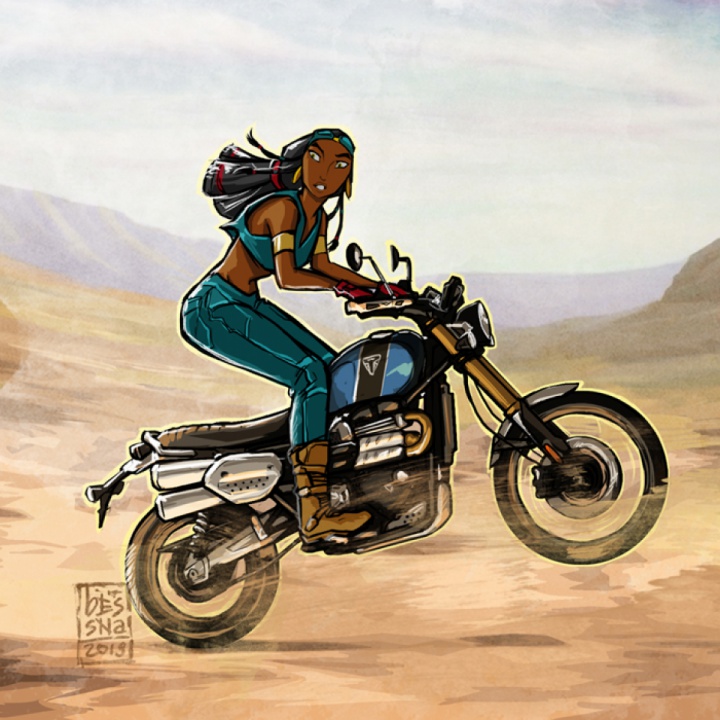 Also Lena loves creating incredible graphic designs of motorcycles in dragon style! This series of illustrations is not less popular than images of Disney princesses. If you like the idea of motorcycles in dragon style and you want to get some of them, check out the store.
Credit: bessna_art
Shop with merch : motoanimals.com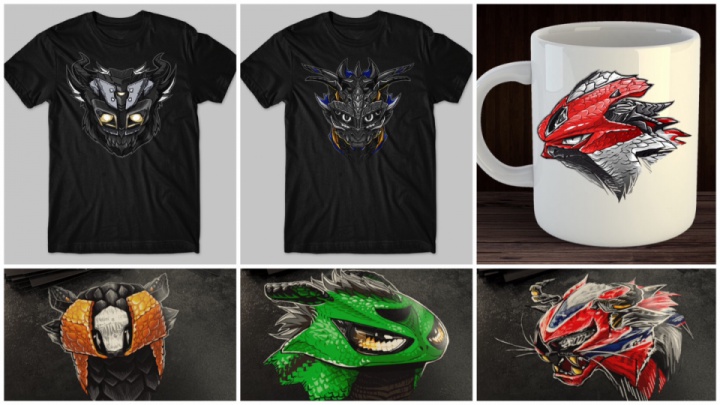 Over 60 amazing designs with different motorcycle models.

Merchandise with dragons