Los Angeles Harley-Davidson of Anaheim built a unique bike inspired by the TV series The Walking Dead; the bike was named Rolling Dead.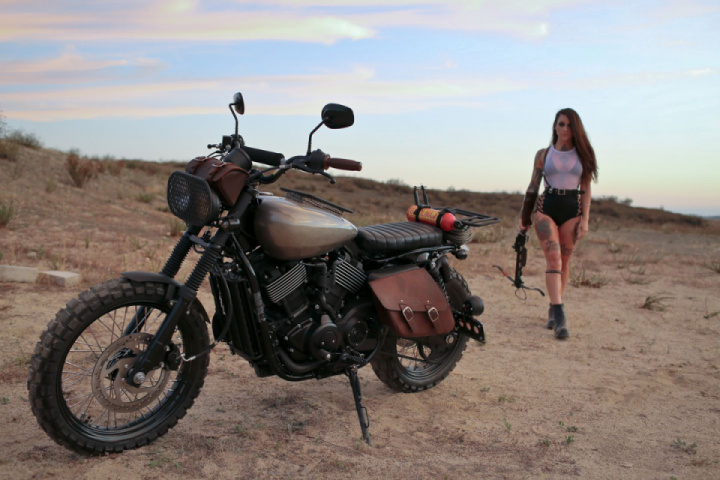 LAHD chose a 19-inch front and 18-inch rear and wrapped them in the largest Continental TKC80 rubber that would fit in the diminutive chassis. A set of Progressive Suspension piggyback shocks lifted the rear a few inches as well as helping reduce the cruiser-style fork rake.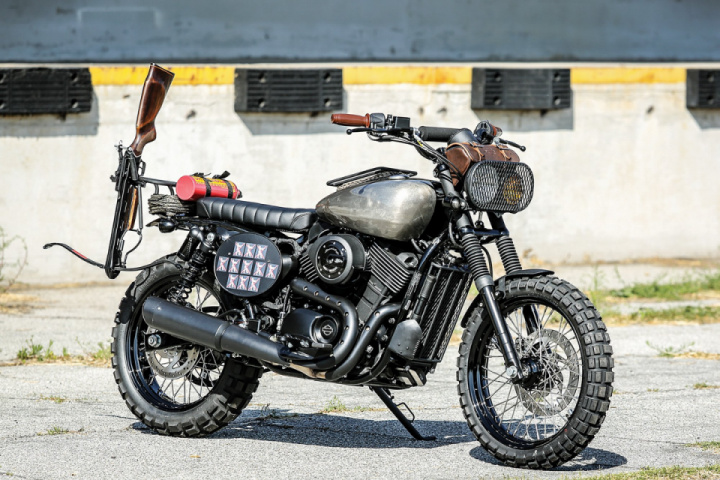 The rear hoop was shortened up a bit and a more appropriate scrambler style seat fabricated. The OEM tank was stripped of its paint facade and treated to a rack and a simple clear powdercoat as well as a slight lift to level out the lines of the bike. The rear rack and radiator guard are half-inch steel tubing and make no concessions to fashion. The front of the bike saw just as much attention, beginning with a headlight/fog light combo shrouded in steel mesh and topped by a set of ProTaper bars and a brown leather Harley accessory tool bag.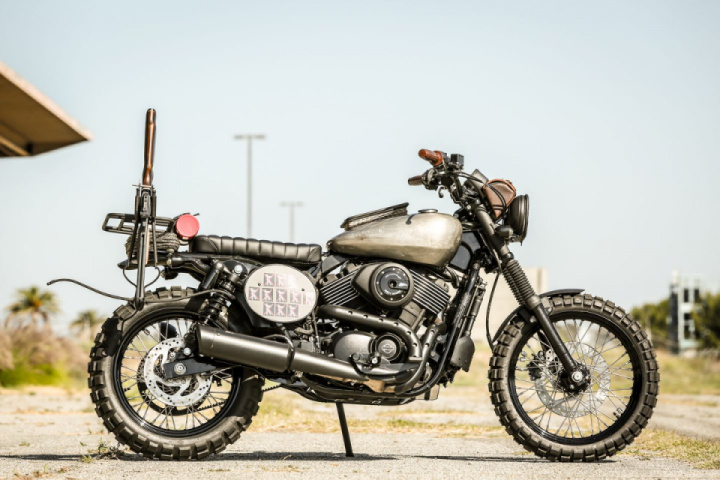 Motor treatment was left fairly simple with the addition of a Screamin' Eagle air cleaner kit, pipe shields, and a shortened factory muffler. A brown leather Harley accessory bag originally intended for a Sportster was grafted to the left side and a set of Burly Brand MX pegs bolted right on to finish up the cockpit. Fenders are steel units trimmed to fit the lines of the bike and powdercoated wrinkle back to match the motor. Fully functional signals and taillight were purposely low-key units, and other than a bit of re-routing the electrical system was left stock.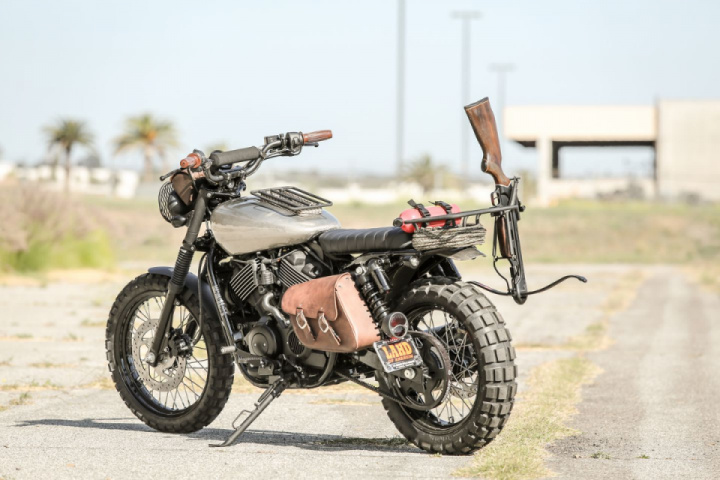 The details are what make this bike, and paracord-wrapped racks and an accessory shovel mounted on the radiator guard are just the beginning of the unique touches. A Biltwell fuel cell is strapped to the rear rack via race truck piggyback brackets, and the entire build is topped by a stained-to-match crossbow. Whether you believe the zombie apocalypse is around the corner or not, this Street 750 looks to be fun to ride on any terrain and ready to bug out at the first sighting of walkers. Looking forward to seeing more builds based on the Harley XG and hoping LAHD will let us take this one out in the hills for a little zombie hunting!
Photo by Sean Delshadi, Model: Meredith Devine
Credit [hotbikeweb]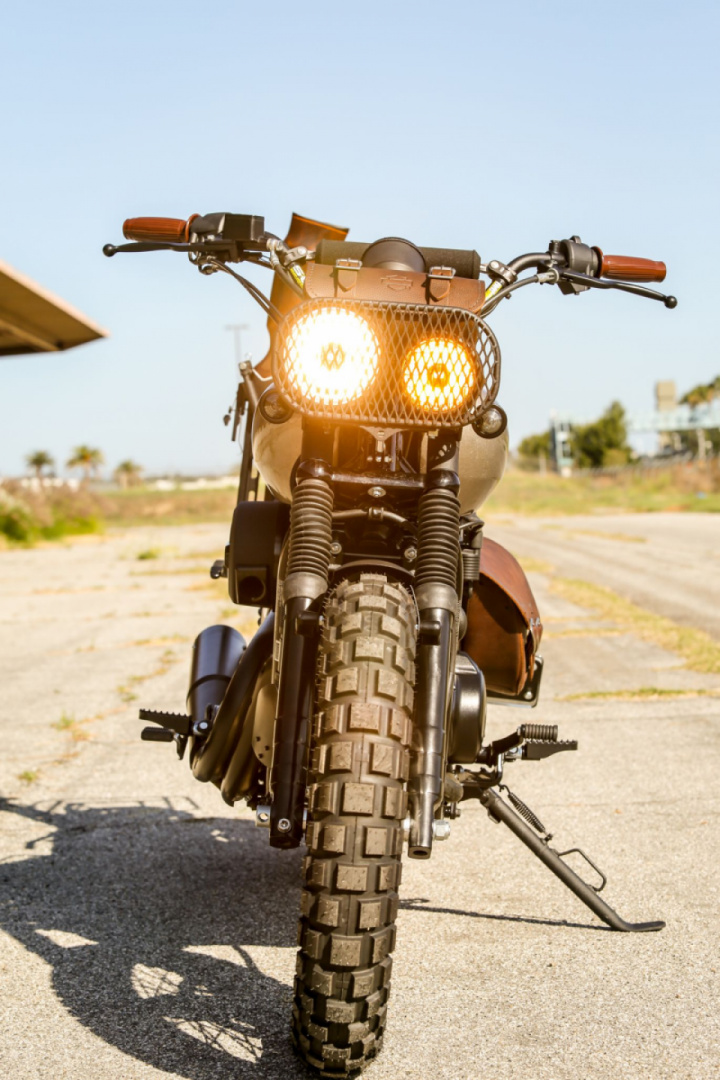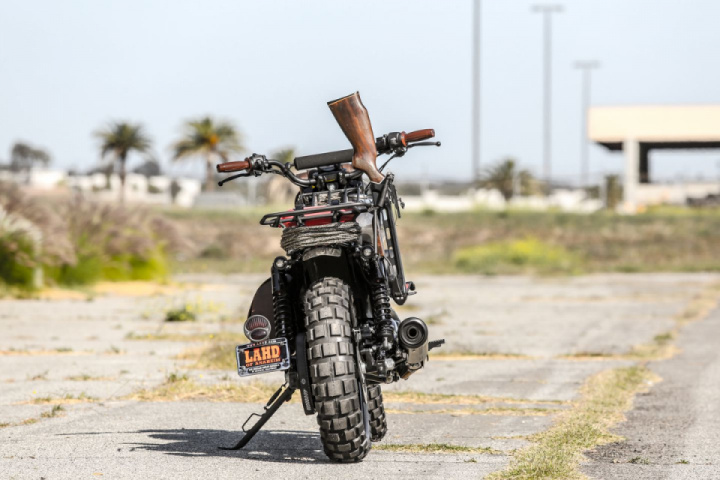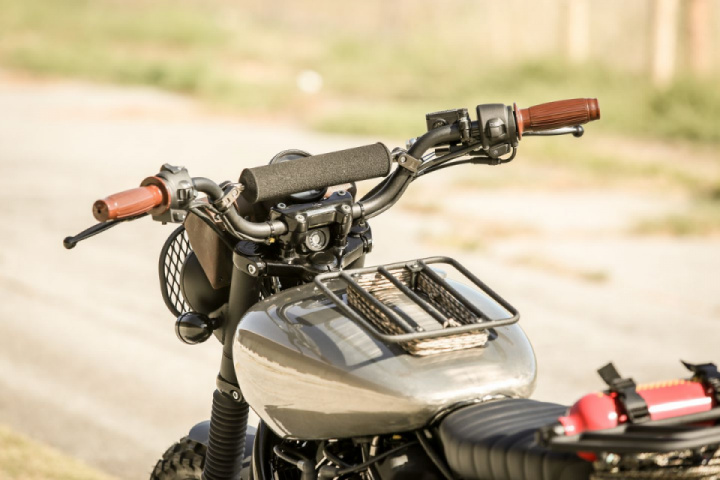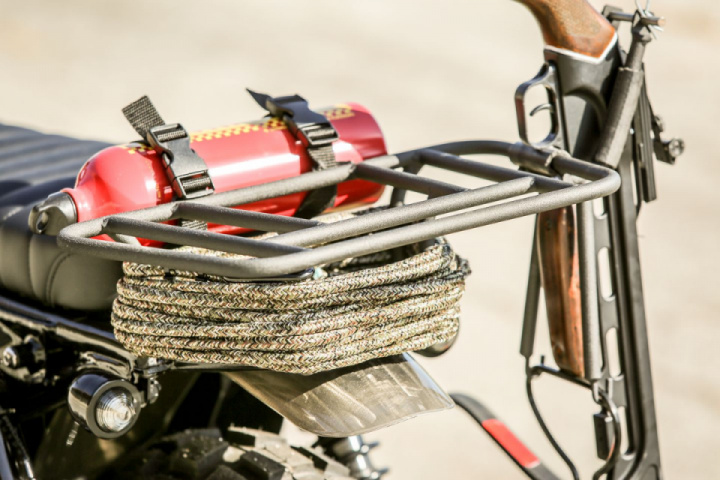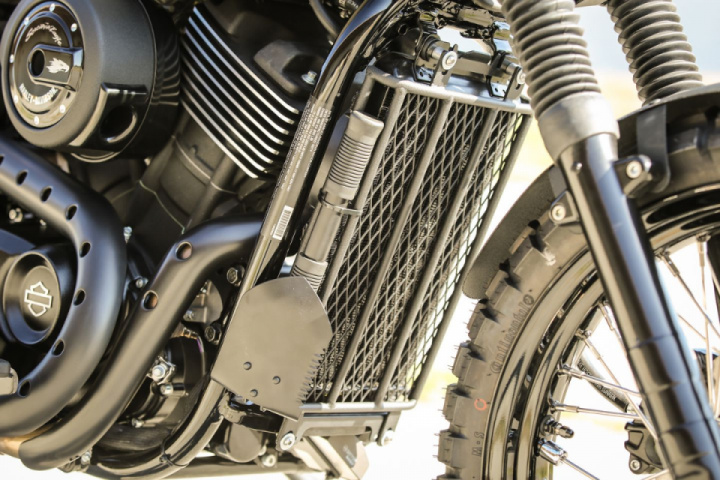 #Bike #Moto #Custom #HD #Harley #Street750