The 2022 season of the Scrambler® Experience& kicks off with the addition of new dates on the calendar. Three unique events are scheduled between the months of June and July, designed to offer participants a full immersion in the Scrambler® world between on and off-road riding, gastronomic routes and outdoor activities.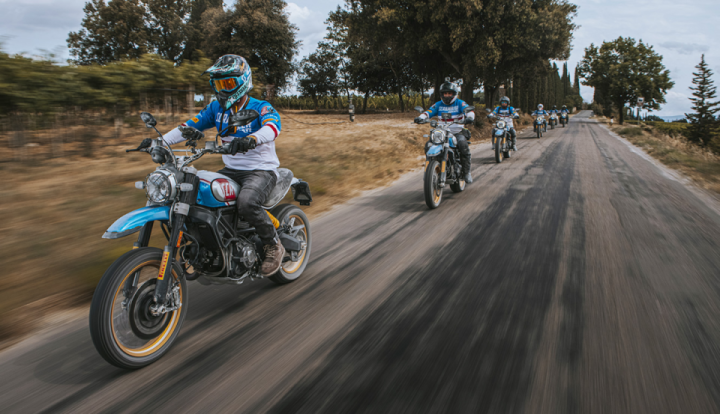 Registrations to participate in the Scrambler® Experience 2022 are already open on the& dedicated page of the Scrambler Ducati website. All the models that make up the Scrambler® 202 2 range are available for activities, starting with the new Scrambler® 1100 Tribute Pro and Scrambler® Urban Motard, which are added to the Scrambler® Desert Sled, Scrambler® Icon and the bikes of the Scrambler ® 1100 family with the Dark PRO and Sport PRO models.
Participants in the Scrambler® Experience will also be able to opt for riding the brand new DesertX, the Ducati created to tackle the most demanding off-road with 21" front wheel, 18" rear wheel, long suspension travel and wide ground clearance.
The first appointment on the calendar is set for 11 June with the Scrambler® Experience Romagna, which offers two one-day tours on the Tuscan-Romagnolo Apennines. The first, road-based, is organized on the beautiful roads of the Romagna hinterland and offers participants the opportunity to appreciate the entire Scrambler® 2022 range while enjoying a unique view of the sea and hills. The alternative involves a tour on dirt roads on the Scrambler® Desert Sled or the DesertX, the new model of the Ducati 2022 range. Participants on this Experience can also choose to take part with their own Ducati Scrambler. Lunch organized at the half-way point and the evening BBQ on the beach by the sea in Cesenatico will also allow them to taste the local cuisine in a perfect combination of fun and relaxation.
On the weekends of July 2-3 and July 9-10, two appointments are scheduled with the Scrambler® Experience Toscana, which offers a tour of over 350 km on a route that has been renewed compared to past editions of the format. Participants can choose whether to ride the Scrambler® Desert Sled or the DesertX to experience two days of 360° riding on and off-road between the Crete Senesi, Val d'Orcia and Chianti. Again, participants will have the opportunity to discover local flavours and enjoy the relaxed atmosphere typical of the Scrambler® universe.
For all further information on costs, registration procedures and the updated calendar, you can visit the dedicated section of the site.