The FE stands for 'Final Edition', and the 900SS FE was a last special production run of the old carburettor-equipped SS before it was replaced in 1998. Based around the 900SS Superlight, the FE had special cosmetics, a tuned engine, and elegant chassis changes. The special silver single-seat bodywork was wrapped around a modified engine, with race-style high-level exhaust pipes. The front brakes have cast-iron racing discs and the black wheels are lightweight. A carbon-fibre clock surround, chainguard, mudguard and body panels complete the high spec. The FE's performance was only slightly improved over the standard bike, and it was really intended as a special celebration of the old model. Only 800 were produced.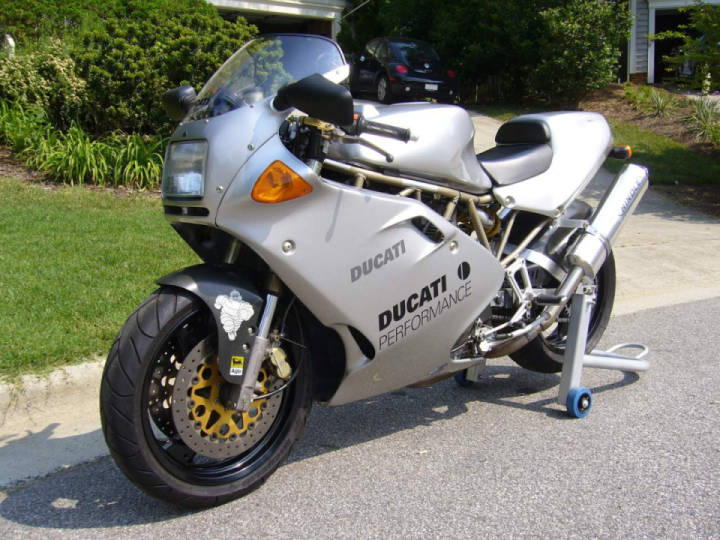 Limited to just 300 bikes in North America, the 900SS FE is the last of the 2nd generation SuperSports to be produced by the Bologna factory.
Based on the 900SS SP, the FE comes dressed in elegant silver bodywork and black wheels, with carbon fiber rear fender, dashboard cover, and countershaft drive cover. A solo (monoposto) seat completes the stunning visual impression.
But there's more than just skin deep beauty in the FE.
To back up the race-bred look, a few additional changes have been made as well. The exhaust pipes have been raised to provide improved cornering clearances. New cast iron floating brake rotors have been fitted with remote reservoirs and adjustable levers. New cylinders, alternator, and voltage regulator have been added. The resulting combination will assure that the thrill of the ride matches the beauty of the machine. To further secure it's place in the DUCATI legacy, the top triple clamp of each FE will be fitted with a consecutively numbered commemorative plaque. There will be no doubt as to the special position the FE will assume in the heritage of the most sought after sport motorcycles in the world.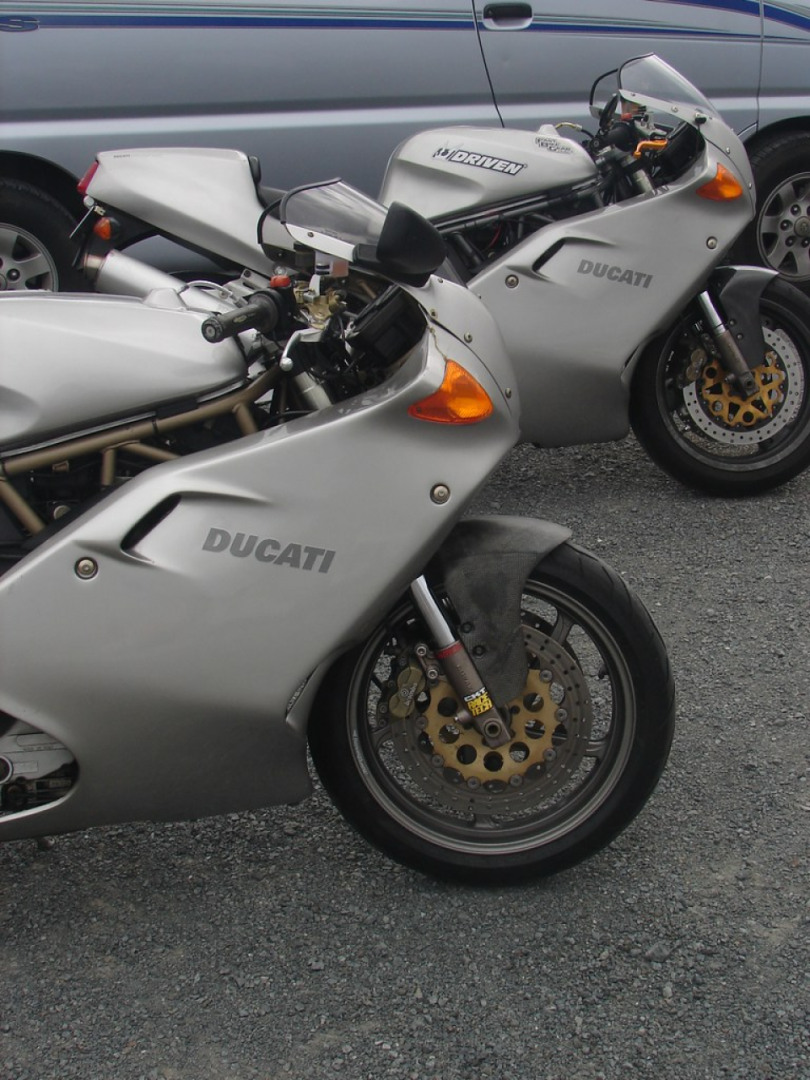 Road Test
It's good, it's fantastico. When it's bad, who cares?
For some of us (and we know who we are...) it is as certain as sunrise and more compelling than Estate Java . 6:00 a.m. It is a certain triumph of desmodromics over reason, and it happens every morning Slide into the monopdsto saddle. Contemplate the plaque on the upper triple clamp, exalting the attached Ducati as the 48th of only 300 platinum-silver Final Edition 900 Super Sport Ducatis ever coined. Say a little prayer for the engineering genius of one Ing. Fabio Taglioni, from whose frontal lobes sprang the internal-combustion elegance upon which you are about to roost.
The eappuecino-maker hum/ gurgle from somewhere within the fuel tank might unsettle the average Saturn-owning, low-fat/high-fiber-ingesting, "rational" human. We just think it's cool. We're fine with the silver Duck's cantankerous starting ritual too. Even warm mornings. Even with the new carb heaters, we know the air-cooled, desmo-due twin demands full-choke, followed by half-choke, followed by much positive thinking and an attentive throttle hand before 'the internal-combustion process begins in earnest. We turn a deaf ear on percussive pops and coughs from the airbox. We ignore a stiff clutch-pull and a near-stadium-sized turning radius that rakes knuckles against fairing exiting the driveway.
The aforementioned Saturn-owning neighbors witness the spit-cough-stall morning ritual. They question our sanity and yet we care not. To own this motorcycle is to be a master of creative rationalization.
To those who willingly suffer "modern" indignities like Windows 95, automatic transmissions and white zinfandel, the Ducati's dysfunctional behaviors are flaws. To once and future Ducatisti, they're simply the undeniable signatures of the 900SS's purosangue persona: a small price to pay for the pure sporting brilliance that will flow like a Verdi aria through the first set of curves.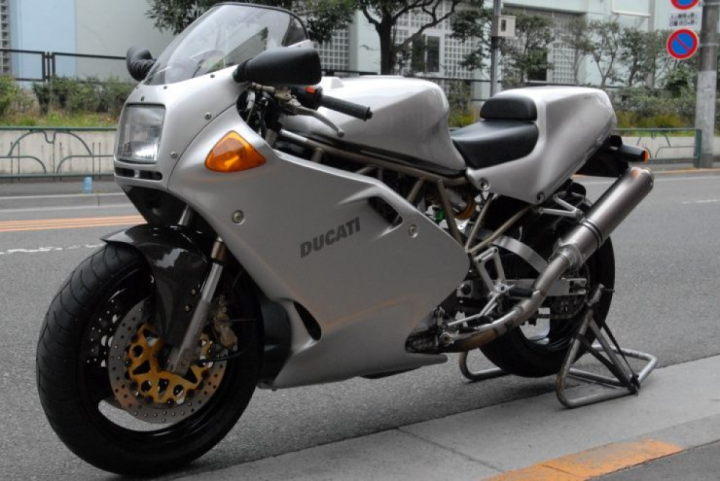 Underneath all the Final Edition pomp, circumstance and new paint, what you have, really, is a 900SS SP.&
That monoposto saddle comes from the fabled 1992 900 Superlight, as do the high-mount mufflers. Sharp eyes will notice a new fairing duct designed to aim air at the rear cylinder. Mechanical changes for 1998 are minor. There's a new 520-watt alternator and matching voltage regulator. New cylinder castings route hot oil from the heads back to the engine's wet sump via internal oil-return galleries instead of the old external lines. Deeper finning is news on the motor's exterior. New pistons fitted with more durable rings reside within, though status quo 92.0 x 68.0mm bore and stroke dimensions add up to the time-honored 904cc total (the same as the new fuel-injected engine inside the reborn 900SS slated to surface late this summer).
The investment value of one-in-300 exclusivity remains to be seen. Most everything else about the FE is blue-chip to anyone familiar with the 900SS that opened to U.S. audiences late in '91. The essence of what your $10,999 buys now has changed little from what $8490 bought back then.
One look at the FE sunning itself among the latest crop of Ducati-inspired sporting twins from Honda and Suzuki explains the Final Edition badge. Lines that are classic to some are just plain old to everybody else. Compared with the latest tack, this old boy is going a little gray around the temples. A little soft in the gums. You get the picture.
For any soulless infidels in the audience who still don't understand why Chianti lives under a cork instead of a threaded cap, we'll cut to the chase. Will Honda's Super Hawk or Suzuki's TL1000S beat any off-the-shelf SS through your favorite set of curves? Like a gong. Is it fast? Tripping the quarter-mile timing lights at 11.88 seconds and 110.10 miles per hour, not particularly.
Tall gearing lets the venerable mill fairly loaf along at freeway speeds in sixth gear, easily squeezing 50 miles from a gallon of super unleaded and 180 miles from a 4.6-gallon tankful. The low-fuel light usually wakes up between 155 and 170 miles, but it's dim enough to disappear in broad daylight. There's no reserve tap, so don't say we didn't warn you. Seventy miles per hour on the optimistic, white-faced Veglia speedo translates to a lazy 3700 rpm on the matching tach.
Conspiring with the 90-degree "L" twin's perfect primary balance, that tall gearing makes for a fairly smooth freeway ride. The narrow, thinly padded solo seat gets on your nether nerves after 100 miles. Shaky mirrors turn trailing traffic into a blurry mess, the dry clutch is a stiff pull at the lever and gets grabby in tight traffic. Stiff suspension will whip your liver to pate after an hour's worth of diabolical freeway expansion joints. So?
The Final Edition, its fathers and even its bevel-driven desmo grandfathers stand guilty on all counts. Yet, for some at least, it just doesn't matter. Once the engine actually warms up, subliminal messages carefully engineered into the EPA-emasculated exhaust note can warp even the most rational Yankee thought patterns. "I am descended from Spaggiari and am secretly faster than Fogarty...supermodels undress me with their eyes...size doesn't matter..." Initial symptoms are as unmistakable as they are irreversible. You enunciate "Dainese" correctly without thinking and know instinctively that "Ing." is short for ingegnere. What's worse, you really can spell it. Gated Ferrari shifters, mesh designer briefs and Barbie-sized espresso cups start to make sense. It is the advanced symptoms that are most frightening. Start punctuating telephone conversations with "Ciao" and you're well past the point of rescue.
Call it irrational. Call it delusional, but beware. Any nonlinear-thinking, creative-type human mind is susceptible to the desmo's aural brainwashing. Flaws become character. Freeways and constipated surface streets submerge beneath the Ducati's sporting dignity, and all that matters is tracing as many gnarly little lines on the map as the weekend will allow.
Toss it back and forth between your knees at a stoplight and the 900 feels lighter, skinnier, stubbier and stiffer than Honda's VTR or Suzuki's TL because it is: 22 pounds lighter than the Honda and 19 pounds lighter than the Suzuki. Tossing it into a decreasing-radius left requires a healthy push on the narrow, overly rear-swept handlebars. Still, progress from straight-up to cranked-over happens in a hurry once you learn how. Two clues: There's not much weight to push, and the lissome Italian remains marvelously responsive to body English. The flip side of somewhat high-effort steering is exemplary stability. Once cranked in, the FE locks on to the designated trajectory like a slot car. The power flowing from 4000-7500 rpm is more remarkable in usable quality than sheer quantity. Long intake runners leading to two-valve heads are biased toward torque over peaky power. In stock trim, the SS begins running out of breath at 7700 rpm, and spinning it past eight grand is a waste. Alas, the 900's strength lives in the midrange. Even the diabolically snarled little lines on the map won't require more than a trip or two to the decisive, light-shifting, six-speed gearbox. True enough. More powerful VTR or TL twins will drop the FE like a bad habit in any corner-to-corner sprint. When the going heats up, the Ducati holds its own with scorching corner speed.
Those pukka, highboy mufflers squelch more desmo exhaust music than they should, but they also tuck in well enough to let you feather the plenty-sticky D204 Sportmax radials to the edges. The marvelously stiff trellis steel frame remains an elegantly effective alternative to fat slabs of extruded aluminum. It also makes most engine maintenance chores a whole lot easier once the fairing is peeled away. Springs are stiffer at both ends than analogous Japanese twins, and there's enough feedback to let you know precisely what's happening at the contact patches.
Perhaps too precisely. Over relatively smooth, well-kept tarmac, that unfiltered road feedback lets you carve corners like a sharp knife through prosciutto. But on the El Nino-ravaged California backroads for which our FE yearns, its suspenders lack the damping sophistication of those under something like Suzuki's latest GSX-R750. Midcorner bumps rattle the silver Duck's composure and yours for a second, but the full 4.0 inches of trail figured into the steering geometry to buffer a relatively steep 25-degree rake calms things down almost as quickly in most cases. A full arsenal of compression, rebound and spring preload adjusters lets anyone with simple hand tools and some working knowledge of suspension tune in a precise sporting ride, but not a plush one.
"Plush is for weaklings, capisce?" Stiff springs and aggressive damping rates mean the Duck is happiest going fast on relatively smooth pavement. Even on the smoothest, fastest stuff, quad-pot Brembo rotors and 320mm, cast-iron floating calipers up front mean there's no shortage of braking power. The 900's trademark spongy feel remains, making precise modulation of all that power a little tricky until you get the feel for it or pony up for steel braided lines. Good, bad or indifferent, the desmo's narcotic effect on the human psyche makes "stock Ducati" an oxymoron on the order of "political ethics." Does this 900's limited-production status make hotting it up the mechanical equivalent of airbrush-ing extra cleavage on Mona Lisa?
That would be up to you. Ask any Ducatisti worthy of the tag about the 900's modest herd of ponies. "Sure it's not so fast now, but just bolt up some carbs and cams, high-compression pistons and an exhaust system and you'll be saying 'ciao' to those Oriental twins in no time."
There lies the difference. Straddle the FE or any Ducati and one thing is instantly clear: You're straddling something produced by passionate flesh and blood more than CAD/CAM software and marketing focus groups. Still don't get it? Here's a simple test.
If you've come this far and still figure anybody who would lay out 11-large for an aging, 70-horse, air-cooled twin should be measured for an Armani strait-jacket, perhaps you should unscrew the top on some 1998 white zinfandel and ogle air bags in a Saturn brochure. But if personality is more important than perfection, if the sound of desmo-cued valves opening and closing in rapid lockstep conjures up a fuzzy, black-and-white image of Mike Hailwood on Quarter Bridge at the Isle of Man or Bruno Spaggiari at Imola, you've got it bad. The bad news is, there is no cure for what you have. But the good news is, the treatment regimen can be habit-forming. Apply one silver Ducati twin to twisty roads. Repeat as necessary. GQ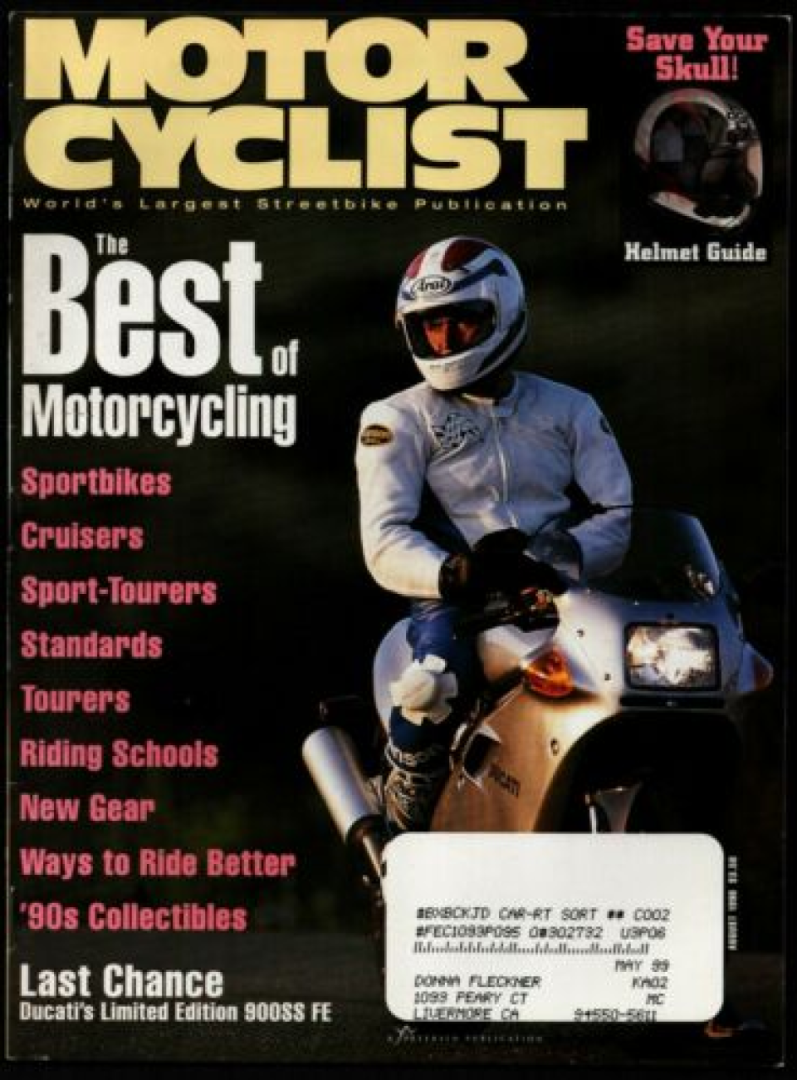 Source 1998 MOTORCYCLIST
Manual: Bevelheaven.com