Brent (#553) and Dane (speaker/bike builder in the video) Rouse make up a very unique team. The brothers form the Bubba Burger/Patch Master Racing/Mid Cities Honda privateer racing effort. Brent races Lucas Oil Pro Motocross with Dane as his mechanic. However, Dane is also known in the SoCal area for racing his 1991 CR250 and can be found at all the amateur day races throughout Lucas Oil Pro Motocross in the 25 plus class.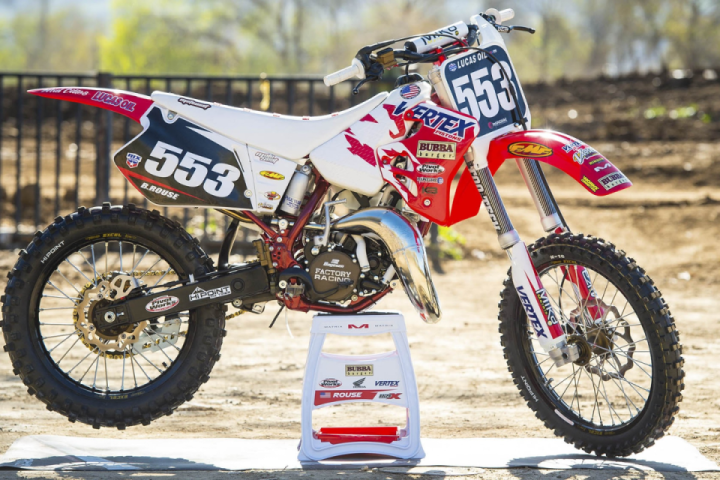 Brent made his pro debut in 2016, and in 2017, thanks to long time sponsor Bubba Burger, he raced all 12 rounds of the Nationals. Bubba Burger, the title sponsor of the two brothers, have provided them a unique opportunity. At the NASCAR race in Southern California, Bubba Burger has the brothers on hand to show off the many bike builds they do, along with Brent's race bike. Along with the bikes, their very iconic red, white, and blue Bubba Burger sprinter van is on display. On Sunday, both brothers on their bikes of choice, and the van, get to take a hot lap around the 2-mile Auto Club Speedway for opening ceremonies.
"Not everyone gets the chance to ride a CRF450R, wide open around a NASCAR track; grateful would be an understatement," Brent says.
The two brothers are true blue collar working privateers. Both work for their family owned and operated general construction company out of Torrance. Keep a look out for the SoCal natives in the big Bubba Burger van at local tracks, or any of the 12 rounds of the Lucas Oil Pro Motocross Championship.
Credit: Racerxonline