Built by Sebastian Seebacher (who goes by SEBSPEED), this Honda VFR800 is a streetfighter that's been dubbed the "Warbird." He acquired it in stock form in 2015 "from a local guy who was using the bike as his daily for most of the year. He was looking to buy the new VFR generation. My intention was to use the bike as a donor for a custom/streetfighter project.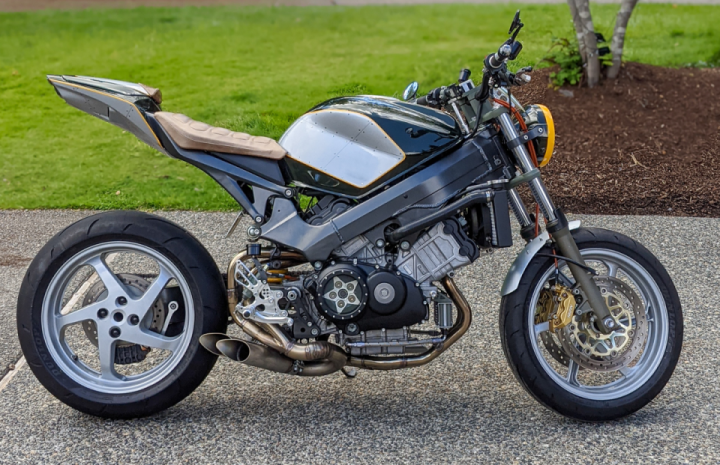 "I am an Air Force veteran, and my interests include motor sports as well as WWII-era aviation. I thought it would be a fun project to customize the Honda VFR into a streetfighter with a WWII US Army Air Force aircraft theme. The P-51 is one of my favorite aircraft with its supercharged Merlin V-12 engine. The sound from the P-51 reminds me of the VFR powerplant with gear driven cams.
I bought the donor VFR in 2015. Then around April of 2016, I happened to see an article about Sebastian Seebacher and his 1996 VFR custom project. I was inspired by his creativity and design, and I contacted him about a commission build. To my delight, Sebastian agreed to collaborate on the project. I already had a handful of design ideas for the bike, and it was fun to watch as Sebastian brought these ideas to life, interpreting them and artistically incorporating them into the build. Every detail of the modification was thoughtfully planned, and the bike was meticulously transformed. Sebastian even painted a new helmet to match the design. The finished bike was delivered on Christmas Eve of 2018.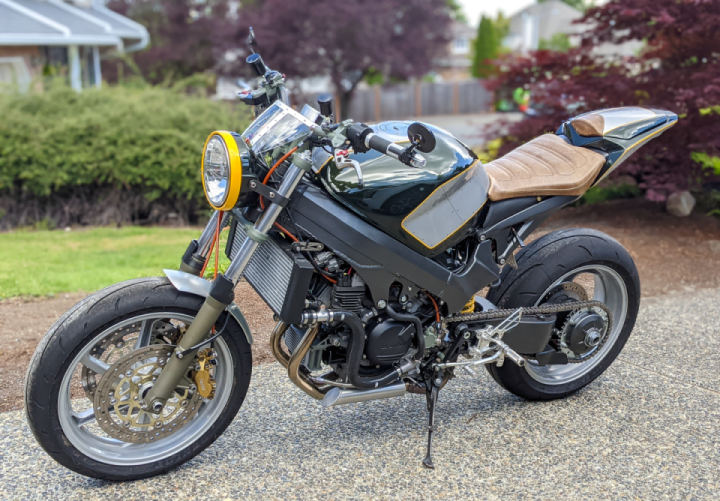 Modifications:
Honda CBR1000RR tail
Honda F4i forks and shock swap
Driven handlebar conversion with risers, frount mount radiator
Motogadget dash
GPR steering stabilizer
Custom seat, custom seat cowl release made from a spent .45 ACP case
Clear clutch cover
Spiegler Synto levers
Sato Racing rearsets for a CBR954RR
Core Moto stainless steel hydraulic lines
Slight wear on the windshield stay