For the chosen few, life is definitely not about what they have but more about what they do with what they have. And Vikrant Singh is certainly one of those 'chosen few'. Not content being a mere consumer of motorcycling; he began a journey of metamorphosing his already amazing machine into something beyond that. That of converting his all black and menacing Honda CBR1100XX Blackbird into a naked street fighter!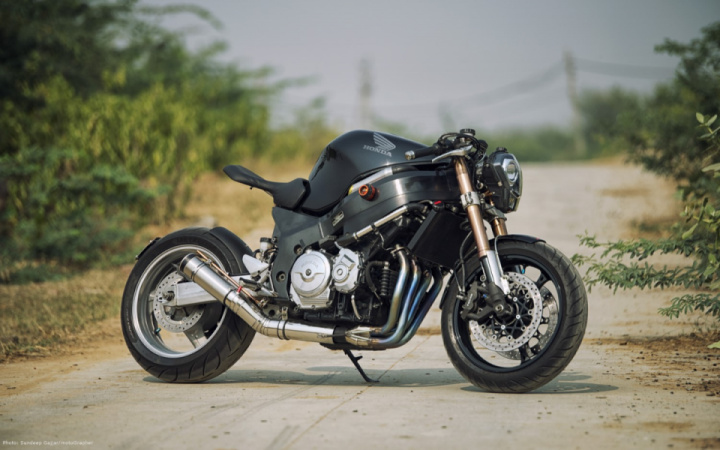 A quick summary of the build of the Custom Honda Blackbird:
Exhaust
3 way trap system with triple mufflers built in SS 304 controlling sound right off the collector, end can in 0.5 mm fine gauge brushed SS.
Exit end of the end can built with a ceiling LED body.
Copper and SS rings tie the system.
Bend pipes and Collector – 4 into 1 Yoshimura
Cooling System
Yamaha XJ Rad, 30% reduction in volume vs stock radiator, retained stock fan. Flipped inlet and outlet, thermostat sensor slot stolen from stock rad.
Replaced primary stock hoses with SS pipes aligned with manual bender.
Relocated oil cooler, resized stock cooler lines.
Intake System
Hand made with aluminium cans and Suzuki Wagon-R intake hoses as a substitute to the OE intake to eliminate turbulence. Additional secondary inlets created on the rear of intake box.
FRAME
Split Seating
Rider – Sub Frame Hand crafted in SS 304 solid rod, manually bent into the seat pan with heat and die.
Seat Pan hand made in fibre glass, Domyos foam wrapped in Napa hide.
SS frame rods
Passenger – Seat Pan in aluminium strengthened with ss support plate. Sub Frame in SS, foam and skin same as rider's. Secured to rider frame and chassis, detachable on 6 bolts.
Front End
Suzuki GSXR 2007 forks, both yokes (with 28mm offset vs the Blackbird's 32mm), front wheel, rotors and calipers, brake + clutch master cylinders with levers and grips.
Hand made fork protectors in aluminium
Handle bar clips modified to incorporate OE Blackbird switches.
Aftermarket front & rear brake reservoirs
Front Fender
Hand crafted a 100cc Honda fender, supported with aluminium brake lines.
Single Sided Rear Hugger
Hand made in 8mm aluminium, strengthened in 2 parts with ss. Hugger plate crafted in 1mm aluminium
2nd Rear Hugger, front of rear wheel hand made from a Yamaha FZ, adjustable support bracket in aluminium
Delinked Brakes, added Goodridge rear brake lines
Chassis partially masked in 2 mm rubber and wrapped flat black
Hand made chain cover in SS 304
Modified Motor Parts Crash Shrooms.
ELECTRICAL
Extensive mod to wiring loom, relocated under intake box and under tank with Battery.
Head Light Unit
BMW 5 Series 2009 Hella E44 projector with Xenarc D1s lamp and its OE ballast.
Projector & lamp bedded into a KTM Duke's Dome sealed with some transparency. Retained dome's parking.
Gauge – Motogadget Motoscope Pro with Breakout Box B with added water temp sensor.
Tail Light – Toyota Highlander modified with a kitchen strainer.
Turn Signals – Ixeno Bastard Bar End Turn Signals, clips pierced to circuit, added adjustable turn signal relay.
Relocated Ignition Key, ignition coils, Ignition Control
Module, horn.
BODY
Clutch/ Ignition/Drive sprocket and Alternator covers stripped and buffed.
Valve cover stripped, finished in brushed aluminium.
Restored exhaust collector and & bend pipes, chassis and swing arm, foot pegs, hubs.
Rear wheel stripped and restored in brushed aluminium.
Tank cap in polished aluminium .
Paint&&
Rear Strut Spring, wrapped strut.
Bottom, rear and cylinder sections of engine.
Partially repainted chassis.
Front fender.
Rider seat pan under body.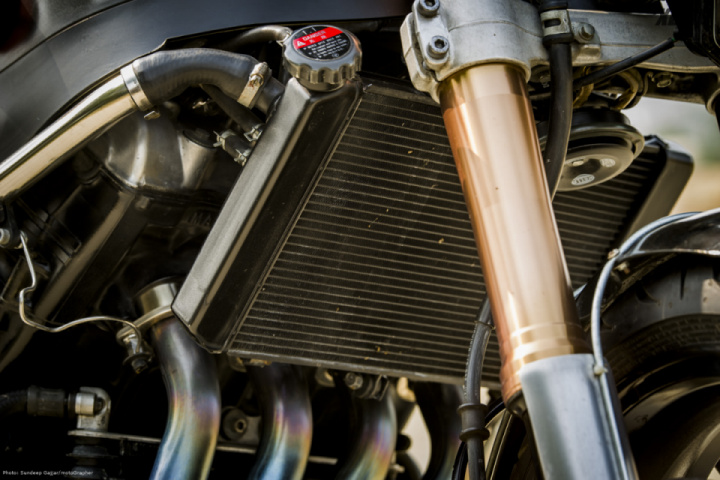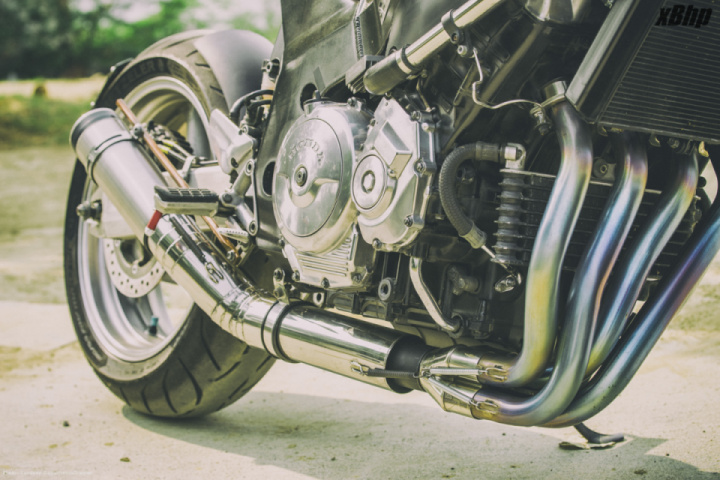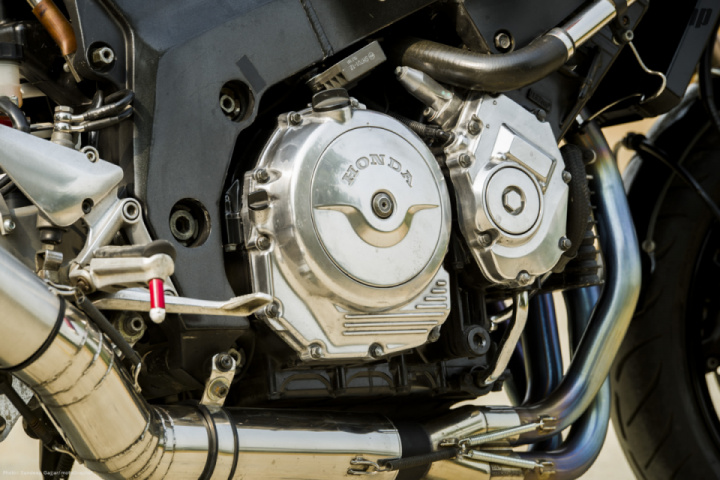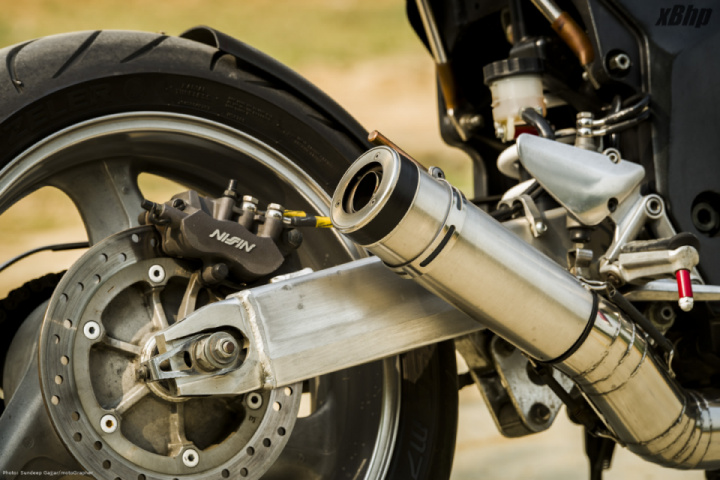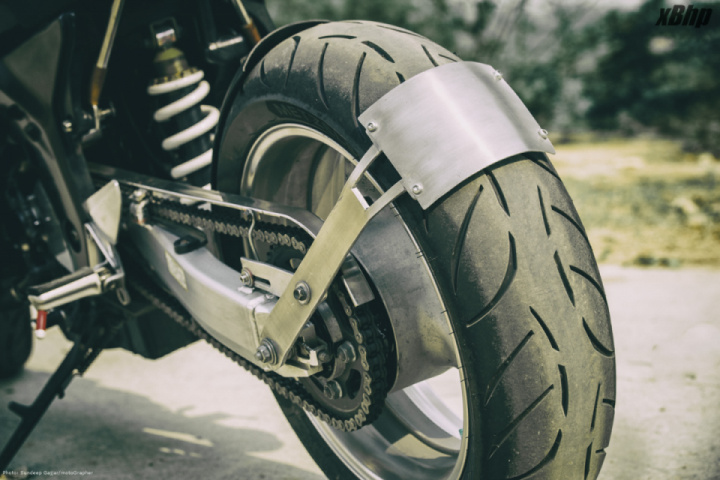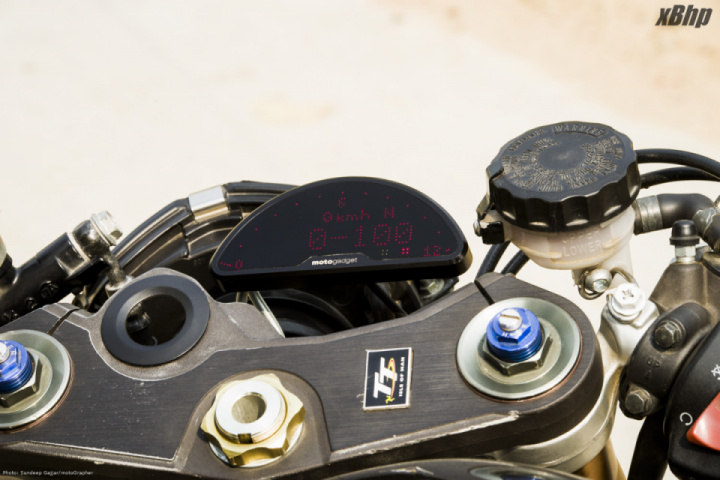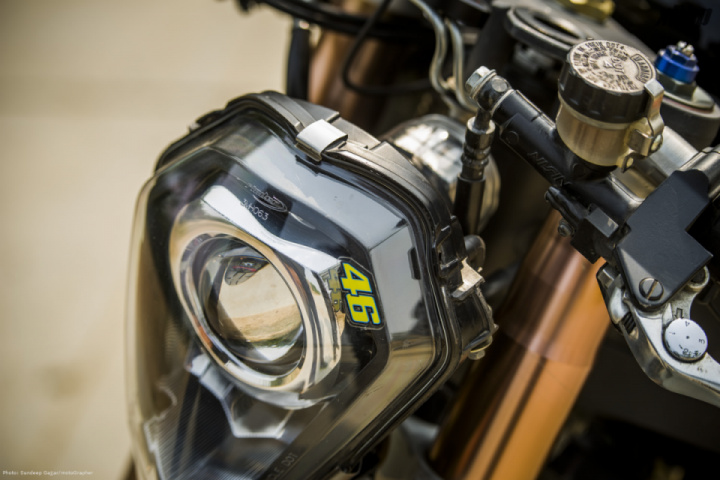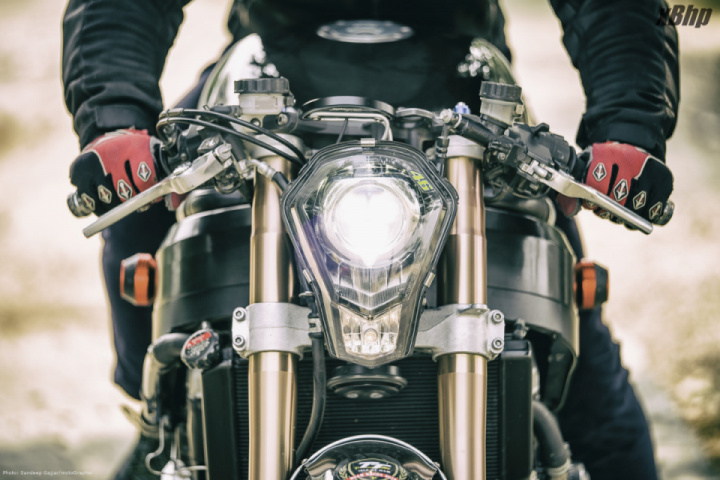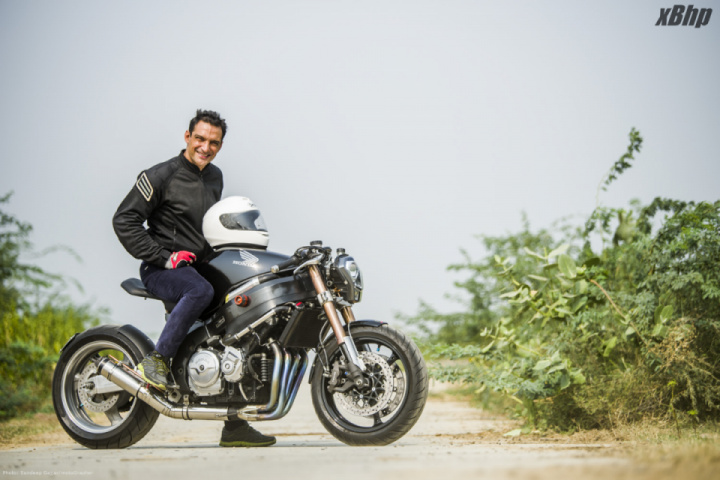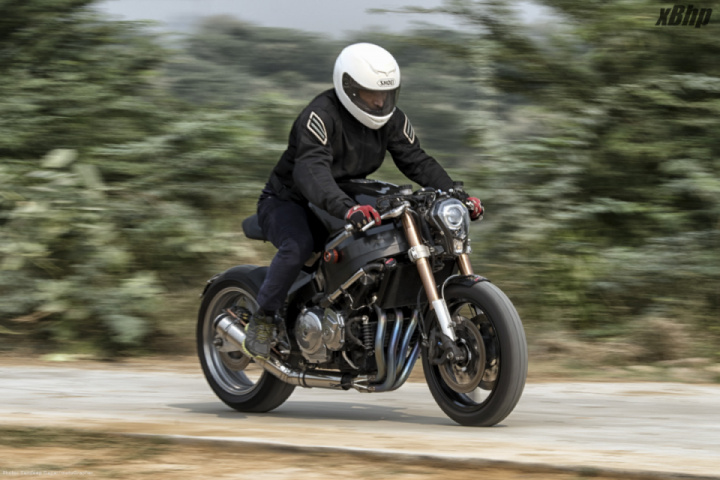 Credit:[xbhp]