In the Indian Open Unrestricted Class, the team recently won two awards at The Valley Run 2022 drag racing event at the Aamby Valley airfield in Pune (Up to 390 cc). With its turbocharged TVS Apache RR 310 and 40 years of racing experience, the factory racing team broke the previous record for the fastest quarter-mile time in the Indian Open Drag Racing Class.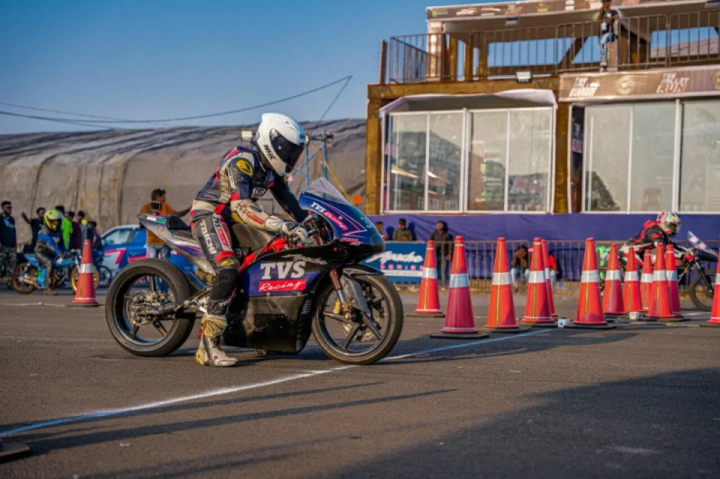 Jagan Kumar, a 10-time INMRC champion for TVS Racing, set a new record for the quarter-mile with a stunning time of 11.523 seconds. With a time of 11.996 seconds for the quarter mile, K Y Ahamed came in second. The TVS Apache RR 310's significantly modified engine produces nearly twice as much power as the bike's street counterpart.
Motorcycle Modifications
TVS Racing team used an electronically controlled turbocharger and made other appropriate powertrain upgrades, creating yet another outstanding technological milestone. The engine was furnished with a titanium connecting rod, lighter forged pistons, and titanium valves. With quickshift and launch control, the electronic system is programmable and closed-loop. The power-to-weight ratio was improved by the aerodynamically effective carbon fiber body construction with carbon fiber wheels and subframe.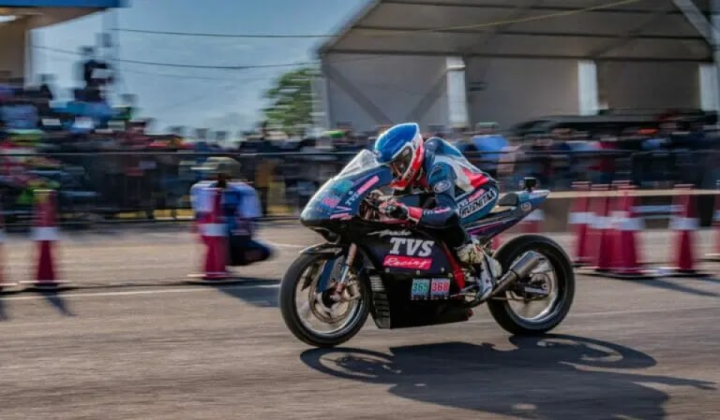 In order to have a steady and minimal weight transfer effect during maximum acceleration, the ride height was decreased. By extending the swing arm, the wheelbase was expanded, which effectively shifted the centre of gravity forward and prevented wheelies when accelerating. The motorcycle was 37% lighter than its street-legal counterpart thanks to extra preparations for the event.
Official Statement
Celebrating this incredible feat, Mr Vimal Sumbly, Head Business – Premium, TVS Motor Company said, "TVS Racing has achieved yet another milestone this weekend by breaking the all-time drag racing record in Indian open class up to 390 cc at The Valley Run 2022. After acing the Indian two-wheeler motorsports arena across formats, the factory racing team has now successfully demonstrated its prowess in drag racing with our champions Jagan Kumar and K Y Ahamed making us proud yet again.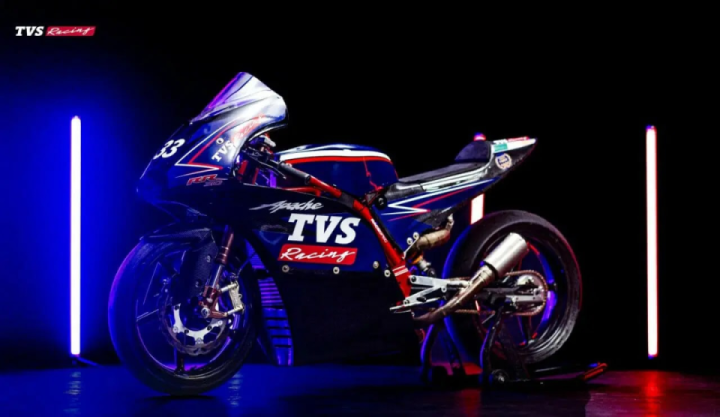 With the addition of this new feather to our hat, I'm sure TVS Racing team will continue to script success stories across domestic championships and events, making India shine on the global motorsports map as well. Our exhilarating win at this edition of The Valley Run is indeed a testament to the team's constant efforts to enhance its technological capabilities and maintain its uncontested leadership in the two-wheeler motorsports arena. I would like to congratulate the team for this victory and wish them all the best for the future."