In the last couple of years, we've seen electric bikes serve a variety of purposes. Some of them can cross water bodies while some E-bikes even carried rocket launchers to bring down enemy tanks. Taking this one step ahead (in a more practical way), YouTuber Phil's Shop has now transformed his electric bike into a snow plow to ride around easily in this jolly but snow-struck holiday time.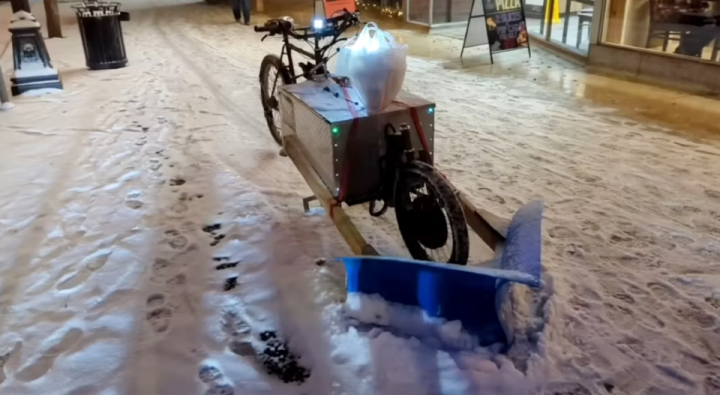 Phil Marciniak is no newbie to electric bikes, and he's worked on them for some time now. The Canadian citizen even has a bespoke cargo electric bike to carry big tools, which also became the starting point of his latest project. Though rather simple from afar, the snow plow construction comprises a thick wooden frame to hold the snow plow in place, even when there's some extra friction along the way. The plow itself, meanwhile, is cut out of hard plastic barrels and placed in a V-shape, so it directs the snow outwards, away from the path. Before this, he also attached a single-sided plow, but that made the electric bike harder to steer, thus birthing the current version.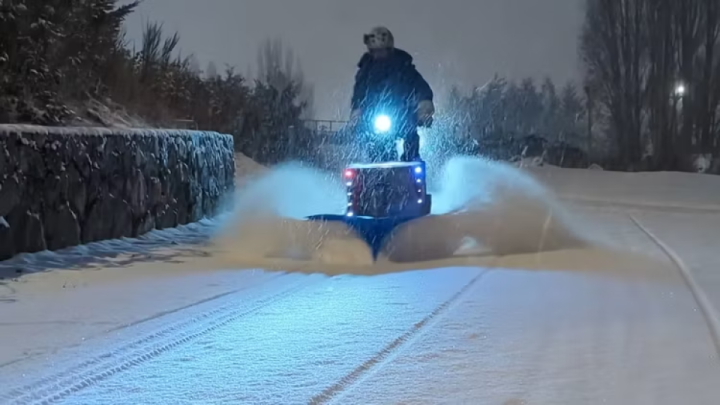 In his well-documented video, Phil is seen riding his electric bike snow plow, and it looks rather effective at the job. The snow is cleared away with ease, and the rider claims he could reach nearly 20kmph (12mph) in the process. There's also a neat trick to lift the plow above the ground in case the path's already been cleared. It's not entirely foolproof, though, as it doesn't work well in very thick snow (over six inches). Plus, it does look a bit Halloween-y and will turn a lot of heads (not in a good way), something only a few of you will be comfortable with.
As for handling, the electric bike looks pretty stable in the video. However, we believe this is because of the extra heft on Phil's self-built cargo bike, plus the extra long wheelbase. You should be ready for a few wobbles and some counter steering, in case you're thinking about building a similar snow plow from a standard electric bike. All in all, this is surely an interesting project Phil should be proud of, and it even made it to the Canadian news shows. Sure, there could be some improvements, but remember, it was never meant to be "perfect", just practical.