A few days after it was confirmed for Canada, Honda has also confirmed the XR150L dual sport is headed to the US market for 2023 at an MSRP under $3k USD.
This should come as no surprise; weeks back, we told you that Honda had filed paperwork for the XR150Lwith the US Environmental Protection Agency and California Air Resources Board. With the paperwork in place, it was only a matter of time before it was officially confirmed, especially after the Canadian arm of Honda showed the machine off on the Toronto-Montreal show circuit.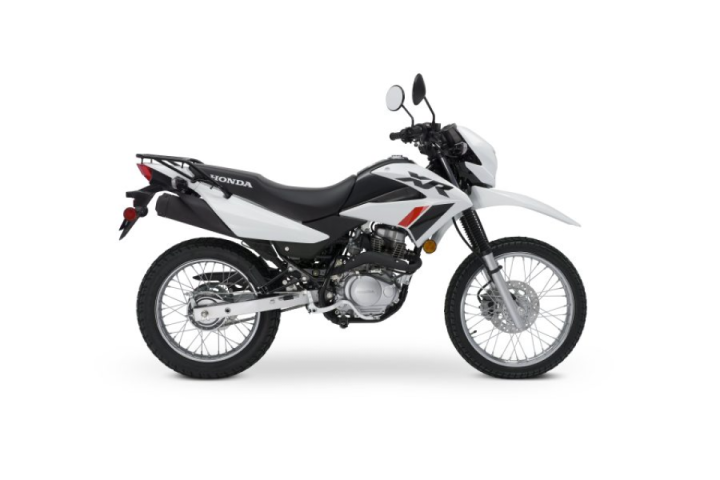 Here's what you're getting with the new CRF150L:
At the Toronto Motorcycle Show, Honda staffers confirmed the XR150L sold in Canada is made in Mexico. This should come as no surprise; here at ADVrider, we've had a thread on the XR150L going all the way back to 2014, when this machine launched in overseas markets. What's not clear is whether the Mexican plant is doing the heavy lifting of the manufacturing process, or simply functioning as a final assembly factory for knockdown kits built elsewhere. The XR150L was originally designed as a joint project between Honda and a Chinese company (see the Sundiro Honda website for the XR150L here). In some Asian markets, the XR150L has been built as a knockdown kit bolting up parts from multiple countries (Japanese engines and Thai-built frames, according to some insiders).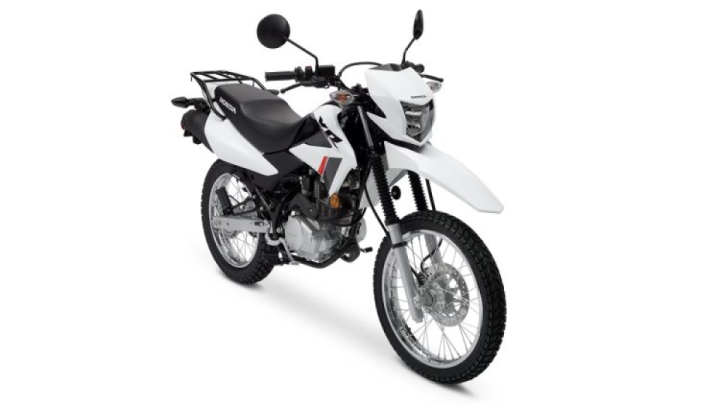 Older technology keeps down the price
The XR150L has been popular with western ex-pats in developing countries for years due to its combination of brand name recognition, reliability, and affordability. That affordability continues in North America, as Honda says the bike will have a $2,971 MSRP in the US (Canada's previously-announced MSRP was $4,599 ($3,921 MSRP and $678 PDI/freight).
That MSRP will make it the lowest-priced new dual sport from any Japanese manufacturer selling in the US or Canada. Just for the sake of reference, pricing in Mexico is MXN 50,920, which works out to just over $2,800 USD.
Honda keeps the price down by keeping the XR150L simple. There's a carburetor instead of electronic fuel injection. There's no ABS. It appears that American and Canadian customers don't even get the kickstarter option that other markets get.
The engine itself is an air-cooled SOHC 149cc single; Honda does include a counterbalancer to keep vibrations down, but the gearbox is only a five-speed. Fuel economy depends on the rider and terrain, but is generally considered to be excellent, and with fuel capacity around 3 gallons, you can ride a long way before needing to stop at the pump.
There's a disc brake up front, and drum in rear. The basic 31 mm telescopic fork has 7.1 inches of travel, and the monoshock offers 5.9 inches of travel, with no linkage assembly.
Basically, this is as close to a 1970s/1980s basic dual sport as you can get today.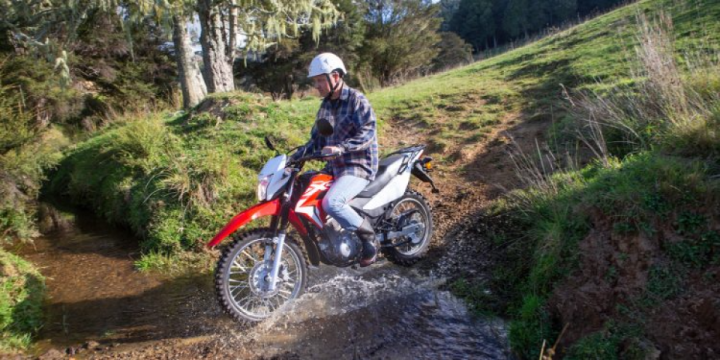 An easy-to-ride dual sport
The XR150L is designed to be easy to ride, with a 32.4-inch seat height. Front and rear wheel sizes are 19 inches and 17 inches respectively; this helps keep seat height low, but it won't roll over obstacles the same way a 21-18 bike can. Ground clearance is 9.6 inches; the machine weighs 282 lb wet, so it's not a modern enduro bike. In much of the southern hemisphere, it's marketed as an "ag bike," a machine designed for working on farms and maybe some basic commuting duty. Note that the rack comes standard, for strapping down whatever's needed for running fences on the ranch or whatever other agricultural tasks are at hand… or for bungeeing down a kit bag for a run to the gym.
More to come
We're sure to have more interesting deets on this machine in the months to come, as it's one of the world's most popular dual sport bikes—it's just been ignored in Canada and the US, until now.