Morocco by motorcycle
When riding a motorbike through North Africa, it's more about the journey than the destination.
A foreign land, a new language, sketchy roads, and a beast of machinery between your legs—these are the trappings of an epic adventure. And in Morocco, where the sea meets North Africa's Sahara, the open road is best explored by motorcycle.
Avoid the big highways between Marrakech, Fes, Essaouira, Imlil, and beyond, winding instead through tiny villages and between pop-up markets that crowd the streets, stopping at whim to sip scalding, sweet mint tea through a grin on your sand-burned face. There's a particular magic that two-steps throughout the country, the kind you want to reach out and wrap yourself in without actually altering its native fabric, woven from indigenous Berber, Arabic, and European influences.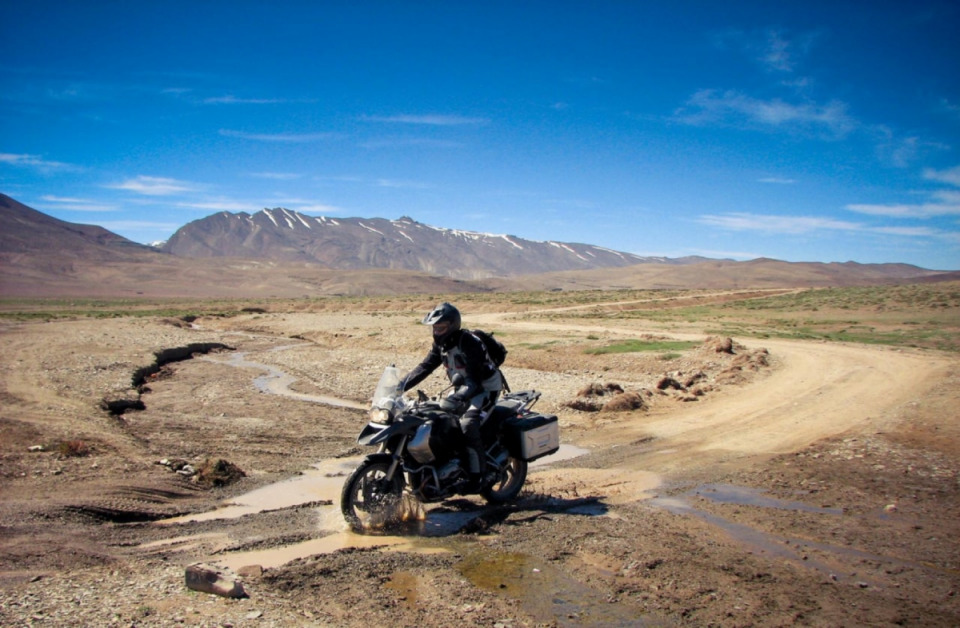 In Morocco, incomparably stunning architecture and design masquerade as modest constructions. The beautiful monotone howl from mosques reverberates across the medina's maze and up mountainsides, filling every open space both outside and within you until it encircles your very spine in prayer.
That's where Morocco lives—behind the walls, in the spaces in between—and while there are many ways to wrap yourself in a Moroccan cocoon, here are five reasons to consider exploring the North African country by motorcycle.
It's romantic.
We're not talking heart-eyes, voice-purring romance, but the kind that 18th- and 19th-century Brits like Keats and Byron got down with, that capital-R Romance.
There's an intimacy built into motorcycle travel that you just don't get during car road trips, even with all the windows down. It's a method of travel that puts you in harmony with not only the land but also the people. A unique sort of joy piggybacks on the dirt that collects around your visor and bandana, lending the illusion of premature wrinkles as you smile. On a motorcycle, you're forced to feel your way through space as you lean with the bike into each curve, fully inhabiting the moment. A shift in the air alerts your body to a change in habitat before your eyes can see it—from the clinging heat of open plains to refreshing cool of the Middle Atlas mountains.
It's cost effective.
Whether you rent your bike in Spain and take it on a ferry nine miles across the Strait of Gibraltar or start in Marrakech, exploring Morocco by motorbike won't seriously burden your wallet. While prices vary depending on the type of bike you secure, a round-trip, 10-day traverse of the northern half of the country from coast to mountain might run about 5,500 Moroccan dirham (around U.S. $580) for the rental, gas included. Add an extra 150 Moroccan dirham (around U.S. $16) for the speeding ticket you'll inevitably get from the cheery police that wait along the road at makeshift ticketing stalls resembling lemonade stands.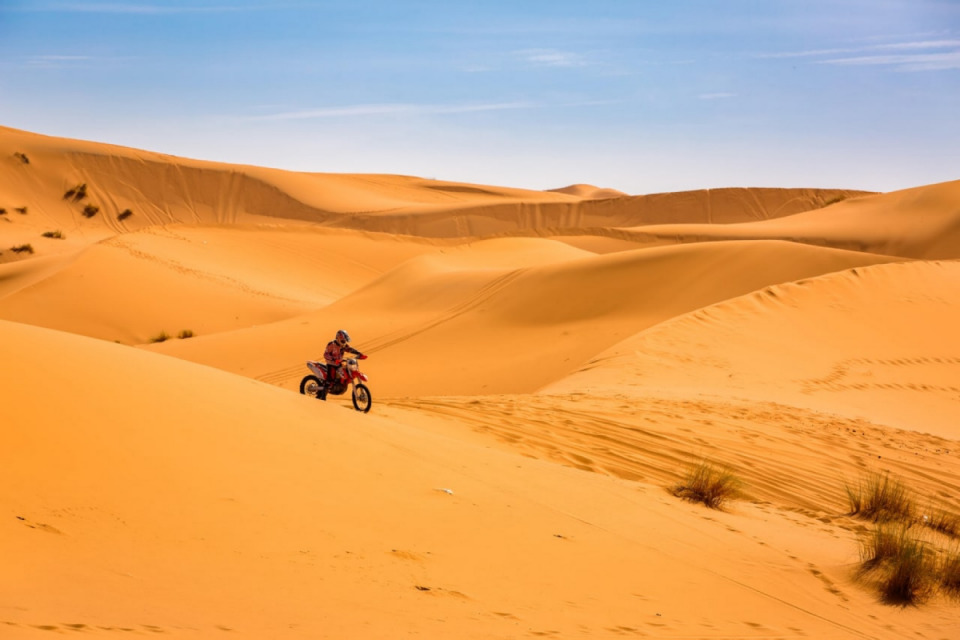 There's the badass factor.
Sometimes your ego is going to call shotgun, and every now and then it's just more fun to let it ride with you than to fight it. Let it go ham each time you swing your weight across your trusty mechanical steed to dismount in front of a place built for a king—perhaps literally, depending on where you stay. At the Royal Mansour, a luxury oasis that the king of Morocco had constructed just inside the old medina in Marrakech, you're greeted with the dancing eyes and tickled smiles of bellmen standing outside the hotel's soaring, immaculately carved gates. No matter how filthy or disheveled you are, there's a sort of delight and camaraderie exchanged as they offer to store your sweat-caked helmet.
Whether arriving at your riad, a traditional Moroccan home, in a cosmopolitan city or rolling through a small coastal town, you're a spectacle—a one-man parade, and though it's not exactly becoming to admit, the feeling is playfully empowering.
Navigation is easy.
Sure, the massive roundabouts filled with taxis, pickup trucks, bicycles, and tiny mopeds piled with families of three can look overwhelming to the non-Moroccan eye. But patterns are patterns, and learning the ways of the road takes just a few minutes of observation while following the natural flow of traffic.
The bike's horn will help you communicate on the road, so make sure to test it before accepting the rental. While the country's primary languages are Arabic and French, road signs use both Arabic and Latin script along with arrows that transcend language barriers, taking a significant amount of guesswork out of navigation. The free SIM cards available at the airport make it even easier. Simply look for people clothed in orange Maroc Telecom shirts, often located both before clearing immigration and just outside the airport. They'll scan your passport and give you a SIM that's pre-loaded with 1G data and good for an hour's worth of calls in the country.
You've got total freedom.
Morocco's transportation infrastructure is solid. Train service spiderwebs across the country's main cities and tourist destinations, and cars-for-hire (be prepared to haggle) will take you everywhere else. It's a perfectly adequate option ... for those without a motorcycle license (and yes, you need a class M license or equivalent to rent a bike in Morocco).
Trains often arrive hours late, and that's with an "on-time" departure. You're also bound to a schedule, limiting your spontaneity to a timetable. And then there's the stress of securing your ticket ahead of time (bye-bye impulsive decisions) and getting to and from the station, your punctuality necessary regardless of when the train actually leaves. Of course, that's all part of any adventure in any new country, but it's also a part that can easily be had (and enjoyed) just once: on your way to secure or drop off the motorbike.
Writer Hannah Lott-Schwartz, Photograph by Zdenek Kajzr, James Cheadle.
0


Follow
1.4K