Wheels of [mis]fortune
Oddly enough, the question of what wheels to use has been the hardest nut to crack so far. The thing is, no modern bike uses 19 inch rims any more. At least not at the back. The only cast 19-inchers I could find are the ones made by Performance Machine, but they are just too much "bling" for my taste. You could of course have a couple of motocross hubs laced to a set of 19 inch rims and be done with it. But I wanted cast wheels. So I started to look for 19-inchers. Someone told me that the rims on the Buell Blast (see earlier post) were "Morris" wheels, and that similar wheels had been used on 80s Kawasakis. It didn't take me long to find a suitable pair on eBay (see image above) and a "buy-it-now" deal was made. However, the jerk that had put the wheels up for auction, didn't pull them off eBay, and they were subsequently sold to another bidder. Hm. After sulking for a few hours, I realised that I hadn't really thought the wheel issue through enough. Not only was the Kawasaki front wheel only 1.85'' wide, which is a bit too narrow. The rear wheel, being an 18-incher, would have left me with a very narrow selection as far as tires go. In fact, the only 18 inch flat tracker tire available is the Dunlop K180, which is only 120/90. A bit too narrow for my taste. So maybe the fact that I lost that auction turned out to be a good thing after all.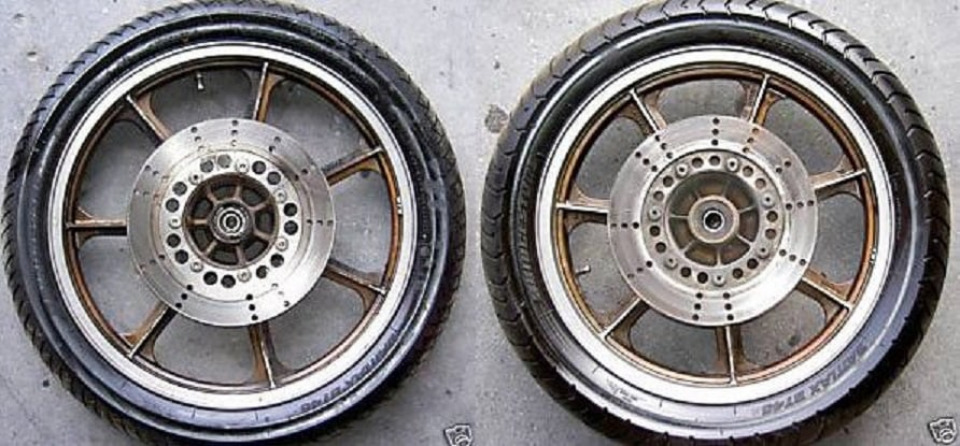 To make things even more complicated, the only street legal flat track tire available is the 19'' Dunlop K180 front tire. There is no street legal 19 inch REAR tire as far as I know. But I've decided to go for a 19 inch rear rim anyway. I will have to find some kind of street legal 19 inch tire and slap that on when I go for the MOT. Maybe some kind of street legal enduro/touring-tire. Which of course will be changed for a proper flat track tire five minutes after the bike passes the MOT.
Sooo, what rims have I settled for? Well, all I can say is that there is one very promising rim making its way over the Atlantic as I write this. And it was manufactured in 1976! Check back in a couple of days and I'll show you what it is.
0


Follow
1.8K