On its Digital Day 2018 event, as usual, the BMW Group showed the latest technology applications aimed to change the automotive world in the near future.
As you know, 3D printing is already producing car parts, but among the technology concerned BMW's automotive business, there was a great surprise for motorcycle fans: a mysterious 3d-printed motorcycle frame for a BMW S1000RR superbike.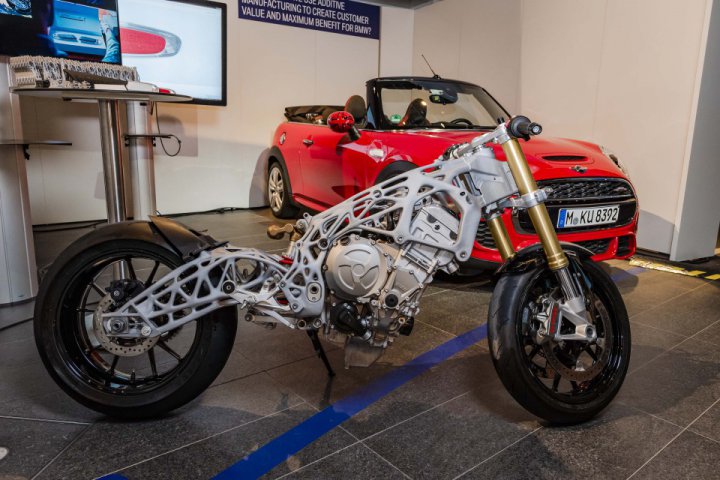 Sometimes, and using the right machines, manufacturers can produce 3D printed parts in metal. And that seems to be what BMW did with this S1000RR chassis. The chassis appears to be made in aluminium, and in fact looking at it we can say that it seems to be really light!
The finish is pretty rough, and we can't be sure of its strength properties. But we can look at this from the point of view that BMW is in fact exploring new ways to produce fast and lightweight parts for motorcycles.
At Digital Day, BMW said that its Additive Manufacturing Center (based on the BMW Group's Research and Innovation Center in Munich) already makes as many as 140,000 3D printed parts per year in both plastic and metal, for several departments of the Group. But those are parts used mainly in their cars like Rolls Royce or the new BMW i8 Roadster (for its soft-top mounting mechanism), while the current use is mainly for prototyping.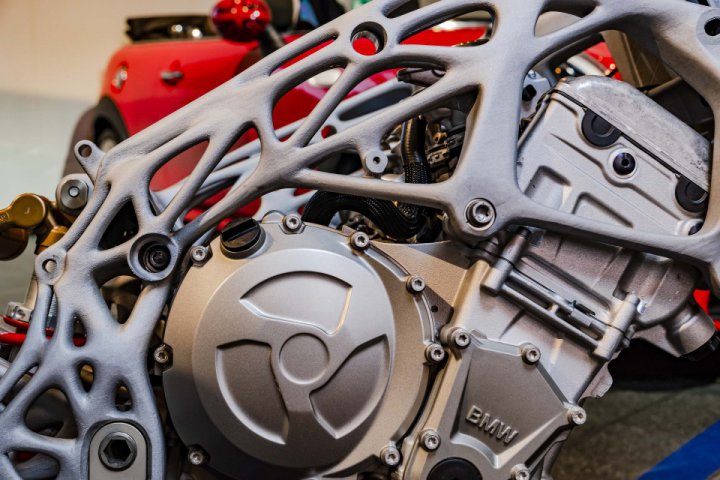 Of course, BMW isn't an ancestor of additive manufacturing for a motorcycle. As you can remember, later we saw the Divergent 3D Dagger, and the machine's chassis comprised solely of metals that have been 3D printed. This feature made Kawasaki Ninja H2R with a supercharged engine more modern.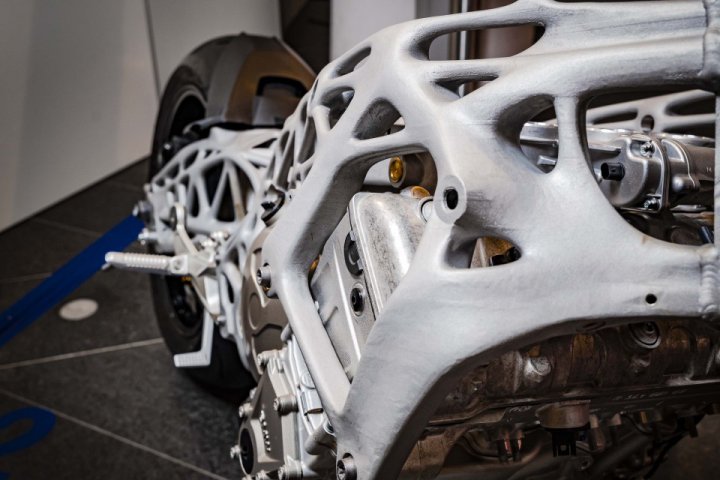 BMW has never been shy to innovation, and besides its 3D-printed parts in metal, it revealed a new method for cheap carbon composite parts. The BMW Group even won an award after displaying a carbon fiber swingarm and frame for the BMW G310R motorcycle.
BMW Motorrad plans to release the BMW S1000RR later this year, but we shouldn't expect the 2019 S1000RR to arrive with this alien-esque frame and swingarm. However, seeing BMW take such daring steps towards the future should give us confidence that there are truly interesting new things coming our way soon.