Harley-Davidson with the Tuscany Motor Co. has revealed special Harley-Davidson pickup concept, which will be displayed at the Harley-Davidson museum in Milwaukee, as part of the motorcycle manufacturer's 115th anniversary celebration. In fact, the concept is based on a 2019 F-150 pickup truck.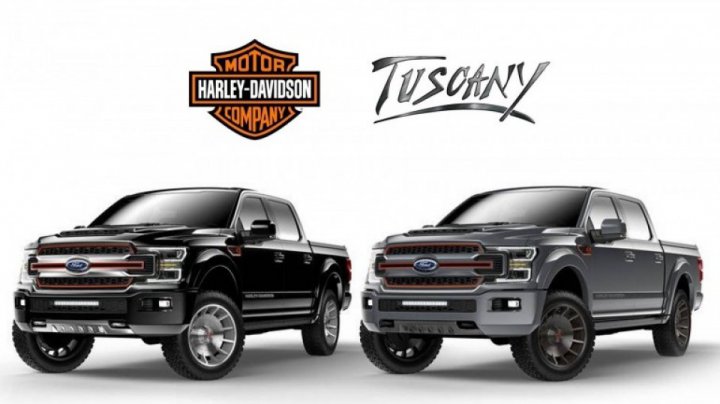 Previously Harley-Davidson dealt with F-150, as H-D motorcycle buyers are the target audience for one of the most popular pickups in the US. Ford F-150 has a huge number of modifications and finishes. The Harley-Davidson version is painted in black and orange colors with leather and chrome finishes and Harley-Davidson logos.
Tuscany's truck takes its inspiration from Harley-Davidson's Fat Boy motorcycle. In addition to the special paint job and chrome, the pickup is equipped with the 18-inch wheels, wrapped in all-terrain tires, custom fender flares, underbody shield, a custom Flowmaster exhaust with H-D tips. The concept truck gets a unique BDS suspension lift. Also we can name such details as two-color perforated leather, H-D floor mats, entry sills, accented tips of the center console, steering wheel and doors.
Since August 29, all visitors of the H-D Museum in Milwaukee can test the 115th Anniversary Harley-Davidson Ford F-150 pickup truck, available in black or gray.