Harley-Davidson is paying homage to muscle car culture with its latest limited-edition collection, Fast Johnnie. This 2023 Enthusiast Motorcycle Collection offers factory-direct custom paint and graphic treatments, inspired by the high-performance muscle and pony cars of the 1960s and 1970s. The Fast Johnnie paint scheme features Celestial Blue with white racing stripes and a Fast Johnnie character on the left side of the fuel tank. It is available for the Low Rider® ST, the Street Glide® ST, and the Road Glide® ST models, with a production limited to 2,000 of each model worldwide.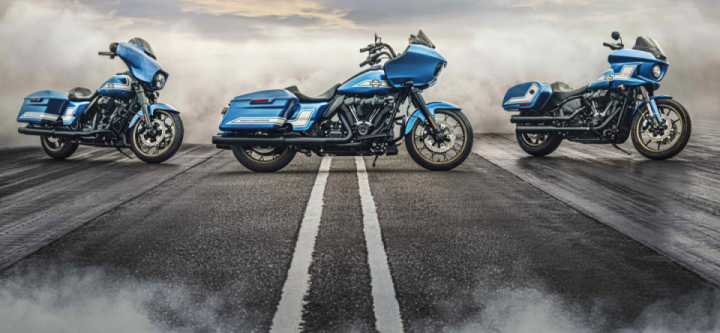 The Fast Johnnie collection honors Harley-Davidson riders' stories and legacies, with a special emphasis on the racing heritage. Brad Richards, Harley-Davidson Vice President of Design and Creative Director, described the Fast Johnnie striping graphic effect as "a powerful signal to the generation that came of age during this era, and is still impactful today." The Celestial Blue base color adds a nod to the popular muscle car era. The Enthusiast Motorcycle Collection logo is on the rear fender, while the "Harley-Davidson" script replaces one of the thin stripe elements on the tank and front fender.
The Low Rider® ST, Street Glide® ST, and Road Glide® ST models retain their mechanical features while sporting the Fast Johnnie special styling features. The Street Glide® ST model offers elevated pro-touring bagger performance and style, while the Road Glide® ST model projects a more menacing look with a "sharknose" fixed fairing. Both models feature black-and-bronze finishes, while the Low Rider® ST model offers a clean-and-lean West Coast style. Harley-Davidson® Genuine Motor Parts & Accessories provides a color-matched King Tour-Pak® luggage carrier, Chopped Tour-Pak® luggage carrier, and saddlebag speaker lids.
Harley-Davidson continues to stand for the timeless pursuit of adventure and freedom for the soul. Visit H-D.com to learn more about the complete line of 2023 Harley-Davidson motorcycles, Harley-Davidson Certified™ pre-owned motorcycles, Harley-Davidson Genuine Motor Parts & Accessories, Harley-Davidson MotorClothes and gear, and Harley-Davidson Financial Services.
#Harley #Moto #HD