As you can remember, earlier this year, Harley-Davidson announced that it was working on small capacity bikes, like many other manufactures. However, the company could hardly make it happen itself, so it was looking for a partner.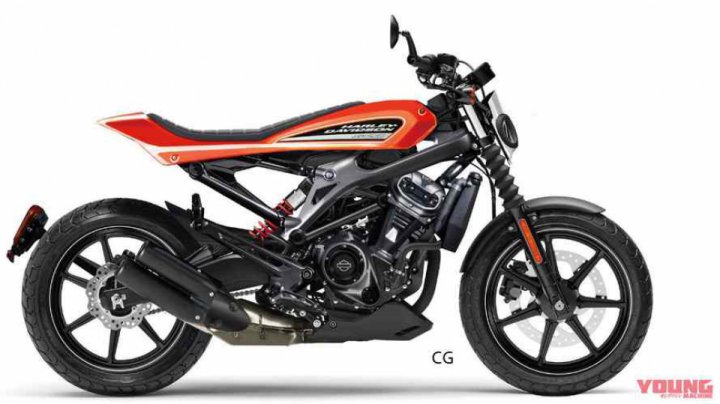 According to the site, Harley has entered into an alliance with an Asian manufacturer, and the new bike will be launched in 2022 at markets like India and other South East Asian nations. The small capacity motorcycle will be brought to India to expand Harley-Davidson's reach and broaden the customer base in the world's largest two-wheeler market.
According to the company's long-term plan unveiled on July 30, 2018, the Harley-Davidson aims to refresh its image as an aging brand. The company plans to introduce a new custom cruiser, a street fighter and an adventure bike. The iconic American manufacturer had released a few render images of future products, including the electric motorcycle line-up.
Rendered images, which now you can find on Japan's Young Machine website, show how the upcoming small-displacement Harley-Davidson could look like. But it's still a render, created by Young Machine editor Ichi using a modified Street 500 engine block morphed into a one-cylinder, wrapped into a flat-track-looking package. The fit, details and finish look very impressive, and the design certainly looks straight out of the future, clearly with some inspiration from the drawings released of the Harley electric models released earlier this year.
It's still unknown, which Asian company Harley will partner with, to release this small capacity motorcycle. Several Indian manufacturers already have partnerships with premium European brands. For instance, TVS Motor Company has an alliance with BMW Motorrad, where the smallest models (the BMW G 310 R and BMW G 310 GS) are produced at the TVS factory in India. The jury is still out, and there are no confirmed reports of which Harley-Davidson will partner with, but it is very likely that the new small displacement Harley-Davidson will be made in India.
#Moto #Bike #HD #Harley