The modern concept of the cafe racer has strongly evolved since it was first created in 1950s in London. The first cafe racers were simply production motorcycles with more powerful engines. They were usually equipped with clip-ons and knee-indents in the fuel tank. All superfluous parts were removed to make the bike lighter (fenders, chain guards, side covers, and sometimes even headlights).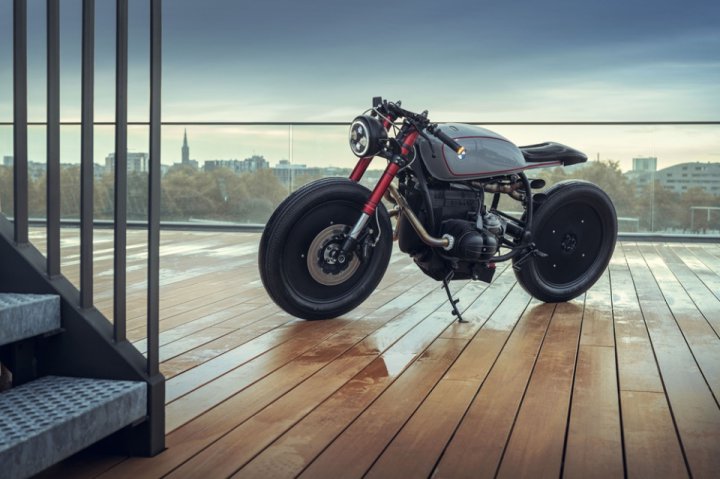 A modern cafe racer is a vague concept. They refused from the original concept, but still try to follow the usual look.
The photo shows the BMW R80RT cafe racer, made by Moto Adonis.
Specs:
tank from a Honda CB500
custom subframe with integrated LED indicators
custom seat, upholstered in leather and Alcantara
inverted forks, sourced from a Suzuki GSXR SRAD
front and rear wheels: matte black aluminum discs, Shinko tires
the license plate and brake light were moved to the righthand side
handlebar: clip-ons with new Motogadget grips and Motone switch gear
new headlight
Motogadget bar-end blinkers
custom 2-into-1 exhaust with an integrated muffler under the seat
Motogadget M-Unit Blue speedo