Airbag systems are common on cars, but the motorcycle world is just now accepting and learning how to apply the airbag to rider safety. MotoGP riders have been using them on their suits for years, and some motorcycle accessories manufacturers like Dainese and Alpinestars have brought the airbag to the street, inserting them on their jackets for extra protection.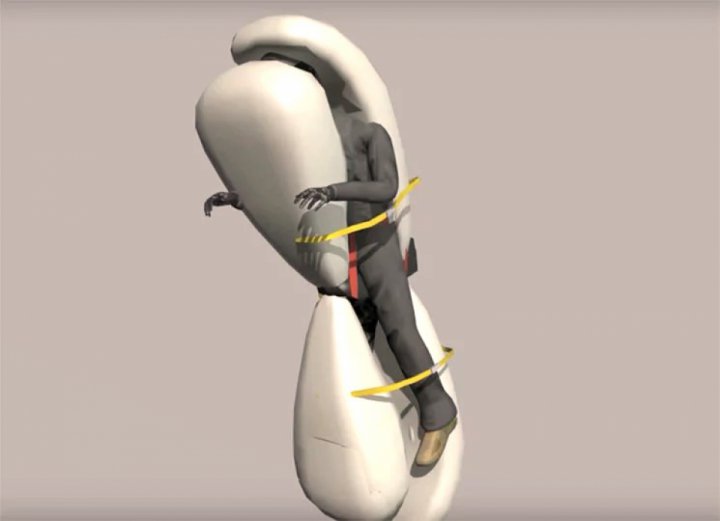 Now, a start-up company has started to work on their own airbag system called Airbag for Bike.
Inspired by the ejection seats used by the military on their fighter airplanes, this ejection seat with airbag promises to enhance rider safety by creating a protection bubble around the rider in case of an accident or crash.
The airbag itself is inserted on the seat of the motorcycle and not on the jacket of the rider, and the airbag only deploys in case of a crash above a certain speed. The system is easy to use, with the rider only needing to close a buckle around the waist, with an automatic system to unlock when the rider turns the engine off.
The system uses gyroscopic sensors to calculate the impact forces. If needed, the system will release the seat from the bike, and the airbag is deployed in just a few milliseconds around the rider's body. The algorithm, developed and used specifically on this revolutionary ejection seat with airbag for motorcycles, knows if the airbag should be deployed or not, so if the rider crashes at lower speeds, or the bike just falls to the side when stopped, the system won't inflate the airbag.
The North American start-up is now searching for investors to inject the money needed to take the ejection seat with airbag for motorcycles from concept to reality.
Here's a video that shows exactly how this system works:Credit:imotorbike
Join the community of motorcycles and people
Moto Riders Universe app is the best way to stay informed about what's going on in the moto community — whether it's finding a good news, planning a local event, or sharing safety tips. There are so many ways our moto-buddies can help you, just use this easy way to connect with them.