When we talk about custom bikes, we don't usually think of the Honda Gold Wing. This touring machine doesn't necessarily lend itself to customization. However, it didn't stop Honda from bringing a super-cool custom Gold Wing to Daytona Bike Week. The bike is called the "Cool Wing."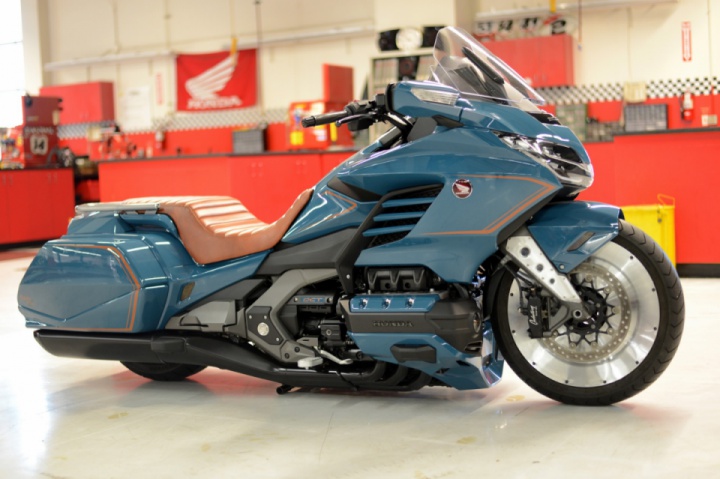 Kevin Dunn, Duy Nguyen, Jimmy Chen and Ray Tong, of Southern California's Steady Garage built the bike.The "Cool Wing" pays homage to the Gold Wing's past while still looking to the future.Designer Francis Clemente is the man who came up with the design concept.
The bike gets air suspension,batique-style mufflers,a custom hand-crafted leather seat,and a light blue paint job among other things.The air compressor for the suspension system is hidden away in one of the saddlebags.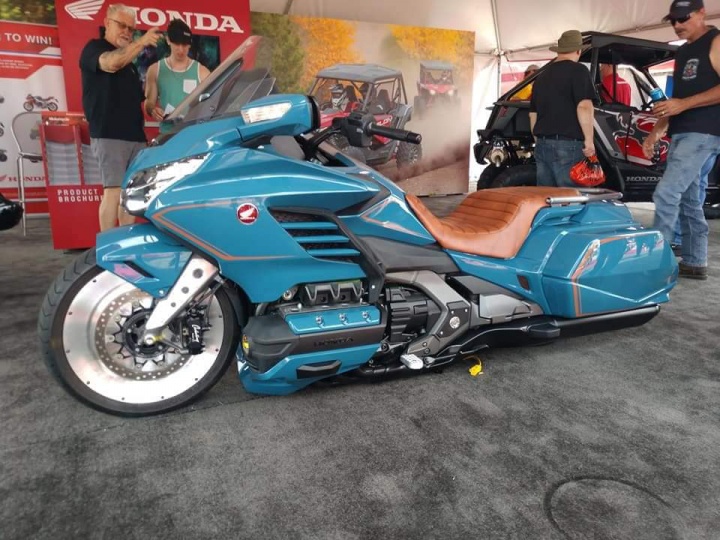 Steady Garage worked in collaboration with partners to produce and fabricate special parts for the bike. For instant, Mooneyes created the disc covers for the front rim, Platinum Air Suspension provided air shocks to help achieve the slammed stance without sacrificing the ride height. Over 33 individual parts were painted by Maxima Imagen. Electrical Connection provided dress-up components.
As far as technology goes, the team didn't skimp out.The bike gets the first-ever motorcycle blind-spot monitoring system among the Gold Wing's other current tech (Cub Group). Rogelio's Auto Upholstery fabricated the seat. Overall, it took them one and a half months to bring the concept into reality.
Steady Garage Co-founder Kevin Dunn said: "The project was very challenging due to the Gold Wing's new design, as there was no guidance from any existing builds or projects that fit our style. Our hope was to build a custom Gold Wing that would be appreciated by riders of all ages, interests and backgrounds. We had to make it look cool without stepping away from functionality."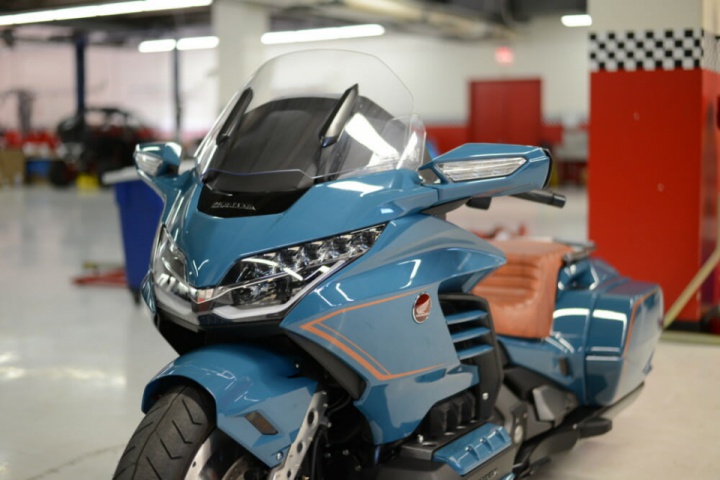 Honda Motorcycle Shows and Public Relations Manager, Chris Cox added: "We wanted to highlight the fact that while it's rightly known for its amazing touring capabilities, it's also a very high-performance machine that can be appreciated by a broad range of enthusiasts. Steady Garage embraced that theme for this project, and we're very pleased with the result."
This project is very illustrative. It shows that anything can be customized tastefully with a well-crafted design and superb execution. As a result, we got a unique and awesome machine.The guys at Steady Garage are really talented builders and they did a fantastic job!
Besides Daytona Bike Week, the Cool Wing will be presented at other motorcycle events of the year, including the Grand Prix of the Americas in Austin, Texas, and the Americade Motorcycle Touring Rally.