Currently Indian has three registered names of potential models. It seems that there is an owner for one of them – it's a tourer with a fixed-fairing and a new liquid-cooled engine. Here you can find one spy photo and some information.
Over the past year, Indian has received patents for names "Raven", "Renegade" and "Challenger". Most Indian owners agreed that these names would be needed for younger models based on the FTR 1200–up to 750cc bikes. Some patent drawings proved this theory, but in the end, a big tourer took the victory.
The company's already has a Roadmaster – a tourer with a fairing on the fork. However, the upcoming new product is unlikely to replace it. Judging by the elements that can be seen, we are waiting for a new liquid-cooled engine, a huge fairing in the style of the H-D Road Glide, as well as inverted fork and Brembo brakes. Considering the design of the headlight, fender and discs, it's rather a bike for Victory fans, which have been deprived of Cross Country baggers. The updated Indian Chieftain models also hint at this vector of design. Its fairing is very close to the sharp lines of Victory motorcycles. Ola Stenegärd is currently the director of product design at Indian Motorcycle and a former head of design at BMW Motorrad. The R nineT was created under his leadership.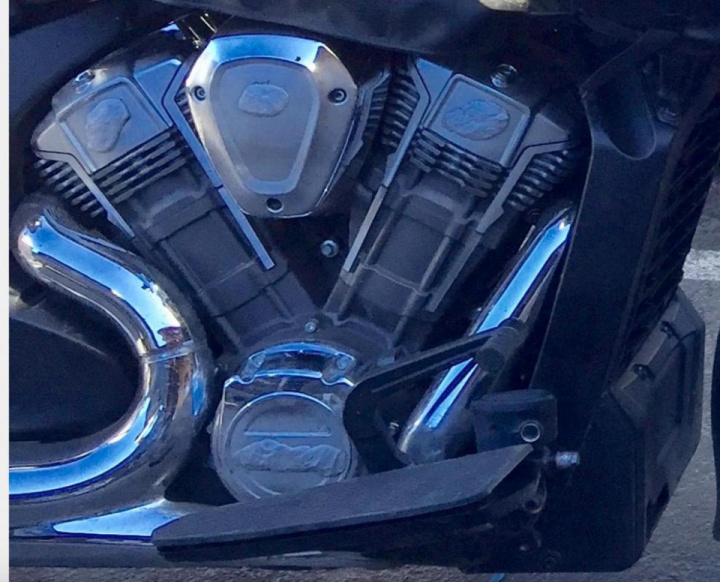 There is also a clear need for a new engine. The current air-oil-cooled Thunder Stroke 111 engine successfully copes with heavy baggers and tourers, but it will not be easy for it to exist in a world ofever-growing environmental requirements.
However, the issue of the position of new items in the Indian lineup remains. Judging by the photos, the tourer is proportional to the older brand models, although the company has a huge gap between 1130 cc Scout and 1.8 liter Chief. You can expect the launching of the model this year – even being hidden, it looks almost completely serial.