"I always wanted to have a motorcycle," admits Israeli artist Boris Shpeizman. "But my mom was telling me it is too dangerous."
So Shpeizman did the next best thing: he built himself a life-size motorcycle – entirely out of glass.
Shpeizman is one of Israel's leading artists working with "hot glass," a technique where glass is heated to a liquid so it can be blown into surprising new shapes. Like the wheels and handlebars of a motorcycle.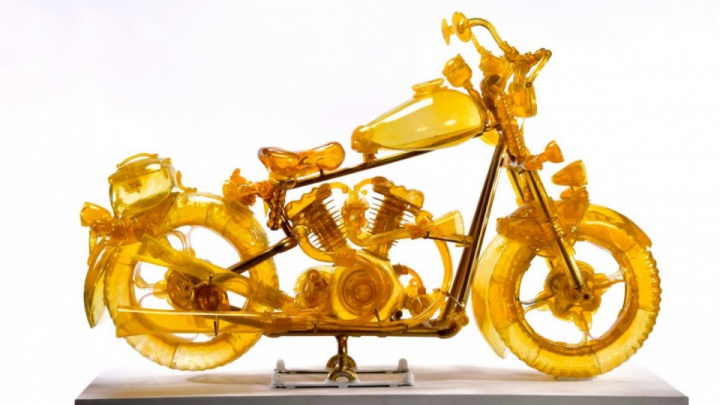 Boris Shpeizman's glass motorcycle. Photo: courtesy
Glass at high temperatures "behaves like a live tissue," Shpeizman tells ISRAEL21c. "There is no other material that has so many unique properties."
Shpeizman's motorcycle is entirely gold in color – "like a horse of Helios, the Greek god of sun," he quips. The resulting sculpture is ethereal, appearing more like a heavenly dream than the real thing.
That's intentional, Shpeizman says.
"When I grew up and could afford to get one myself, I realized it was much better to hold a dream about a bike rather than to have the real one," explains the artist, a graduate of Bezalel Academy of Art and Design in Jerusalem, where he has taught since 2006
Shpeizman's bike is part of a series he calls "Rise of a Lollipop."
"It's about the childhood dreams of men, about the toys they never stop dreaming about and their fragile inner world," he says. "Behind every man hides a little boy who wants to get his lollipop."
Shpeizman has a history of dreaming big. He grew up in St. Petersburg in a family of Refuseniks who regularly got in trouble with the KGB for Zionist activity.
"Luckily I have never been arrested for longer than a few hours," he says.
In 1988, Shpeizman received permission to immigrate to Israel. Today he lives outside of Jerusalem and maintains Israel's "first open-to-the-public hot shop" for glass in Tel Aviv.
"Behind every man hides a little boy who wants to get his lollipop."
Given the years of longing for Zion, it's not surprising that Jewish motifs can be found in some of his art. Shpeizman won first place in 2013 at a competition sponsored by the Museum of ImaJewnation in St. Louis for his Passover-themed "four cups of wine for freedom" glass art.
"The work is a goblet made of glass and rusted tin cups," he explains. "Many brave Jews, who were sent to the Gulag due to their Zionist activities, did not have Kiddush goblets but nevertheless celebrated Passover by drinking from tin cups."
Shpeizman also created several glass shofars that were acquired by the Genesis Fund and presented in awards ceremonies to Michael Douglas in 2015 and US Supreme Court Justice Ruth Bader Ginsburg in 2018.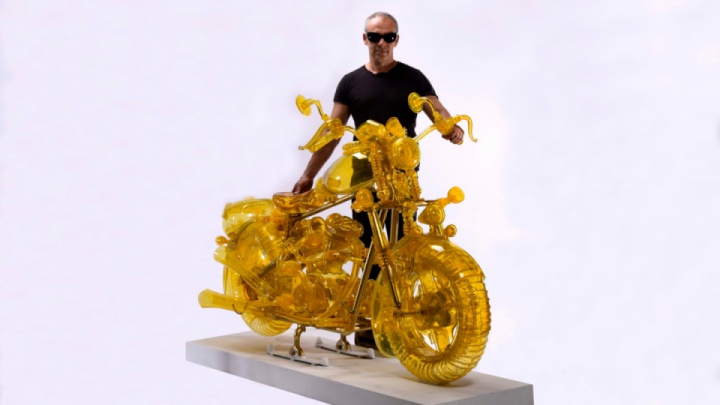 Shpeizman almost didn't become an artist. In his native Russia, he trained to become a dentist and worked in the field for 10 years, including when he first made aliyah.
"One day, I thought, if I die, people will not know what to say about me at my funeral except that I was good at fixing teeth," he tells ISRAEL21c. "That was not good enough for me."
He started his studies at Bezalel initially as a "pure hobby to remove the boredom of routine."
That's turned into a passion. "I create and teach in Israel by choice," Shpeizman says. "Every person who lives in Israel is a part of an ongoing, unprecedented historic event. I am proud to be part of Israeli culture by pioneering here the modern hot glass art movement."
In 2012, Shpeizman was invited to build a hot glass workshop at the University of Veliko Tarnovo in Bulgaria. He was a visiting lecturer at the school for four years and participates in annual master classes there.
Shpeizman's work can be seen around the world, including in the UK at the Pyramid Gallery in York and the Peter Layton Gallery in London, and in the US at the Museum of American Glass in Wheaton Village, New Jersey.
He has participated in competitions in Canada, Germany, Holland and the Czech Republic. Closer to home, the Eretz Israel Museum has on display a glass knight Shpeizman created.
As for the glass motorcycle, you'll have to visit Shpeizman in his studio to see it by appointment. Contact him via his website.
If you wanted to purchase his glass bike, how much would it cost?
"A glass motorcycle costs much more than a real one," he responds. "Dreams have significant price tags!"&
Credit: israel21c
Artist: www.hotglassnews.com