Erik from Sweden refrained from the bombastic Hamamatsu style (which is nice too, if done right).. and instead of adding parts, he completely stripped his '77 ST70 Dax into the green 'n clean bobber you see in the pictures.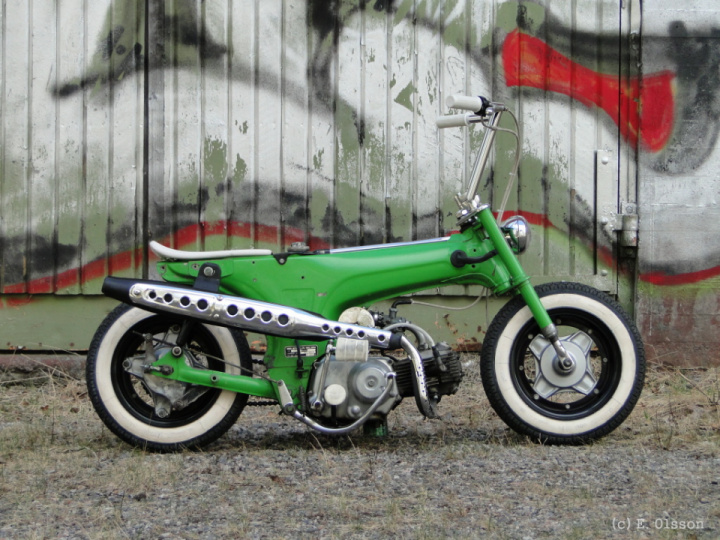 List of completed works:
The front was lowered whilst the rear shocks were also cut to lower the Dax, hence no suspension left..
Z-bars and white grips came from a bicycle shop.
Alloy 3.5" rims replace the stock 2,5" steel rims which are shod with 3.5" wide Sava whitewall tyres.
The seat was cut from a plywood Ikea seat (what else..) and covered in white vinyl leather. Ikea also donated the coffee mug coasters that act as sidecovers on the airbox.
White pegs, grips and kicker pedal match the Sava's whitewalls..
For a vintage look the throttle cable as well as the brakecable were covered with clothed wire covering from an old flatiron and the small head- and taillight both origin from old bicycles.
The 70cc engine was kept stock, just the chromed exhaust was swapped for a black 12v exhaust..
All pictures made by Erik Olsson.
Credit:chalopy.blogspot