The Dutch tricycle with tilting technology is celebrating a comeback with an electric drive. The electric bike, or quad rather, which will be available in autumn, will be cheaper than its fossil-fuelled predecessor, at around €8,000.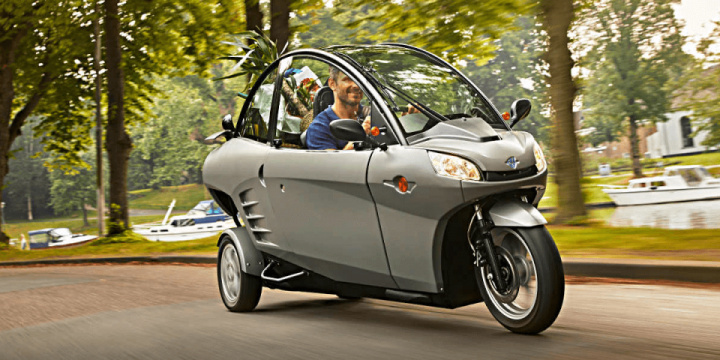 The first Carver was powered by a Daihatsu three-cylinder combustion engine and was discontinued in 2009. But with the new electric three-wheeler, Carver has not simply switched the engine but has also changed the concept and orientation of the two-seater. Previously, with the 50 kW combustion engine, the Carver One was supposed to be able to replace a car in almost every situation. In view of a price of almost 60,000 euros, only 200 buyers were found between 2007 and 2009 – which is why the project ended in insolvency.
In the ensuing time, Carver kept itself alive by selling this tilting technology, and now similar technology is used in three-wheeled cargo bikes. Carver's tilting device is called Dynamic Vehicle Control, or DVC. Hydraulic mechanisms can lean the body up to 45º in order to counteract the side load, making the vehicle more stable. The big difference between the old and the new Carver is an overall reduced energy usage: from 50 kW of the combustion engine in the original version, the new Carver now uses two electric motors each using only two kW. Carver has limited the maximum speed to 45 km/h. The slim, covered vehicle weighs 330 kilograms and has a range of 100 kilometres.
With a width of just 88 centimetres, the Carver is built to serve as a commuter vehicle in the city. This means it has similar advantages to a motorbike in heavy traffic, only slower, with the advantage of being covered or open as the driver so desires. The battery (5.3 kWh) located at the rear can be charged in 6.5 hours at a household socket.
The e-Carver has enough space for two adults sitting one behind the other. In addition, some luggage can be stowed in a small boot of 75 litres. The roof above the grille frame can be opened, turning the e-Carver into a kind of Targa. Riders will at least need a scooter license to drive the new Carver.
Sourse:electrive
Join the community of motorcycles and people
Moto Riders Universe app is the best way to stay informed about what's going on in the moto community — whether it's finding a good news, planning a local event, or sharing safety tips. There are so many ways our moto-buddies can help you, just use this easy way to connect with them.