Since 2006, five motorcyclists have been killed by unexpected blowouts on Harley-Davidson D402 tires. According to the Center for Investigative Reporting's Reveal, another 22 bikers were injured by the same Dunlop brand of tubes, manufactured and sold by Goodyear.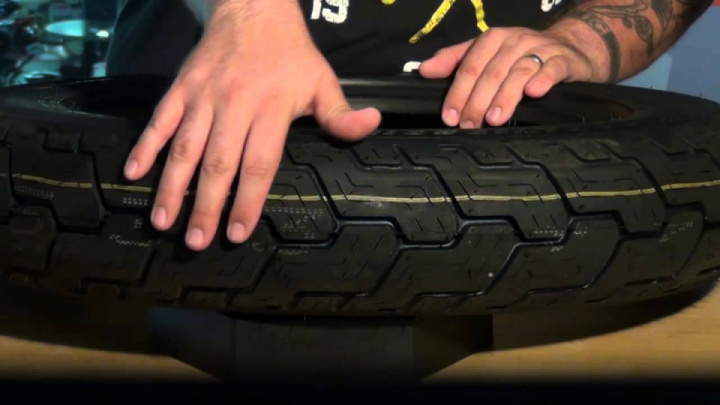 Photo credit: Chaparral Motorsports
"All of a sudden, the tire just let go – there was no warning, no nothing," said Steven Morris, an experienced motorcyclist from Cape Coral, FL. He and his wife, Patricia, were heading further down the coast to celebrate their 26th wedding anniversary when the D402 tire on their Harley popped.
It all happened so fast, said the 59-year old man and owner of a motorcycle and car repair shop. "It took my life away from me. She was my life.
The blowout, which occurred back in 2008, caused Steven Morris to lose control of his motorcycle. Traveling at highway speeds along Interstate 20, the jolt sent Morris and his wife careening between lanes before the vehicle finally flipped.
Nearly all of the five deaths and 22 injuries prompted lawsuits. Goodyear settled in eight cases, coming out on top only twice.
An additional three suits are still pending in court.
The scope and frequency of the blowouts, writes Reveal, has experts concerned. Joan Cranbrook, former administrator of the National Highway Traffic Safety Administration, says regulators need to act.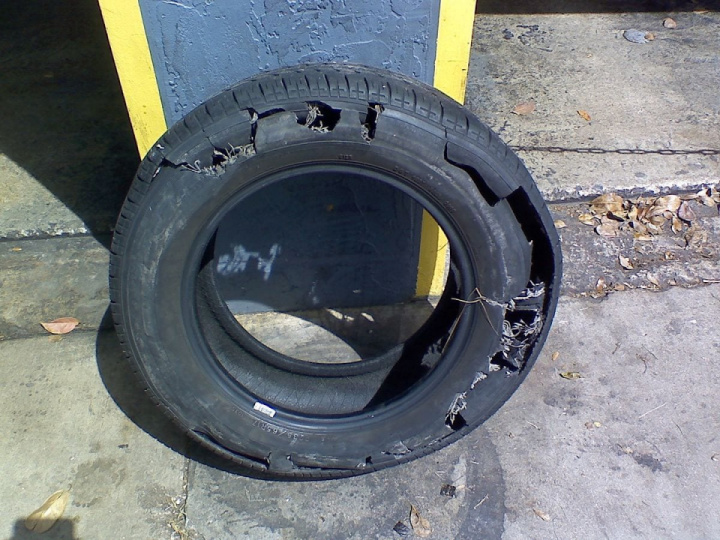 A blown-out Mitsubishi tire. Image via CNJ05/Wikimedia Commons. (CCA-BY-0.0)
"Absolutely, five deaths and 22 injuries from the same tire on motorcycles made for Harley-Davidson is a significant number and warrants an immediate investigation by NHTSA," said Cranbrook.
But Goodyear maintained its Dunlop line-up and D402 treads are perfectly safe – even after being confronted with Reveal's investigative analysis.
"We take all incidents involving our products very seriously," wrote Goodyear spokeswoman Laura Duda in an e-mail to Reveal. "Every incident is unique, and each claim is thoroughly examined and analyzed."
"In the case of Dunlop D402 motorcycle tires, there are no defects related to motor vehicle safety," she continued. "In fact, most motorcycle tire issues are the result of underinflation, overloading or damage from road hazards."
Reveal insists that deaths and manufacturing defects are no irregular occurrences at Goodyear. The publication points out that several of the company's plants were under-staffed, plagued by leaky roofs and intense production quotas.
Among the experts who testified in favor of D402 plaintiffs is Michigan tire expert William Woehrle.
"They negligently let defective tires go out the door," said Woehrle, who's served as a paid expert witness in a dozen lawsuits involving the brand's blowouts. "They have had a systemic problem with manufacturing Dunlop D402 motorcycle tires."
Goodyear is no stranger to criticism and litigation.
In 2012, the company settled another suit related to its Dunlop 250 Radial tires. Similar to Steven and Patricia Morris's tragic accident, a married couple riding through rural Texas on a 2003 Honda Goldwing had their rear tire suddenly blow out. They too lost control of their motorcycle, veering toward the road shoulder before the vehicle violently turned over.
After both parties reached a confidential settlement, Goodyear indirectly addressed allegations of negligence, saying in a statement that, "Dunlop has made millions of motorcycle tires (that) have provided consumers with satisfactory performance for millions and millions of miles."
Sources:legalreader
Writer: Ryan J. Farrick
Join the community of motorcycles and people
Moto Riders Universe app is the best way to stay informed about what's going on in the moto community — whether it's finding a good news, planning a local event, or sharing safety tips. There are so many ways our moto-buddies can help you, just use this easy way to connect with them.