This build… I don't know where to start. At first sight – it's clearly not a "natural" beauty. But if You look deeper, under the facade… It actually has so many cool and out of the box features, that I had to list them, not to forget anything. And every petrolhead should appreciate them. First thing…
The donor bike is… extraordinary.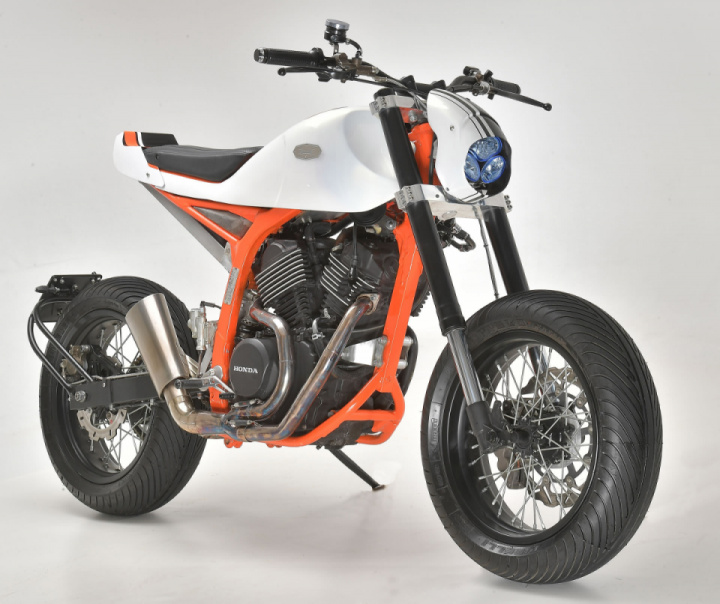 It seems like this transformed Honda Transalp is a result of "a dare". Or some kind of a bet…
"You cant do anything cool out of a Transalp?"
"No? Hold my beer and watch!"
I love the builds that break the rules. And this one – breaks many of them.
The Cobra is a customized 1987 Honda Transalp. Hard to tell since it's natural Enduro looks are reduced here to a simple and minimalistic UJM. In its days the Transalp was an amazing bike with a lot of innovative features. It was powered by a liquid-cooled, four-stroke 52° V-twin 600cc & engine. It was durable, lightweight and could perform in any terrain easily. This particular piece – was in very bad shape, before Rome located, Emporio Elaborazioni Meccaniche took the time to save it.
The bodywork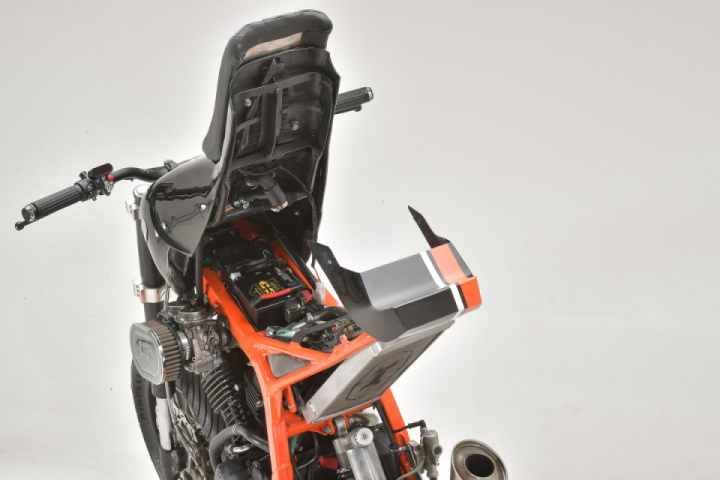 Is carbon fibre with fibreglass. It's a single unit: tank (from a custom Honda) and seat. That allows it to open like a car trunk.
The paintwork is quite tricky, as it is asymmetrical. At first when I was browsing the photos – I thought they built 2 of them. A twins project! But it turns out – it just black from one and white from the other side.& And surprisingly out that the engine… usually covered with fairings – is quite a good looking V2. Speaking of…
The tech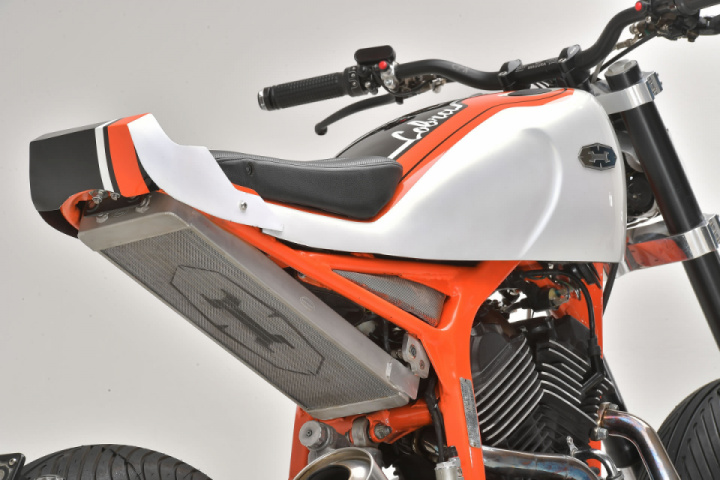 The engine was dead when they found the bike. So the EEM team rebuilt it and made a frame that would work better with the new concept of the bike. The team re-engineered Honda cooler by installing the radiator under the seat. To be cooled by the rear tire, it was strengthened by a steel mesh. To keep the air flowing – the fan was installed. This way they managed to get rid of twin stock coolers placed on the sides (making the bike unnecessary wide, especially considering that it's a V2 engine).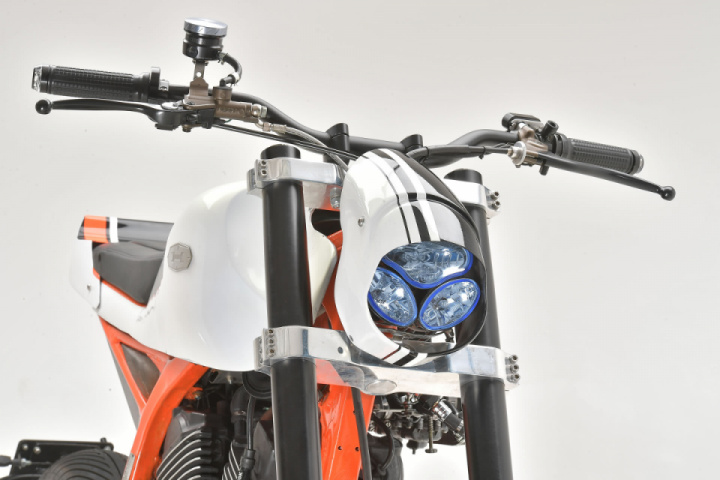 The headlight is custom made using 3 separate lenses. The fuel system was redesigned with new Mikuni carbs and a K&N air filter. The concept reminds of H-D custom air intakes on the side of the bike.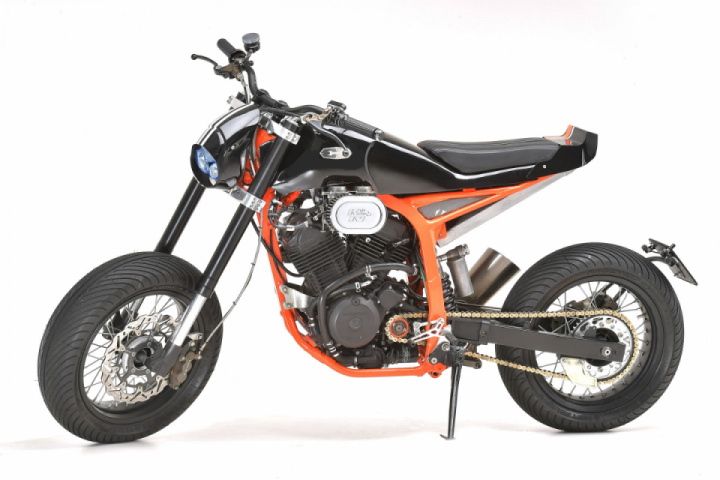 EEM machined custom and very wide triple trees were, so they could fit in a fat front tire.
The tiny Motogadget digital speedometer was put right next to the left handlebar. I don't know if it's practical, but it definitely is another extraordinary feature of the build.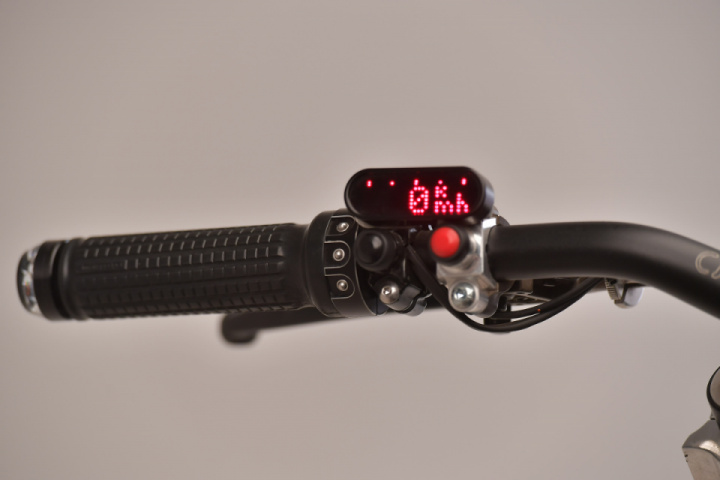 The result – is a good looking machine! It's not a shiny, chromed 50-year-old Honda or a Triumph, that fits perfectly in the Brat or Cafe Racer definition. But by no means, is this a bad thing! The possibilities are endless and with the number of garages and the custom scene growing – it's more and more difficult to stand out. Some people choose to do the extra mile, to modify something unlikely to get the attention. I like this Transalp. It's impressive on many levels and yet based on such down to earth donor bike, that in theory would never look good.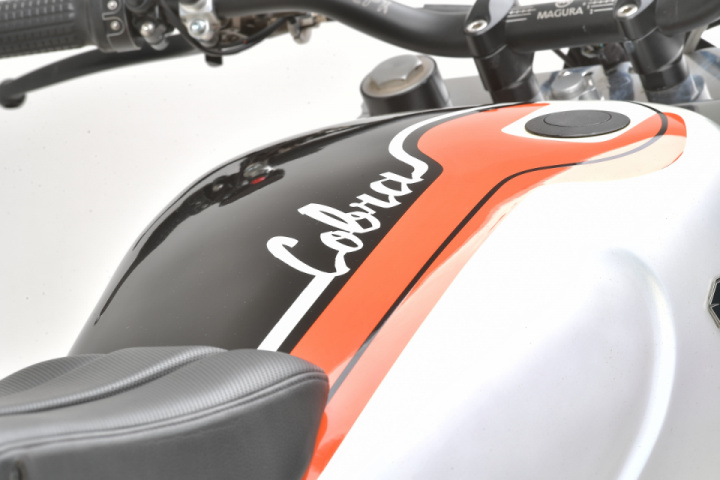 BTW. Some tongue-twisting name of the garage they have!