& When Claude Camelin teamed up with Ben Shaw to create a Ducati-based custom motorcycle with a difference, it was a real "meeting of the minds". Claude has created a succession of custom bikes in the past, while Ben Shaw is well known as the man behind Extreme Creations in NSW - creators of multiple trophy-winning streetfighters and customs like the "Judge" ZX9R and "Venom" TL 1000R.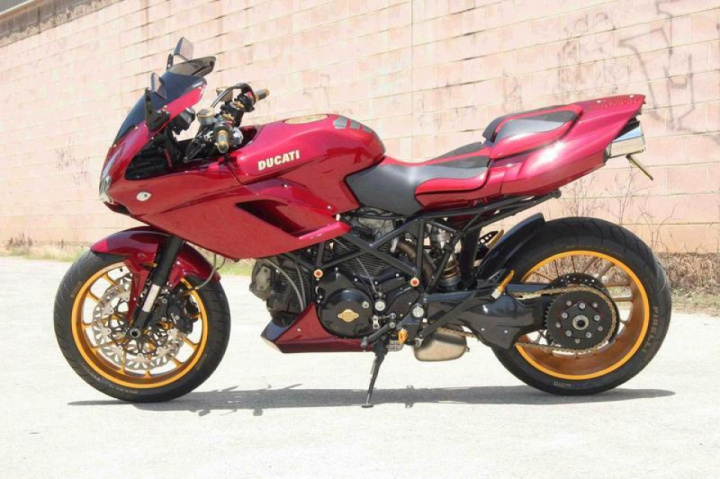 Claude and Ben first crossed paths in the early days of the Auto Salon shows in Sydney, so they were familiar with and respected each other's work. Fast forward a few years to 2006, and after working through a series of Japanese customs, Claude was looking for a new challenge. He found it in the form of a mildly-damaged 2004 model Ducati Multistrada that was ripe for the Camelin touch!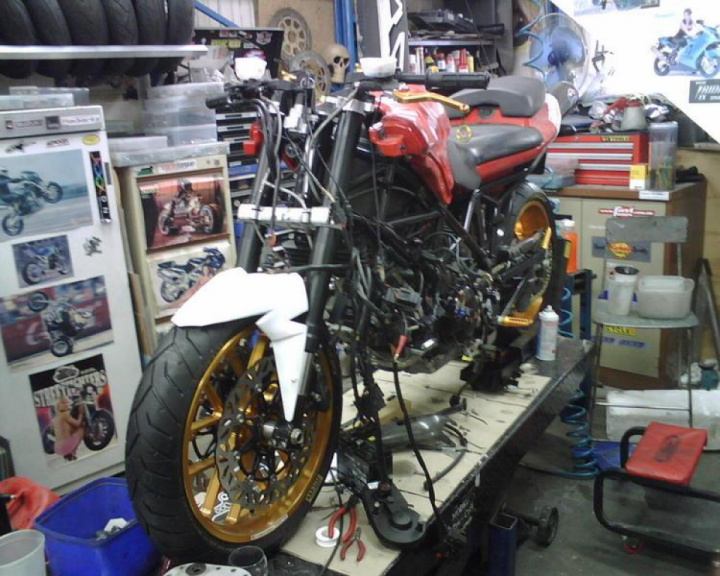 "I was trying to get a (Ducati) 999 at the time," Claude explained. "But I missed out on that, and I just saw the Multistrada and I managed to get that at a good price at the time and thought I could do something with it. I always tend to do something different, and I haven't seen many Multistradas around. I thought it was a little bit ugly on the front, and I thought I could probably work on that considering I had to replace the fairing and stuff anyway."
Moving house into a small unit - with no garage - presented Claude with the problem of no workspace, but the new digs were close to Extreme Creations, which set the wheels in motion for what became a collaborative effort.
"(Ben's) only a hop, skip and a jump away from where I currently live," Claude said. "So I had a word to him about my situation, and he agreed to help me out with the project. So, I transferred the bike over to his workshop, and worked on a budget. I sat down and started sketching up a few things with Ben."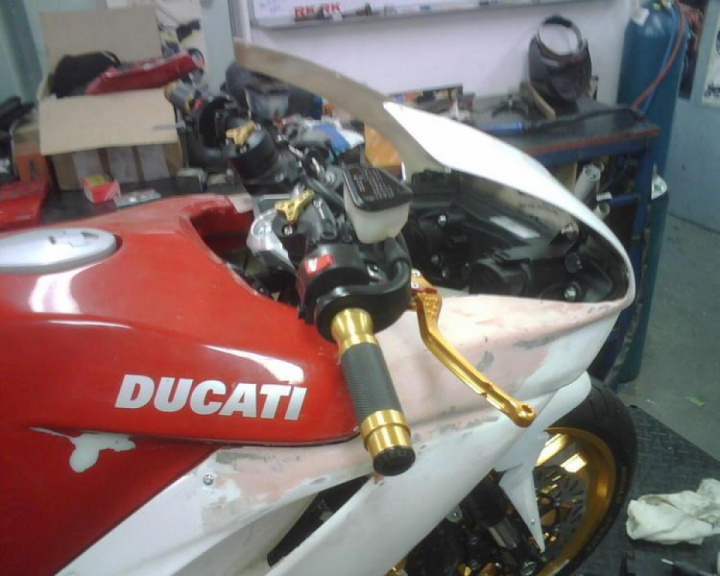 With no space to work on the bike himself, this became the first project that Claude wasn't totally hands-on with, but he had some solid ideas around the project that Ben helped bring to fruition after the bike was deposited at Extreme Creations' Brookvale workshop in 2009.
Early plans included a custom swingarm, wide-arse rear tyre with cut-down custom car wheels, turbo and a bunch of nickel-plated parts, but the budget, and a self-imposed deadline of having the project finished before the birth of his son saw Claude rein in some of the wilder aspects of the build. Being a Ducati, Claude was also conscious of respecting the Italian aesthetics as well, so an idea to turn the Multistrada into a full-blown streetfighter was also shelved early in the project.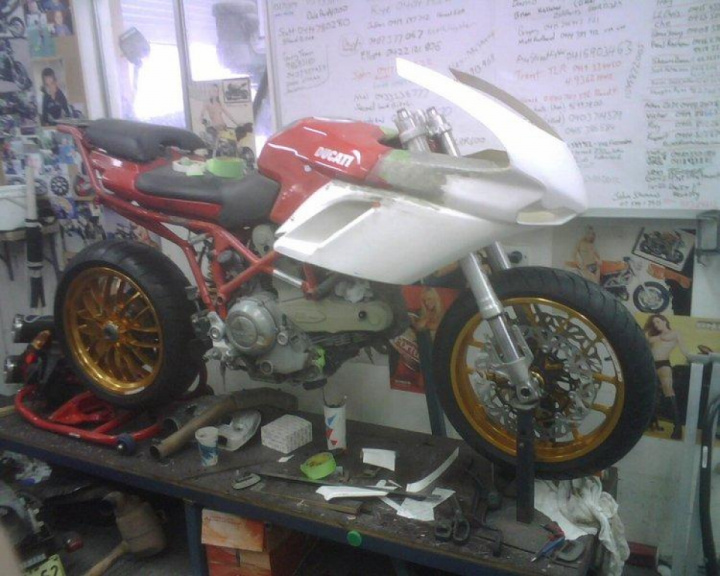 "There was a time there where we could have gone down a streetfighter path," Claude said. "And from a retail perspective, I reckon I would have had more people interested in that style. But it was just moving away from the original concept. I said to myself 'I've gone this far. I want to finish it off now', the way we originally set out to be. And that's why we kept it that way."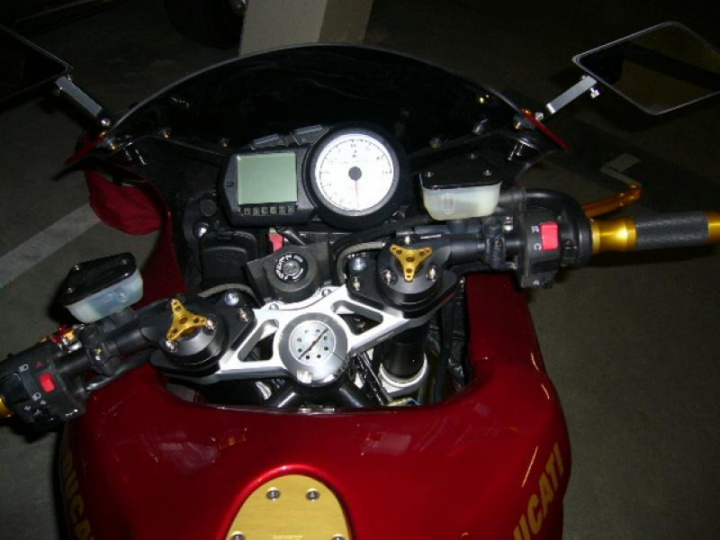 Claude's past creations had all been visually striking, with bold custom graphics and airbrushing, including a tiger-airbrushed nitrous-powered GSX-R. While the Multistrada had to follow the same trend, Claude wanted to take a different tack with this particular project.
"The Ducati was meant to calm me down!" Claude laughed. "I was meant to not go too crazy with 'What animal am I going to airbrush this time?' The Ducati, I felt, deserved a little bit more of a delicate approach and an elegant look."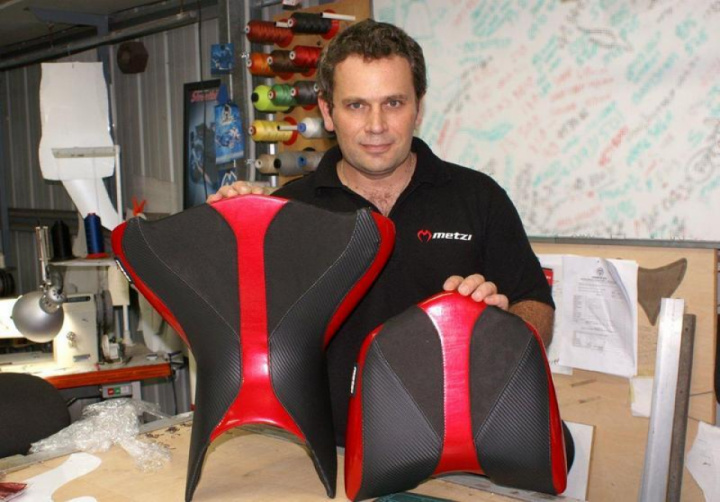 Considering the 'challenging', ie. ugly, appearance of the factory-spec Multistrada, this wasn't going to be easy, but Claude hit upon some inspiration, thanks to a track racing mate. "Because my friend was racing 1098s at the time, he had a couple of spare fairings," Claude said. "He was planning on getting an 1198, and I managed to get one of the (1098) fairings off him, and that gave me the idea. I quite liked the 1098 front end. I thought it (the idea to combine Multistrada and 1098) was fairly unique, and then it became a case of scratching my head to try and make it all work together."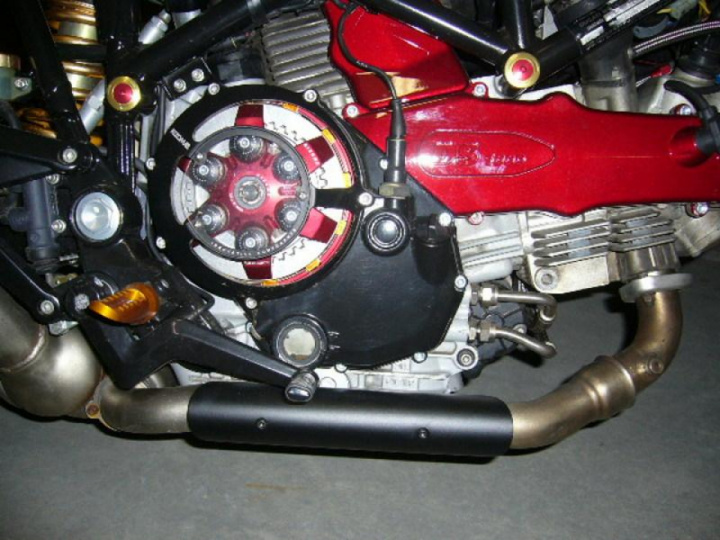 The first, and really the biggest, challenge on this project was integrating the 1098 fairing into the tank and seat, which on the Multistrada is an integrated, one-piece unit.
"The challenge, from the engineering side of things, was trying to work out how to make a 'factory finish'," Claude explained.
After toying with the idea of using the full 1098 fairing, which had to be sliced up to blend it in with the curves and shape of the existing tank anyway, the 'lightbulb' moment came with the decision to only use the top portion of the 1098 front-end plastics to create a half-fairing that still looks like a factory item.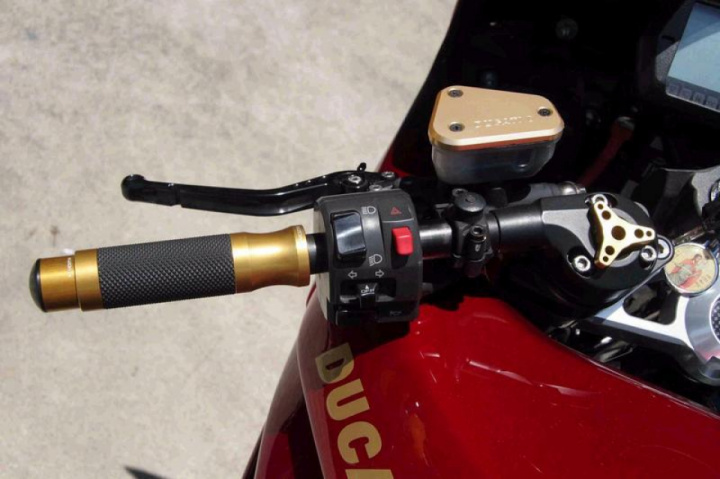 "Considering that the Multistrada's original style is a 'naked Euro', we went for a semi-naked and just put a belly pan underneath it, to keep it in theme. So that's why we didn't go for a full-fairing bike," Claude said.
While Ben worked on reshaping the fairing and making new brackets for things like the head light, dash, tail light and custom exhaust system, Claude was scouring the internet for the right custom parts to fit to the Multistrada.
"Yeah, I did a bit of shopping around!," Claude said. "I'm actually a procurement manager by trade, so buying is second nature to me. The bellypan was sourced from Italy (because) I couldn't find the right one in the UK. Ben of course, helped quite a lot. He was able to get some samples in, and he had some samples in the shop, so we were able to test out and see if some of our concepts worked well."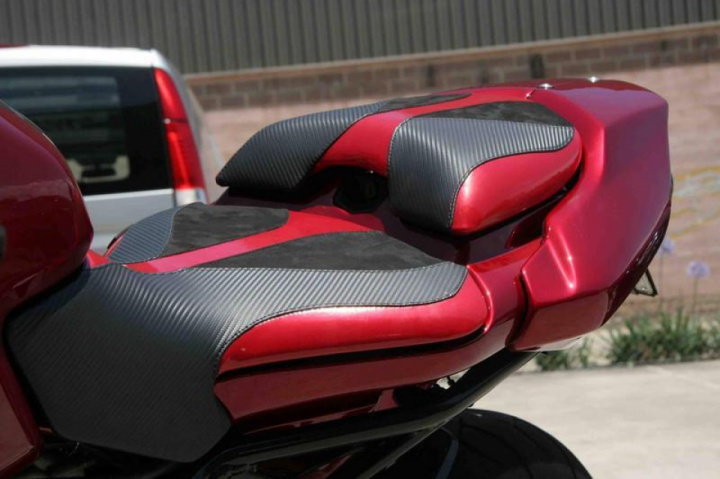 Those concepts included Rizoma triple clamps with over-clamp clip-on bars, anodized Rizoma aluminium footpegs and grips, Streetfighter Collection levers, anodized clutch & brake master cylinder covers, aftermarket LED indicators (include teardrop-shaped side indicators on the 1098 half-fairing), aftermarket LED brake/tail light, aftermarket brake discs, open clutch cover, tinted screen, and diamond-shaped mirrors that were scratch-built by Extreme Creations.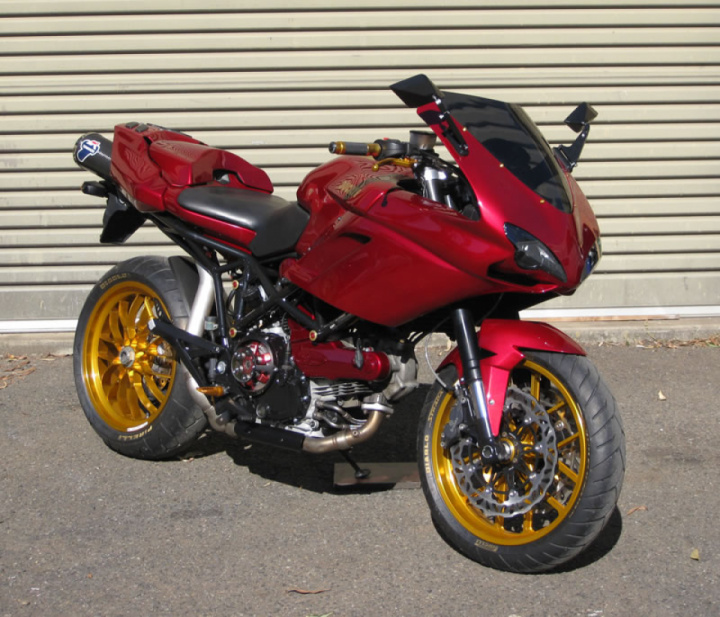 The Multistrada rolls on Carrozzeria rims, with a 5.5-inch, 200 section tyre at the rear - the largest available to fit the factory single-sided swingarm. At the front, 1098 USD forks were used, but these were altered by Extreme to lower the ride height, and further tweaked by the crew at Moto Italia in Emu Plains, who also fitted a Power Commander, and finalised the braking and electrical systems.
Aside from the Power Commander and Monster oil cooler, the Multistrada's 992cc L-twin is unaltered. The exhaust system is factory-spec to the catalytic converter, then custom-made by Extreme Creations to run up under the ducktail. The difference in exhaust note over the signature Ducati growl is marginal, according to Claude.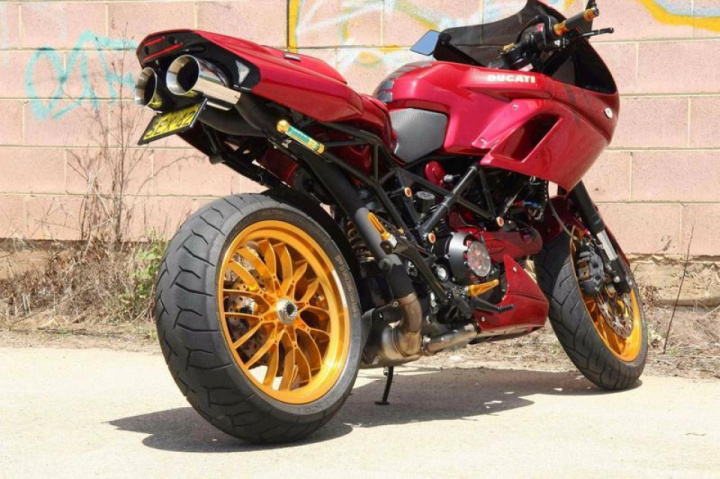 The distinctive colour of this bike is Brandy Wine Red pearl, which obviously isn't your usual Ducati red, but works well and has a really deep lustre that comes into its own in afternoon light. The Multistrada's trellis frame was gloss black (factory examples were either red or black), with most of the anodized pieces, including the Carrozzeria rims, finished in a deep gold that complements the deep red paint.
Little touches included anodized caps on the open sections of the trellis frame, but it's all pretty subtle, achieving the elegant look that Claude was after from the outset.
"I stuck with the gold, a nice candy red finish, bold black and gold anodised parts, just to balance it out. I'm pretty comfortable with the colour scheme. There's not much more I'd have done with it."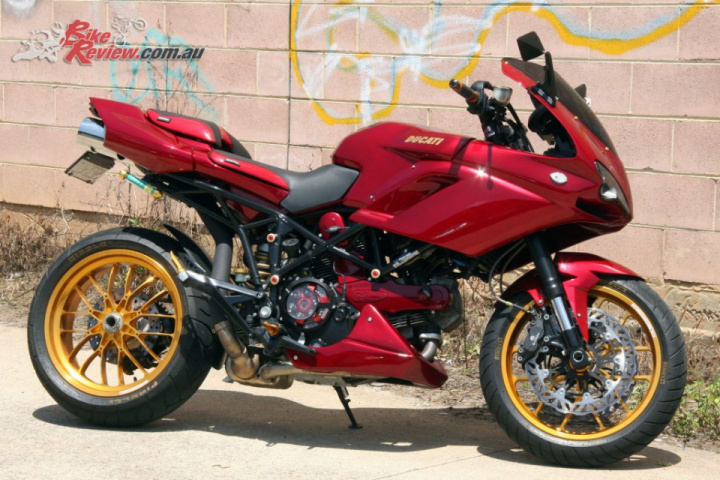 For the seat, Claude called on a family connection in the form of his cousin George, who also happens to run Metzi Moto Skinz. George built a fully-customised biposto seat in various materials that visually link the front & rear of the bike. The choice of a two-up seat may seem unusual on a custom build like this, but not for Claude.
"Yeah, it's one of my things," he explained. "I always like doing two-up anyway. It's a cruising bike, so chances are you might throw someone on the back. Even my Tiger bike was two-up as well. I kept it as a two-up because it's a 'multi-tasking' sort of thing."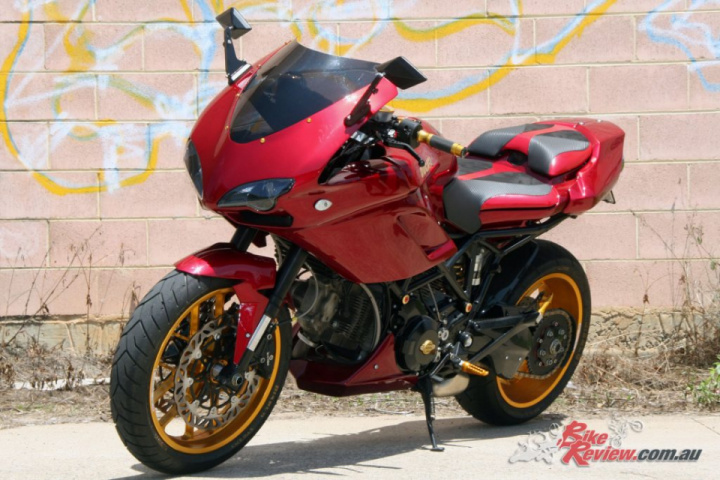 Since the project was completed in early 2011, the bike has consistently turned heads and drawn comment.
"I've had girls say it was sexy," Claude laughed. "There have been a lot of comments regarding the colour, and the finish, so Ben did a fantastic job on that. On the bike side of things, people look at the bike and think it was factory, or ask me 'What model of Ducati is it?' Mature bike riders think that I did a neat job, that I did justice to it, without going overboard."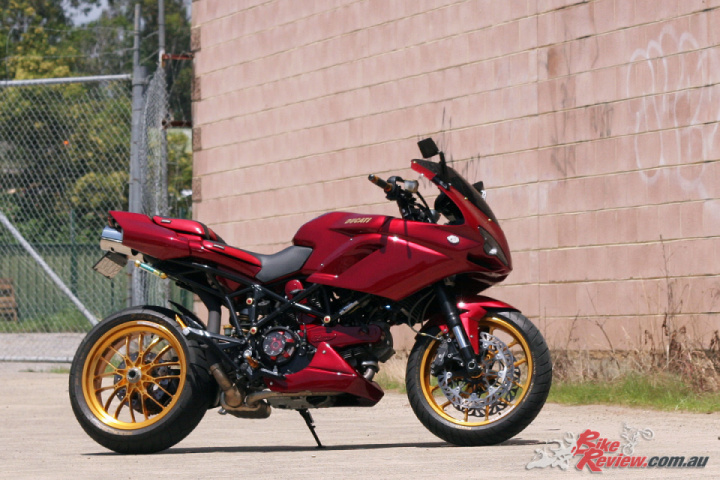 Claude extended a big thanks to Ben at Extreme Creations, as well as Dave and the crew at Moto Italia for their skills and support of the project. Until Claude can get hold of some garage space of his own, future projects are on hold, but when he does, he's looking to create a more 'family friendly' custom in the form of a hot rod or custom trike, so he can take his partner and young son out. Claude's even toying with the idea of a custom inspired by the lightcycles from the latest TRON movie. Now that'll be one to keep an eye out for!
Credit: bikereview, justbikes.