The popularity of MotoAmerica's King of The Baggers series has exploded recently, and Harley-Davidson just let us go for a few laps on the title-winning Road Glide. We're still buzzing.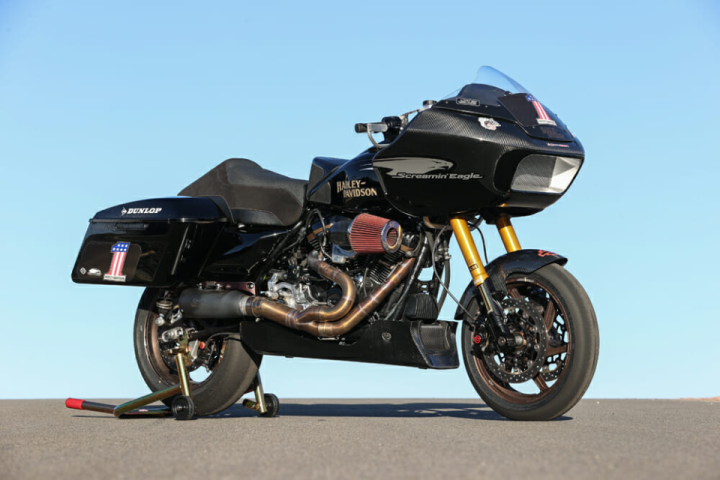 By Abhi Eswarappa | Photography by Brian J. Nelson and Kevin Wing
"I know it sounds strange, talking about riding a bagger on the track." Bjorn Christensen is Harley-Davidson's Manager of Vehicle Dynamics, and he's perfectly summed up my thoughts on the day. But this is no ordinary bagger—this is the Harley-Davidson Screamin' Eagle Road Glide piloted by Kyle Wyman to the MotoAmerica King of the Baggers Championship last season.
In 2020, MotoAmerica debuted the King of the Baggers series with an exhibition race at Laguna Seca. The initial announcement was unexpected to most and mocked by some—yours truly had to confirm that it wasn't an April Fool's joke.
Paul Carruthers, the MotoAmerica's Communications Director, admitted that "I'm a bit of a purist when it comes to road racing, so I was scratching my head at the Laguna Seca Invitational." But after the event he realized it could work and that King of the Baggers had "opened up the other classes to race fans that we hadn't seen before."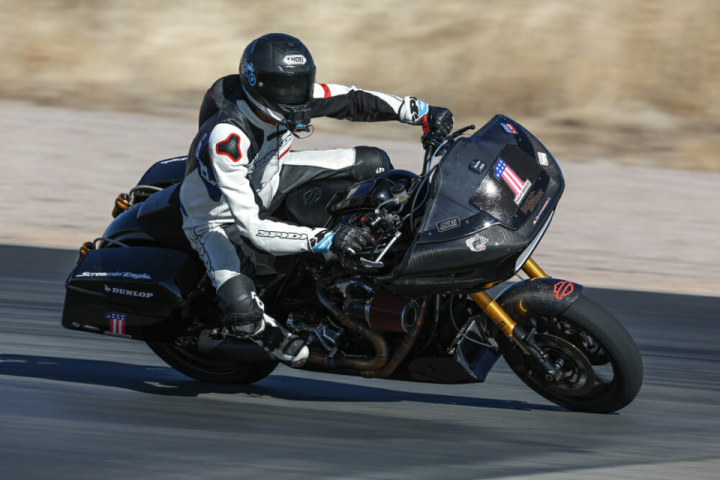 MotoAmerica apparently liked what they saw, as King of the Baggers expanded into a three-race series the next year. And in that inaugural season, Harley-Davidson entered a factory-backed team with brothers Kyle Wyman and later Travis Wyman. Travis finished fifth overall as a mid-season replacement, while Kyle earned himself the number-one plate with a championship-winning season. He also earned himself a place in H-D history, as The Motor Company is about to put Kyle's bike in their museum. But first, they gave Cycle News the opportunity to ride it. No pressure, right?
Both Wyman brothers were in attendance to teach us about the changes Harley-Davidson made to convert a Road Glide from a "Grand American Tourer" into a racer. As Kyle put it, "we're developing superbikes, just starting with a much different platform." H-D was very forthcoming about some of the specs, and coy about others. What they weren't coy about was the importance of this bike—there were a few less-than-subtle reminders to take it easy as the KOTB was destined to go to Harley's Museum in Milwaukee immediately after we were done with it.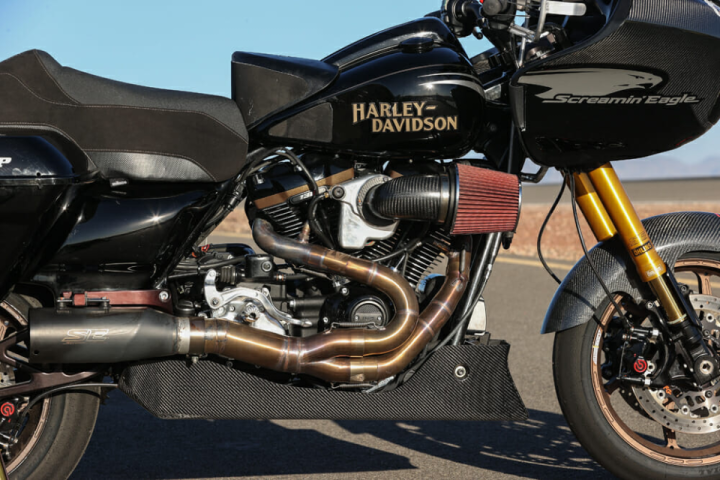 Their attitude seems appropriate as there is simply nothing subtle about this bike. This is evident from the moment you swing your leg over the 36.4-inch-tall seat—good luck trying to flat-foot it. I'm 6'3" and still appreciated having a handler at the back of the bike before I took off. Part of the difficulty is that you must splay your right leg well wide of the exhaust, otherwise you're guaranteed to melt your leathers on the gigantic Screamin' Eagle pipe. Heat is the biggest enemy with large-displacement V-twins, and Harley is fighting back with extended fins for more surface area and an additional oil cooler that's tucked into where the headlights used to be in the fairing.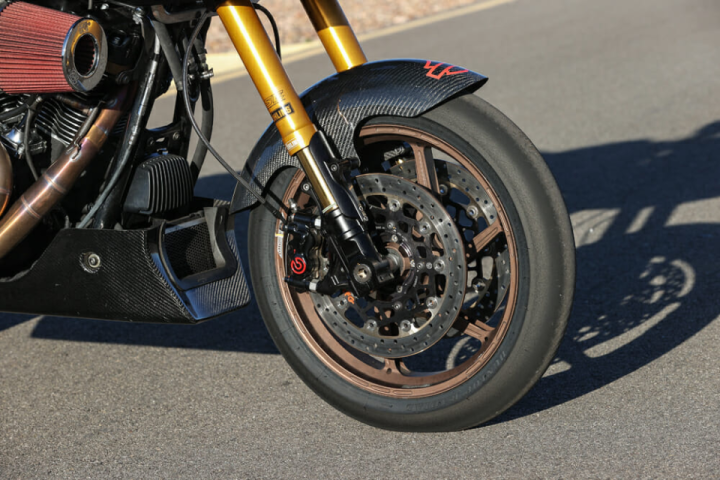 Press the magic button and you'll find that the exhaust is gigantic when it comes to sound, as well. The name "Screamin' Eagle" has never been more accurate. As I click the shift lever down into first gear, a piece of advice from Travis Wyman is at the front of my mind: "you can't put enough effort into the shift lever, your mistake would be not putting enough… downshifting is where the drama can be if you don't have a good blip and clutch action."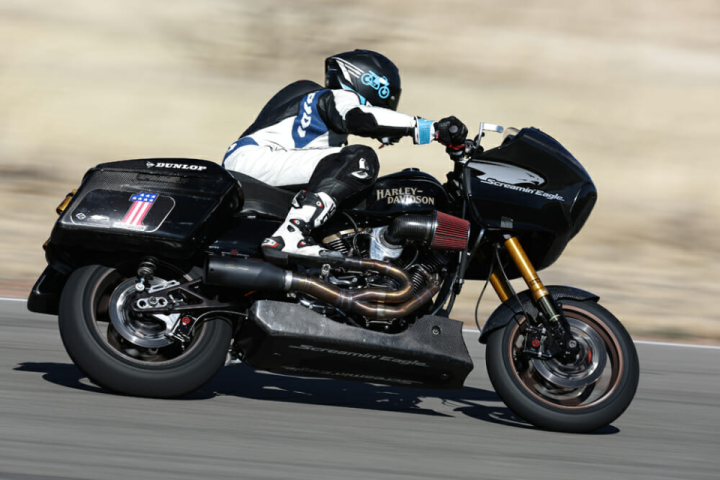 Kyle mentioned that his one crash last season was due to a missed downshift, which prevented him from slowing down enough to make a corner. I make it a point to truly exert my will on the shifter.
I start my time around Inde Motorsports Ranch timidly as I try to get familiar with the bike, and I can only help but laugh at the juxtaposition of a Road Glide fairing with sportbike ergonomics. One of the first things designed on the new bike was a 3-D printed pommel affixed to the top of the tank to give the rider the ability to leverage the tank with their leg when on the tall seat.
In addition, the King of the Baggers bike features nearly flat bars with adjustable offset and peg locations that are so different from stock that the left peg is welded to the engine case! In other words, your left boot gets plenty of vibration from 2146cc of V-twin fury, especially at race pace—a stock 131-cubic inch crate engine redlines at roughly 5800 rpm, while Kyle Wyman averages 6000 rpm during competition.
Inde's main layout is 2.75-miles and a whopping 21 turns. But coming out of pit lane, it's only a couple of right handers before I'm on the 2200-ft main straight and asking for everything the 131-cubic inch motor has to offer. Harley representatives would only say that the motor makes "over 150 horsepower" at the rear wheel. They were also willing to share that peak torque is 150 lb-ft at the rear wheel, and that the motor impressively makes at least 120 lb-ft all throughout the rev range. The torque is truly staggering, and I can always feel it pushing me forward, though the horsepower never manages to give me a fun fright like a proper superbike does down a straightaway.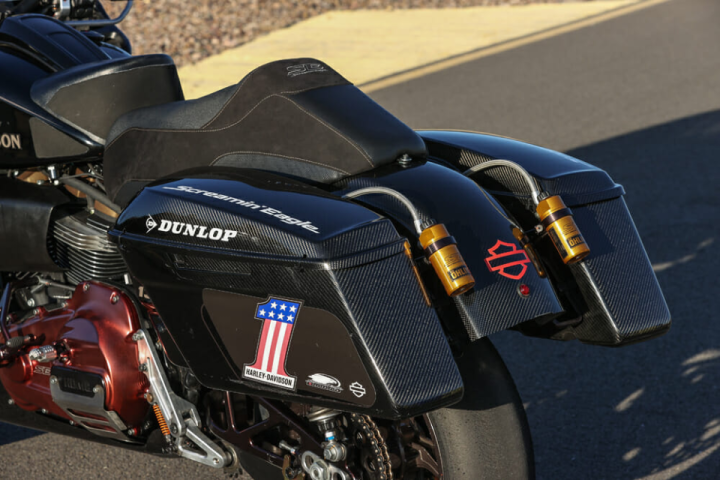 Much of this is due to the wheelbase and the weight. The former ensures that the front wheel isn't going to come up, and the weight can't be avoided: minimum weight was 635 pounds for the 2021 season. Both of these also factor heavily when it's time to shed speed. There's ample engine braking due to the monstrous cylinders, but the braking hardware is quite impressive. Kyle had Harley's team use the same setup from his MotoAmerica Ducati race bike—Brembo master cylinders and Accosato calipers. I wasn't willing to test this myself, but Kyle says that due to the wheelbase he locks up the front under hard braking well before he can get the rear wheel off the ground. Because of that, he can utilize the rear brake much more than on a traditional race bike, and that's why this bike also features a full front-brake caliper/rotor setup on the rear wheel. Kyle says he splits braking force roughly 80/20, while Travis says he was exclusively front brake. I tried to utilize the rear brake, though the ergonomics made it a little tough to access the pedal.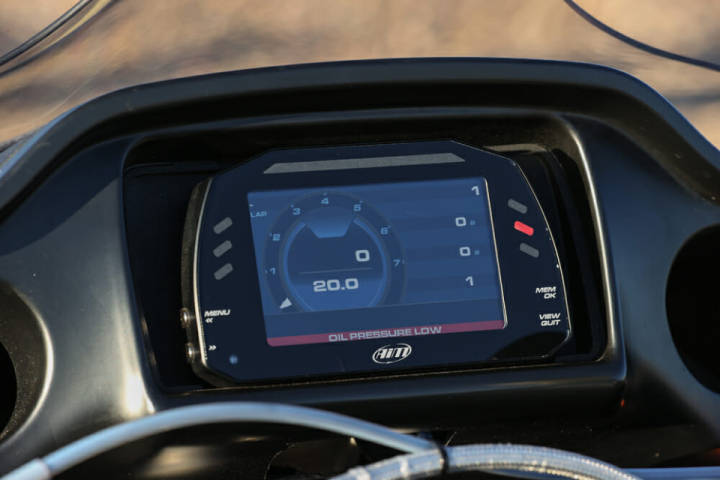 The King of the Baggers bike is full of surprises, but by far the best is how well it handles. It offers 55 degrees of lean angle on both sides—amusingly, Kyle notes that the first thing to scrape on the right side is the exhaust, while the first thing to scrape on the left is the primary cover. It takes less effort than you'd think to get the bike leaned over seeing as everything is built on the stock frame, and the weight/wheelbase combination mean it's quite stable throughout the entire corner. Mid-corner corrections do require a bit of muscle but the Öhlins superbike forks and custom shocks are perfectly matched to the bike's characteristics. Funny what happens when you have a factory-backed budget and a professional racer who knows how to tune the bike to what he wants, right?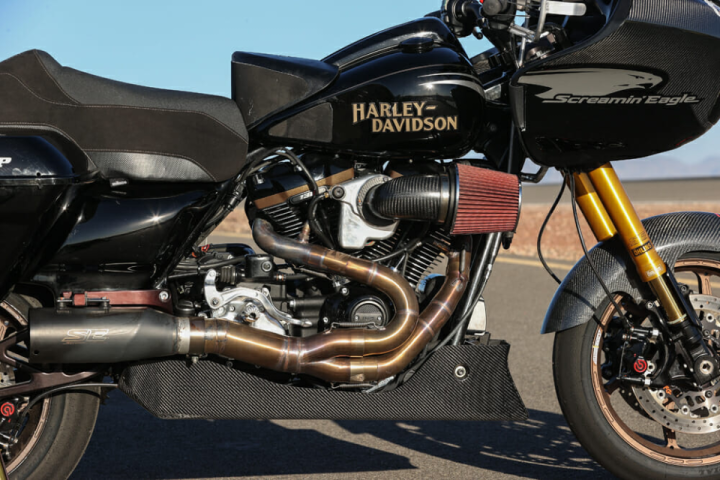 I got six laps on the championship bike, and I'll never forget any of them. How often do you get to say that you've ridden a bike that ends up in a factory museum? It's a fun bike with an incredible amount of theatrics, but the experience reminded me of the importance of having the right tool for the job—a point that was emphasized when I pulled in from a three-lap session and was immediately met by two Harley technicians who had leaf blowers pointed at the engine to help cool it down.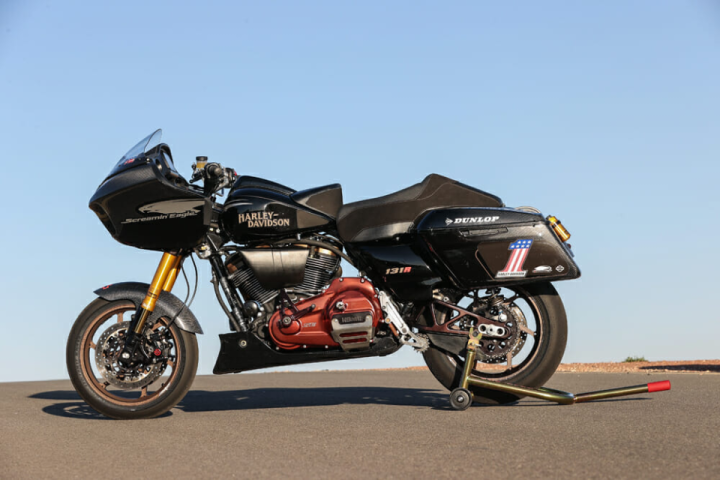 Sometimes you can build something hyper-specialized from scratch, and sometimes you've just got to work with what you've got. The result is entertaining and is bringing new fans into road racing, and those are both excellent news for the sport we all love.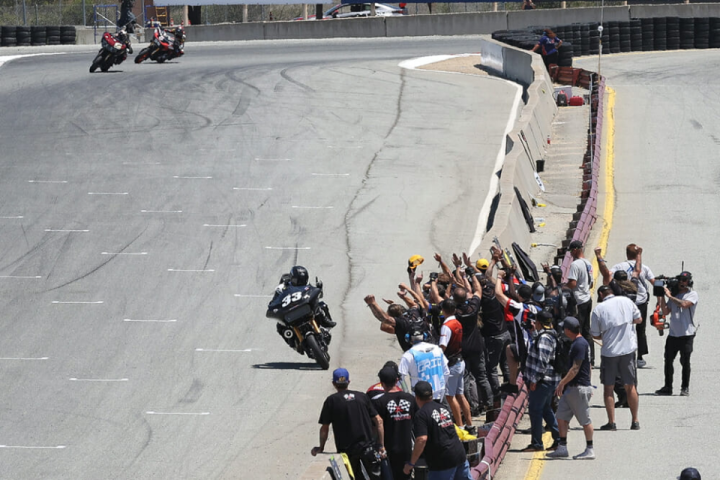 Harley-Davidson's got plenty of changes planned to the 2022 bike to defend their crown. Want to see that and more? For next season, King of the Baggers continues its growth to become a seven-round series—you can watch the first race at Daytona during Bike Week, March 10-12.
Sourse: cyclenews
#Racing #HD #Harley #Moto #Bike #Race #Track #Bagger