Wearable tech has been a real buzzword in recent years. From Fitbits with which to count steps, through to watches with which act as navigation systems and debit cards, the concept has become more and more mainstream. Now wearable tech is set to enter motorcycling, as Australian start up Forcite launches its technologically advanced helmet into the UK next month.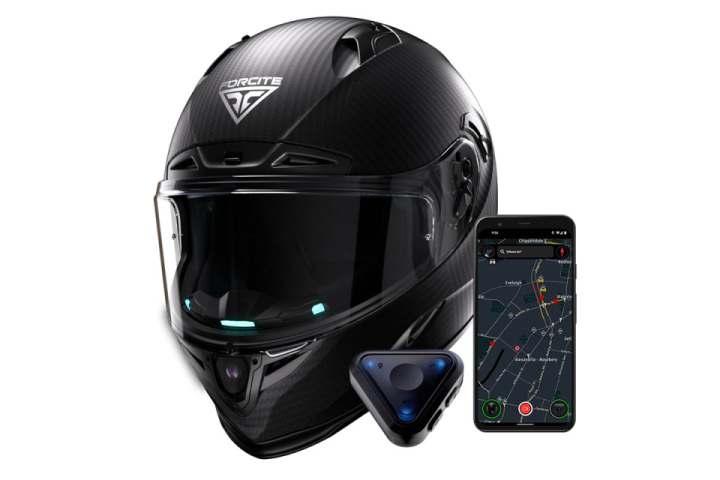 At its most basic level, the Forcite MK1S is a high end carbon fibre helmet with an integrated camera into the chin bar, inbuilt Harmon Kardon speakers and a system of subtle internal lights which provide navigation and traffic alerts in the peripheral vision. The technology works together to provide a smart system, which provides the rider with the key information they set-up through the app. Forcite say that the helmet has been designed in conjunction with some of the people behind the AGV range. The shell is constructed from carbon fibre and features a built in sun visor and Pinlock system.
The Forcite is the brainchild of designer Alfred Boyadgis, a Ducati enthusiast who had a crash back home in his native Australia. Having felt that the crash was preventable, had he been presented with details of a change in road conditions, he was inspired to create a helmet which could provide the rider with information of impending hazards.
Prototype versions of the helmet were tested using a group of Australian motorcyclists, who provided feedback which has been incorporated into this final production version, the MK1S.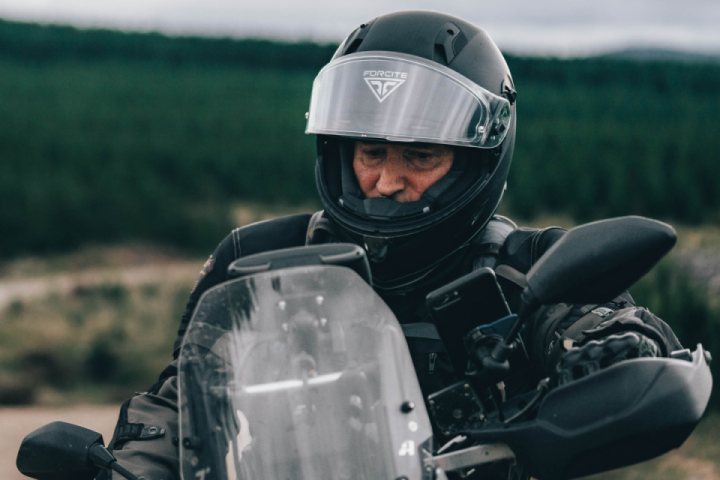 With a carbon fibre shell, each MK1S weighs just 1500g – which is pretty impressive considering there's a 1080P camera integrated into the chinbar and electronics packed away in the shell. At £990, it's not exactly cheap but if you take the price of a premium helmet, action cam, communications system and sat-nav, the price starts to look a lot more reasonable.
Insidebikes had a chance to try out one of the first Forcites in the UK and we were impressed by the intuitive way in which the peripheral vision LED display worked discretely, although we've yet to be able to try it out for comfort on the bike. It also comes with an easy to use app, which pairs the helmet with your smartphone and allows easy editing of video. A handlebar mounted control is also included with the helmet, which allows one touch control of key functions, including taking calls on the move and the ability to instantly wipe video footage with a single key press.
Forcite say that they are coming to the UK and Italy this year, with plans also to take on a distribution deal in America. The helmets are hand built to order in Sydney, with an initial allocation for 500 units to come over here.
Initial sales will be directly through their website: www.forcitehelmets.com
Credit: carolenash