A second attempt at anything in life usually results in a better outcome than the first. Whether it's sitting for an exam, baking a cake or building a custom motorcycle. Having a second go is an opportunity to redeem oneself or simply improve upon your first try. Such was the case with this Honda CX500 cafe racer built by a family trio by the name of Jackson. Father and sons Craig, Sam and Max Jackson began their journey of motorcycle customisation together 9 years ago.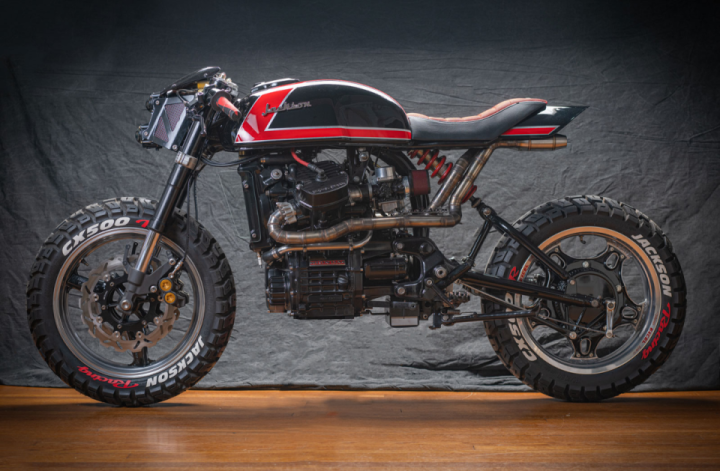 "I started building because I couldn't find a bike that looked exactly the way I wanted. I don't like driving or riding the same thing everyone else has. I want something completely unique," says Craig. "After several long months of searching, I came across the cafe racer style. I told my boys, who were 15 and 19 years old at the time, that I was about to attempt to build a custom motorcycle and asked them if they wanted to build their own with me. So we bought and built our first three custom bikes together."
Craig's career as a software and electrical engineer in the semiconductor industry spans some 27 years; his interest in motorcycles goes right back to his childhood. After growing up atop mini bikes Craig eventually progressed to motocross racing, a passion that he's pursued for well over 30 years. Competing at a Grand National Championship level he knows his way around a motorcycle and he's shared that knowledge with his sons.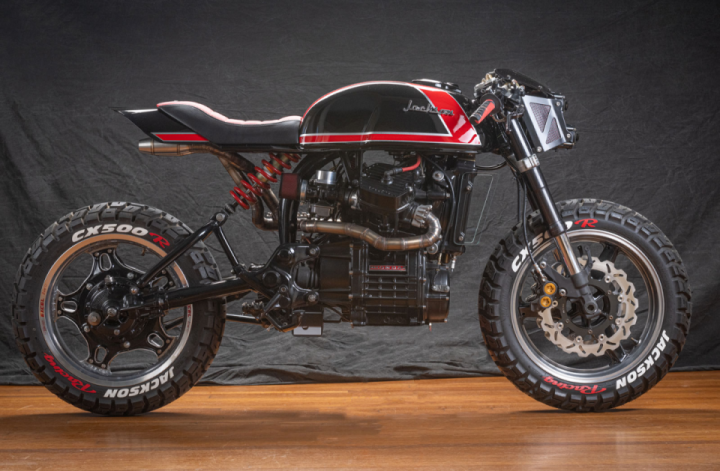 Taking around 5 months to complete the Jackson CX500R was a project that Craig and his son Max first completed in 2013.
"As our skills improved our thoughts returned to this bike so we decided to make some drastic improvements. The original build retained the stock forks and the handling was terrible. The rear subframe and tail were not in line with the tank. The pipe wrapped mild steel exhaust was starting to rust. The skinny wheels and tires didn't do a 'racer' any justice. And the original tank with its black with red stripe stickers was in great shape for its age, but we needed it to be perfect."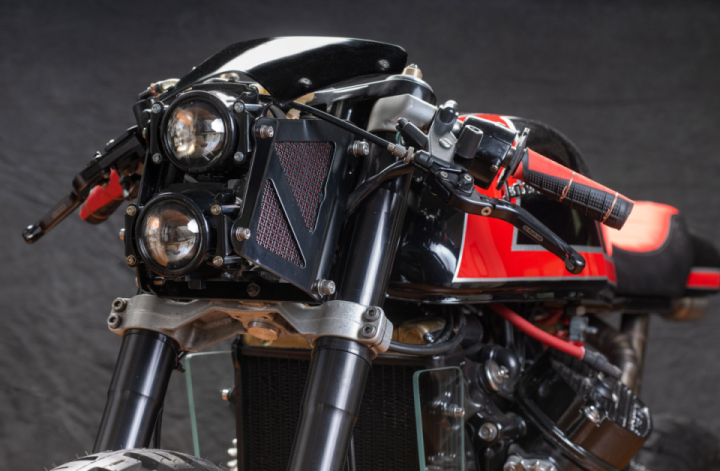 Along with wanting to prove to themselves that they could do better, the boys were also spurred on by the announcement of the 2020 Handbuilt Show in Austin, but for reasons we are all aware of, the bike didn't make its debut until the 2022 event.
While some builders are sticklers for functionality Craig's needs are somewhat simpler.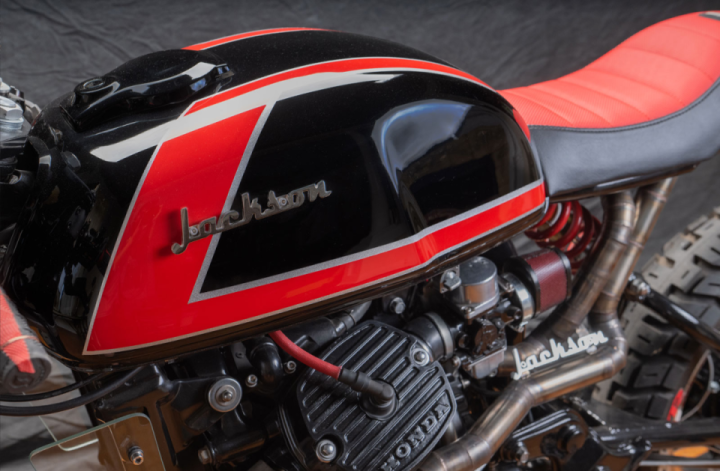 "I honestly don't care at all if it isn't comfortable to ride," he admits. "I want it to look good sitting still and look good while riding it. When it's done, I want my natural response to be 'I wanna throw a leg over that!"
In order to achieve his goal, Craig spends a lot of his time staring at his bikes. After making a modification he studies it from different angles and if something doesn't look right he has no problem tearing it off and starting over. Craig also invests a lot of time in how his bikes sound. As he explains it, the exhaust note is the voice of the bike and it isn't just about excessive sound, but getting just the right tone and growl to "give you chills".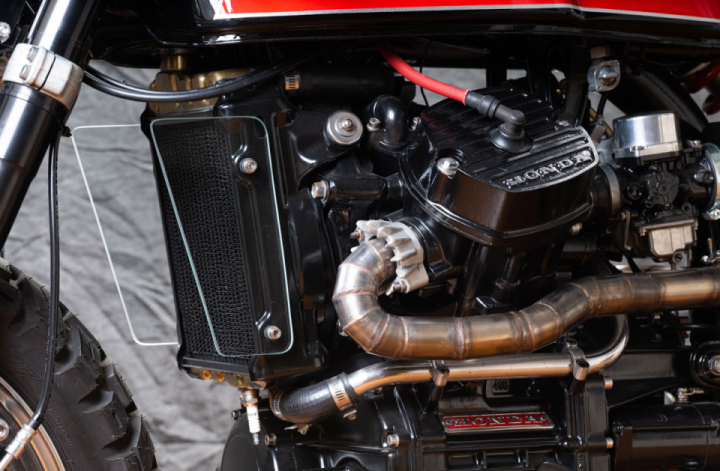 The second custom build of this 1980 Honda CX500 began with the fuel tank. The new paintwork by Mike Lapp is all hand laid for precise alignment and a much more professional looking finish. The tank was also raised 4 inches in the rear to level out the bike's bone line. To finish it off the tank received a set of 'Jackson' tank badges which were mounted using the original Honda emblem brackets.
With its deep knee indents, the CX500 fuel tank is well suited to the cafe racer style, but its proportions left the stock wheels looking much too skinny. To remedy that the Honda front end was swapped out for a fully adjustable 2003 Yamaha R1 alternative. To beef things up further, the 17 inch R1 hoop has been wrapped in MotoZ Tractionator GPS 130/80-17 rubber. Then came the more challenging task of modifying the rear.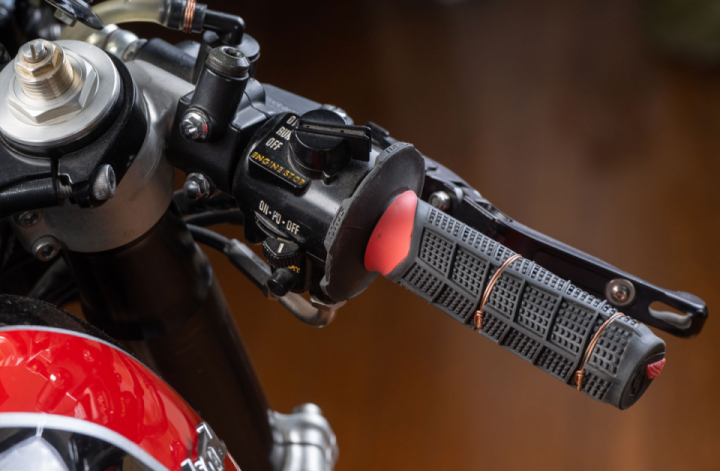 "The rear wheel design started with the tire and we worked backwards from there," recalls Craig. "The tire fit in the swingarm but then we had to figure out how to get a wheel that would hold it. The rear wheel build started with the original hub and spokes from a 16" ComStar. This was mounted to custom tabs welded to a blank 5.5" wide Takasago EXCEL Rim. Around that is a 6.5" wide MotoZ Tractionator GPS 150/70-B15 rear tire. We had to notch the drive shaft side of the swingarm to get the tire wedged in there!"
Along with the unorthodox rear-wheel setup, Craig and his sons completely revised the CX500's rear suspension which now uses a single mono-shock as opposed to a twin shock arrangement. The conversion began with some heavy modification of the subframe. The new design leveraged materials scavenged from the original centre stand and now supports a handmade seat and rear cowl. In the centre of the subframe is the shock mount which has a Yamaha YZF 600 R mono-shock bolted to it. At the opposite end, it secures to a mounting bracket that has been welded to the stock swingarm. This approach resulted in a firmer rear end that can be adjusted to suit the rider.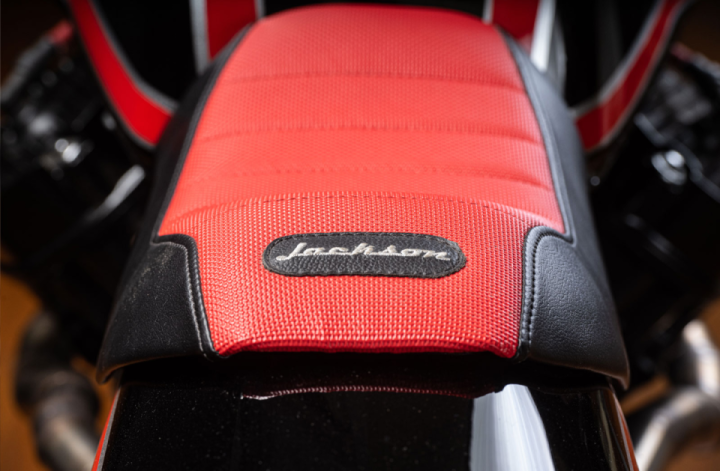 "I know from my motocross background that the riding position is critical!" says Craig. "So the whole arrangement has been drastically changed to place the hands, feet and body in the optimum position for confident control while blasting down twisting back roads or making avoidance manoeuvres."
With the bike's geometry, stance and handling sorted Craig and his sons focused their efforts on honing its appearance.
Of all the modifications they made it's the front end that really stands out. Rather than a customary single headlight, Craig opted for a dual projector lamp configuration. The 2 lamps sit in a custom made assembly covered by a tiny windscreen.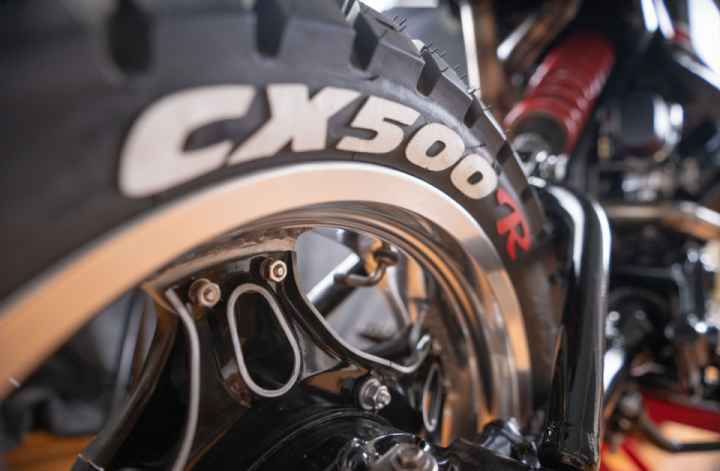 Sitting between the forks and the engine is another unexpected mod in the form of 2 panes of precision-cut glass. Mounted using rubber cushioned hardware the glass shrouds surround the bike's radiator. The radiator itself has also been given a new look by stripping the paint from the top and base to reveal the brass beneath which has been polished by hand.
The engine itself was also been given a thorough clean prior to being resprayed. Alloy components like the intake manifolds and carb tops and bottoms were polished and a complete stainless bolt kit was installed. With the air box gone and the frame opened up the battery now lives in a custom box that sits where the centre stand and exhaust cross over used to reside.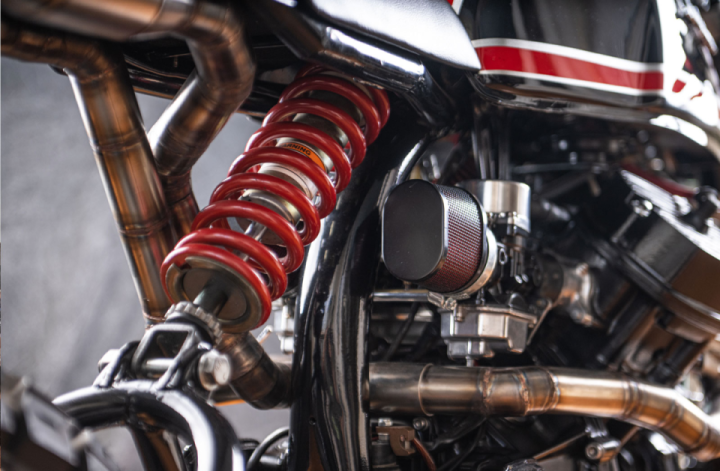 Craig wasn't looking for blistering performance from the CX500 so engine modifications were limited to the basics.
"The intake and exhaust are now open and flowing so carb changes were required to give the bike more fuel to match the additional air intake needs," he explains. "Individual exhaust pipes for each cylinder are critical for perfectly tuning and synchronization of multi-carb engines. The custom dual exhaust is all stainless steel and took two weeks to build. We mounted the tips first, perfectly positioned under the tail, then started wrapping the exhaust around the engine following the lines to make it look as natural as possible."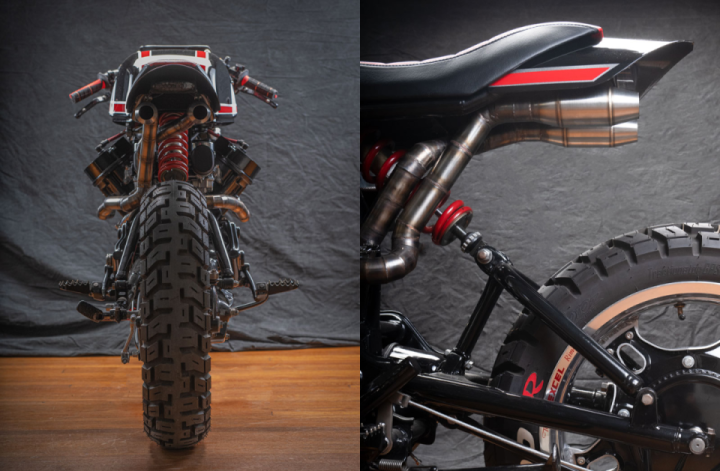 Craig is very happy to report that not only does the CX500R look great, but it's also a blast to ride. Thanks to the revised suspension the Honda handles like a modern sports bike and the slight increase in power and awesome exhaust note make this second attempt a real winner.
Photography by Alex Garza, credit: returnofthecaferacers