And now for something completely different! Generally, the motorcycles that we feature are more modern motorcycles which have been customised to emulate the various styles of motorcycle customising from the 1950s and 1960s. I use the word "modern" very loosely, as most of these custom motorcycles are based on motorcycles which were manufactured in the late 1970s and 1980s. Our featured motorcycle reverses this process. It is a 1980's model which would not look out of place at any event showcasing futuristic motorcycle styling. It is hard to imagine that this stylish motard styled road racer started life as a humble but indestructible 1983 Honda XL125 street scrambler, which initially earned its keep delivering medicine and supplies to remote areas of the Transkei. The motorcycle eventually came up for sale on a government auction, where it was bought by Rob and a far more glamorous phase of its life started.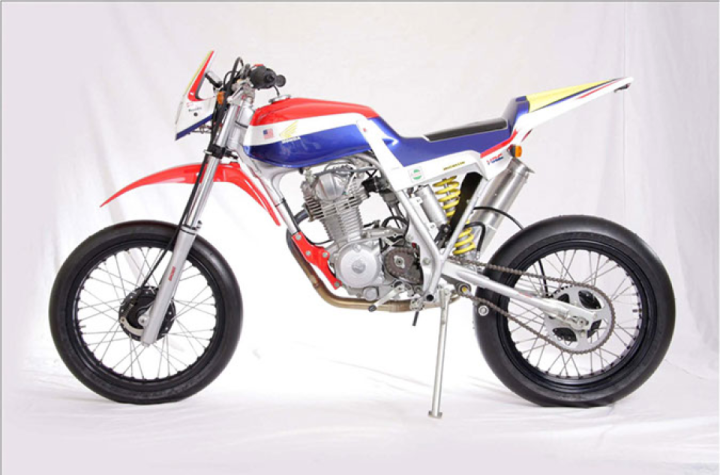 Rob decided to create a modern supermotard motorcycle but incorporated his own styling detail. A Yamaha Blaster quad front headlight was installed into a surround and flyscreen made by Rob. The original petrol tank has been repositioned and cut away to blend with the seat and tailpiece section. Rob is in the enviable position of knowing Pierre Terblanche, South African motorcycle design guru who has designed some of Ducati's most iconic modern models. Pierre was in Rob's garage in Port Elizabeth when Rob was planning the design and manufacturing method of this tailpiece. It was Pierre who recommended that Rob use two part foam to form the plug for the fibreglass mould. Rob is grateful for Pierre's input. Being a 1983 model, Rob decided to paint the motorcycle similarly to the 1983 World Championship winning Honda NSR500 Grand Prix bike, which was ridden by Fast Freddie Spencer.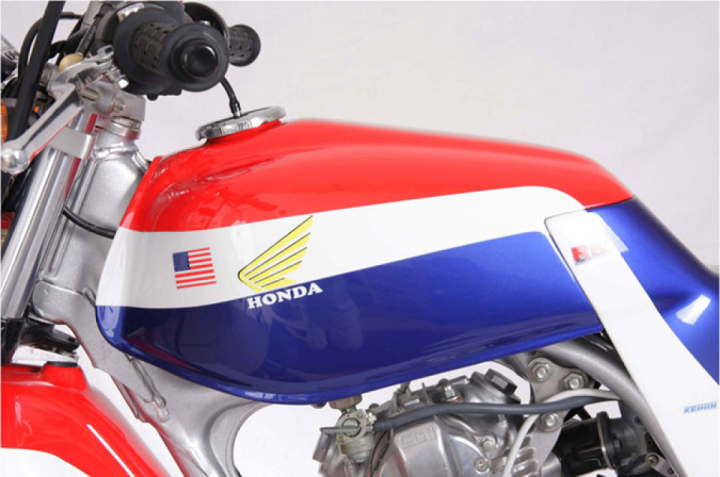 Originally this XL125 was a twin shock model. The original swingarm has been retained but a more modern and efficient monoshock off a Kawasaki KDX model has been installed. The 17″ front and rear rims replace the original 21″ front and !8′ rear rims. The new rims are laced to the original front and rear hubs with their drum brakes, one of the few elements on the bike which give away its age. I know they are not as efficient as disc brakes, but drum brakes really look so much better and cleaner than the discs.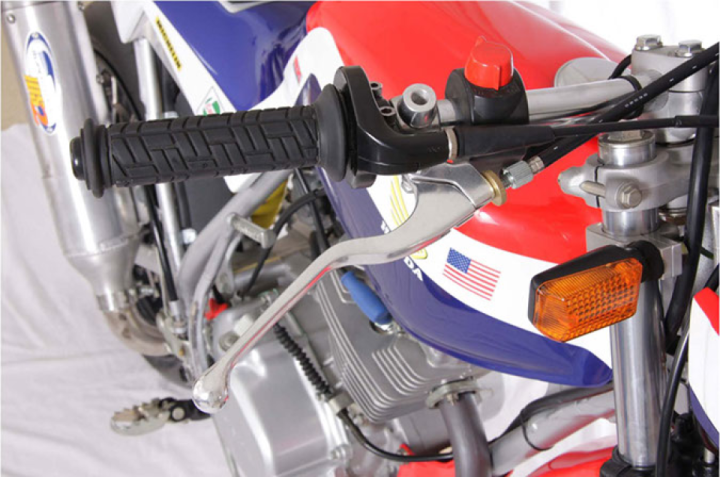 The original 12hp 125cc engine has been replaced with an engine from a Honda XR200. The engine is fitted with an American made Powroll stroker crank, a Wiseco high compression piston and rings, heavy duty valve springs, a high lift cam and a heavy duty cam chain. The stroker crank enlarges the engine capacity to 218cc. The stepped exhaust header pipe was designed by Rob and bent up in Johannesburg. Rob's friend, Kevin from Pie design in Port Elizabeth, welded the exhaust. Rob asked me to make special mention of Kevin's talent as a welder and his knowledge of metallurgy. He also asked me to mention that Kevin is hugely cantankerous and bad tempered, but I do not know Kevin and therefore will not include these details. Having spent a fair amount of time riding off road on a standard XR200, I imagine this XL with the uprated XR200 engine should be pretty responsive.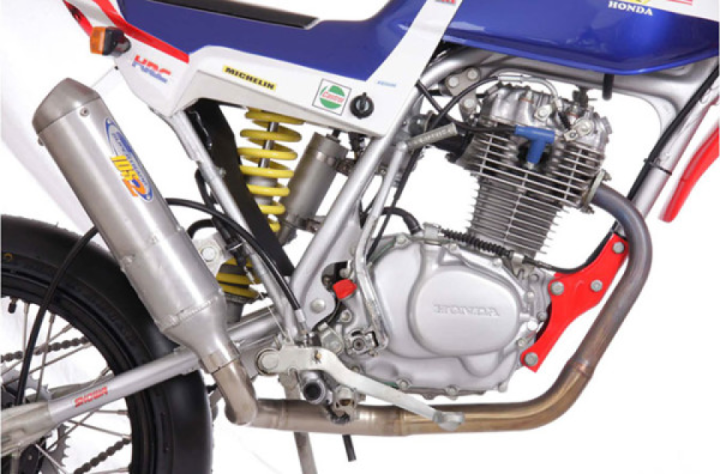 After visiting the Greek island of Lesvos for the last thirty five years, Rob has recently moved to Lesvos to fulfill his dream of running a specialised motorcycle shop on the island, doing everything from spoke wheel rebuilds, pressed crank overhauls, fork straightening and beadblasting to the building of custom specials. By the level of craftmanship reflected in this XL125 motard, Rob should do well and we wish him all the best. Thank you Rob for the fine photos and all the background detail of this build.
#Honda #XL125 #Custom #Moto #Scrambler