According to Beachapedia, "Driving on the beach is a long-standing tradition in many areas of the United States, including Cape Cod National Seashore in Massachusetts, portions of the New Jersey shore, North Carolina's Outer Banks, Georgia's islands, certain areas in Florida, North and South Padre Islands and other areas in Texas, and several areas in Oregon and Washington, including the Long Beach Peninsula shoreline." Riders' rights can always change, however.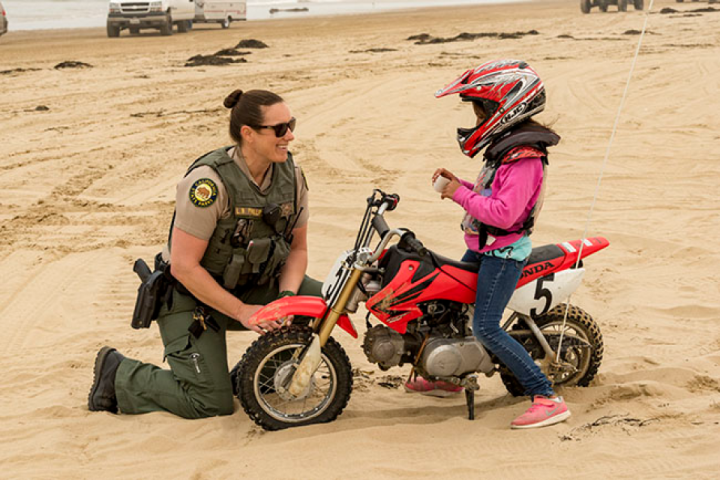 A recent example of this is the California Coastal Commission's unanimous vote to end the long-standing tradition of allowing vehicles on the beach at Oceano Dunes State Vehicular Recreation Area. The decision seems based on dubious evidence, goes directly against California State Parks' efforts to keep it open, and has brought about lawsuits to fight this action.
A Long History
This four-mile stretch of beach is the last place along California's 3,427 miles of coastline where vehicles are allowed. Documentation exists going back to 1905 of people enjoying driving and riding at Oceano Dunes. It has been an officially designated State Vehicular Recreation Area since 1982, explicitly permitting people to enjoy the dunes on motorcycles and other off-road vehicles.
The California Coastal Commission's mission seems in line with that of California State Parks. "The Commission is committed to protecting and enhancing California's coast and ocean for present and future generations," says the mission statement on the front page of CCC's website. "It does so through careful planning and regulation of environmentally-sustainable development, rigorous use of science, strong public participation, education, and effective intergovernmental coordination." Yet the two government agencies have been at odds over who has the ultimate jurisdiction over areas like Oceano Dunes for years. While California State Parks wants to maintain it as an off-road area, after a ten-hour meeting last year CCC voted unanimously to shut it down altogether starting in 2024.
Dubious Evidence
CCC's reasoning centers around concerns about air quality and preserving the habitat of the endangered Western Snowy Plover bird. They presented evidence indicating that off-road vehicles "break up the stiff surface layers that form on beaches and dunes, which facilitates the emission of particulate matter to downwind communities and erodes the dunes." Yet a California Department of Conservation geological survey contradicts this assertion, saying that CCC's report "inaccurately describes dune processes and features and fails to mention the fundamental geological process of dune-building."
As for the Snowy Plover, CCC claims that due to its endangered status, Oceano Dunes is an environmentally sensitive habitat area. Because of that, off-road use may only be permitted if it is not possible anywhere else, and it does not impact significant habitat values. CCC claims that other off-road areas exist, and the activity does impact the habitat, therefore it should be banned. Yet the Oceano Dunes SVRA spends nearly $2 million annually to preserve the Snowy Plover's habitat. There are fences that prevent vehicles from encroaching on the birds' habitat. Oceano Dunes SVRA will even prohibit vehicles from certain areas voluntarily if they determine it will threaten the birds. Beyond that, evidence from the adjoining Guadalupe-Nipomo Dunes National Wildlife Refuge, as well as Oceano Dunes itself while it was shut down for COVID-19, show their Snowy Plover populations doing much worse, not better as one might expect with no off-road activity.
What's At Stake
Banning off-roading at Oceano Dunes is bigger than a riders' rights issue. Thriving local off-road vehicle rental companies would immediately be out of business. In fact, much of the area's economy is built around serving people visiting the Dunes to enjoy a bit of off-road fun. This would collapse if off-road enthusiasts no longer have a reason to come here. Ironically, without the State Vehicular Recreation Area designation, Oceano Dunes would lose a great deal of park funding, which would hurt the Snowy Plover preservation efforts instead of helping them as CCC claims to intend.
Common Tread has an excellent write-up about the Oceano Dunes situation, if you want to dive into the details. One could easily write this battle off to politics and two California government agencies on a power trip against each other. This may be partly true, but it's not just here. We've already written about 437 miles of Moab trails at similar risk of closure. New Jersey has completely banned off-road vehicles from public land, and has closed some areas completely just to enforce it. Riders' rights are a concern everywhere.
Credit: advrider