Since their channel started a few years back, the oddly-named Grind Hard Plumbing Co. has built many vehicles with questionable practicality and safety features, but unquestionable fun factor. The latest? A Suzuki Hayabusa with a track kit. These guys say it's the world's fastest snowbike, and we believe them.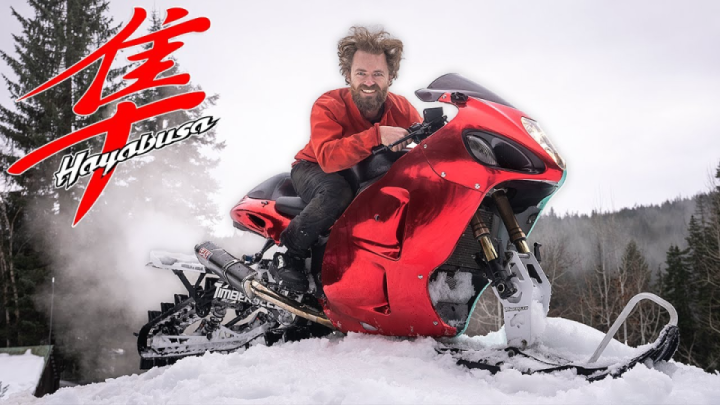 This is not, as the name implies, a YouTube channel about journeymen plumbers. Oh no! As per their own description:
We are a couple of friends who build crazy cars and contraptions out of a small garage in the woods of North Idaho.

So far we have put a Honda dirt bike engine in a Power Wheels toy Ford Mustang Barbie car, chopped a dirt bike frame to build a snowmobile engine powered off road scooter, hotwired an abandoned Toyota Tacoma and turned it into a rock crawler / 4×4 offroader, turned an iconic BMW E36 coupe into a rally truck, did a rv/bus conversion and built a fully caged convertible BMW E46 drift car.



That pretty much tells you all you need to know about these madlads. Iron & Air had a write-up on them a while back, if you crave more details.
The project
It couldn't have been easy or cheap: Take a 2005 Suzuki Hayabusa, which at time of production made 173 hp at the crank. Add a Timbersled Riot 3 track kit. Combine the two with some modification, and let loose the dogs of horsepower.
Most of the video focuses on acquiring the components and assembling them, but we do see the end result in action at the end. They're promising us more footage down the road, and a land speed record attempt. Considering most snowbikes are built around big-bore dirt bikes, then this should have no trouble setting that record.
Credit: Advrider