Back in the Noughties, when cafe racers were all the rage and the global custom scene went through a renaissance of sorts, it was easy to see choppers as a dinosaur-style of bike. Representing the exact opposite of the light, fast and above all European essence of cafe racers, it was all too easy to judge them as yesterday's news and maybe even write them off all together. Flares, beehive hair-dos and chest hair…and choppers. All things rightly or wrongly assigned to history's trash bin.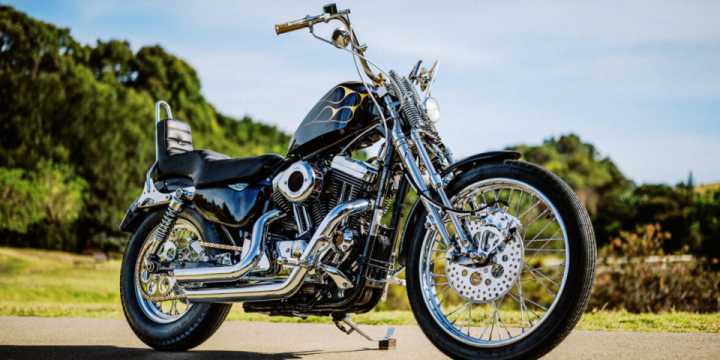 Of course, the older and wiser of us knew that in some form or another choppers would always be around. They were just too entrenched and – let's face it – too damn cool to die just yet, so they continued on doing what they do so well. And right now it almost seems as if choppers are on the ascendancy and it does really look like cafe racers have run their course for the time being. Right on cue and as if to prove a point, here comes Sydney's Zen Motorcycles and their chopped 2015 Harley Davidson Sportster Seventy-Two.
"The idea for Zen Motorcycles was to have a shop that could build custom bikes for customers, service bikes to the high standards that our customers expected and also become a retailer of electric motorcycles," says Zen's Bruce Crerar. "The search for the right space took a lot longer than we anticipated and so did coming up with a name for the shop, however we managed to find both and Zen Motorcycles was opened in March 2022 in Sydney's Alexandria.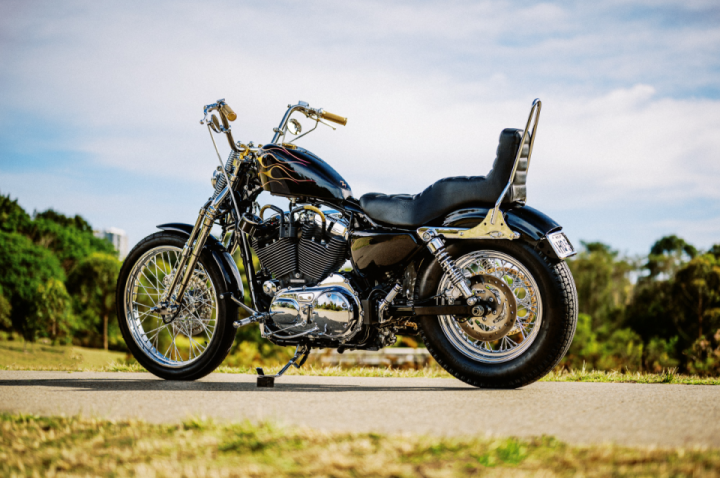 "The job came about when a new customer, Tony, wandered into the shop with a custom chopper he had bought at auction asking us to get it running properly," continues Bruce. "So we sorted out his bike and when he came in to collect it, he saw a Harley Sportster chopper we had built for another customer and he decided that he wanted a new bike with something similar and in a classic, '70s style.
So Bruce sat down with Tony and put together a list of exactly what he wanted. Next came a budget, which was agreed upon. Then they acquired the right bike for the project and the build began in earnest. "Tony fully understood that custom builds take time and so we did not set a timeline; it was more of an "it'll be done when it's done" approach. With that said, we continually updated Tony during the build process so he was aware when we experienced challenges, but thankfully he was completely understanding."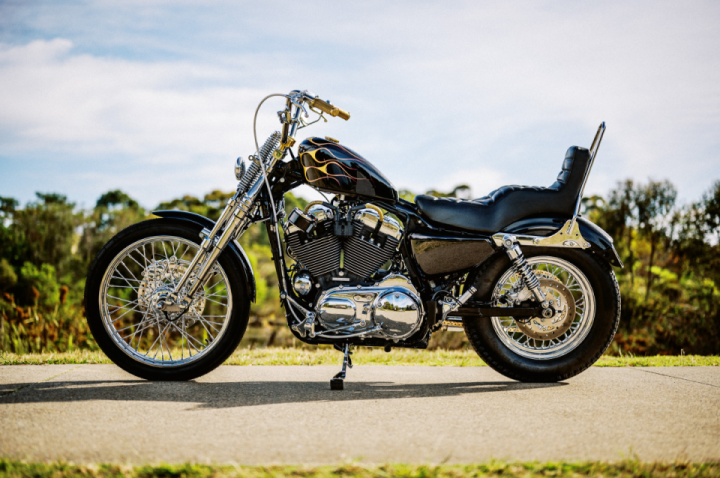 The client wanted the bike to have a lot of chrome with touches of gold, and so a Seventy-Two Sportster (aka the "XL1200V") was chosen as the starting point due to the abundance of chrome already installed from the Hog factory somewhere deep in the US blue collar heartland. The key aim for the job was to have reliability and the comfy ride of a modern bike but with the look of those classic 70's-style chopper customs. "The absolute musts in creating a 70's style bike are the springer front forks, the "Jack & Jill" seat, a sissy bar and a bunch of flames on the tank," says Bruce.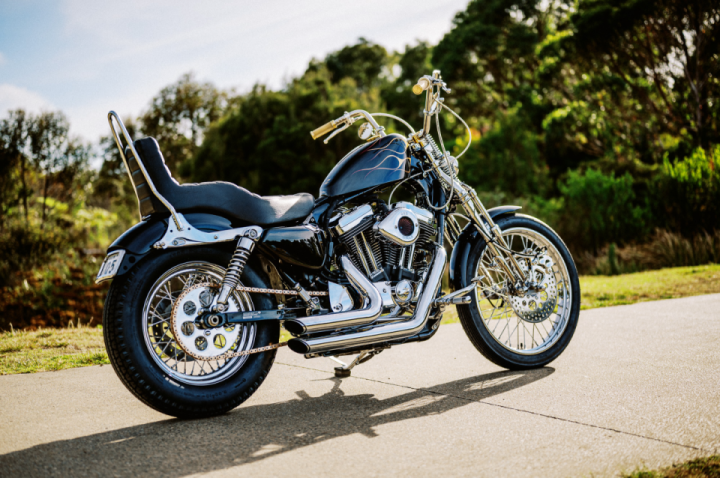 In addition to the must haves, Bruce wanted to take the bike to another level. So all the nuts and bolts were chromed, the factory lights were replaced with mini LED's where required and the switches were replaced with smaller, tidier items. Next, the drive belt was converted to a chain, the speedo was relocated to the engine's left-hand side, and the wiring was neatly hidden. And because too much chrome is barely enough, chrome discs and calipers were bolted on and touches of brass were added, too.
Trainspotters will also notice the lovely brass risers and hand grips, the retro-style headlight, the gold chain and chrome sprocket, chrome levers and footrests, the custom handlebars and the way cool sparkle gold plug leads. All this bling is being carried down the road on a perfectly matchy matchy set of Avon retro rubber boots.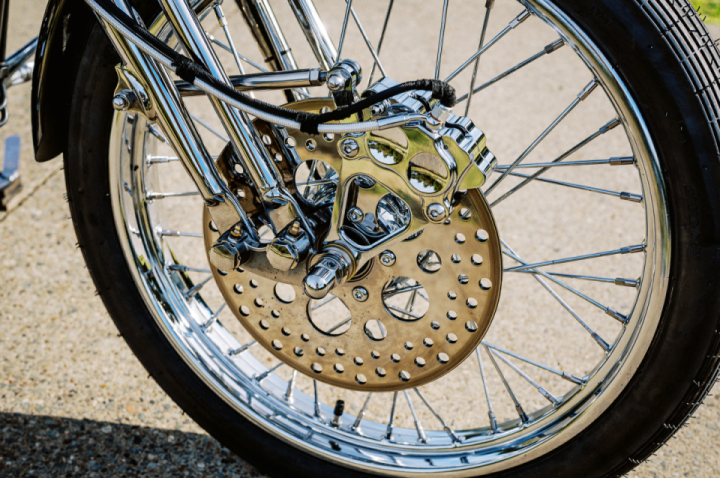 And far from being an off-the-shelf part, the front end was built from scratch via Zen's partner in crime and long-time collaborator, Edi from the nearby Machine 1867 shop. Crafting metal like the ocean crafts waves, the results of Edi's handiwork can be seen here. It must make the job of building a kick-ass custom chopper so much easier when you know that you've got a mate that can deliver a set of custom forks like this with minimum fuss and maximum wow.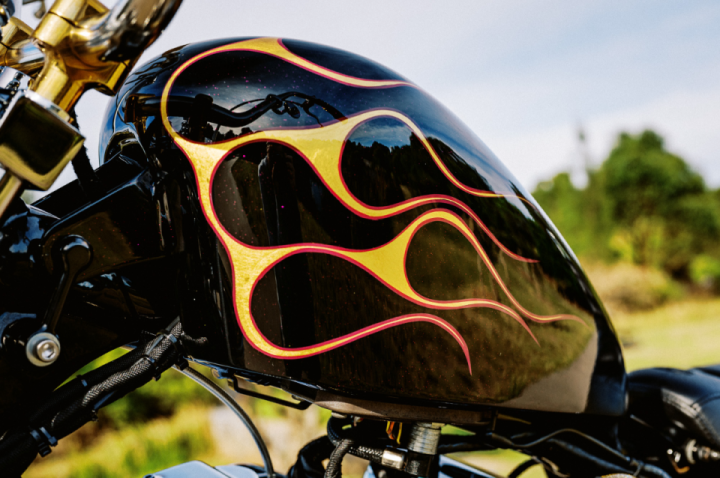 But as we all know, these kinds of projects are never as smooth as you want them to be; Bruce confirmed that this one also had its fair share of head scratches. "A couple of the big challenges included getting the ABS from a modern bike to work with the old school springer front forks," he says, laughing. Talk about the classic and modern working together. "Then there was the task of getting enough steering turn radius once we'd installed the front end, relocated the tank and put on the new bars."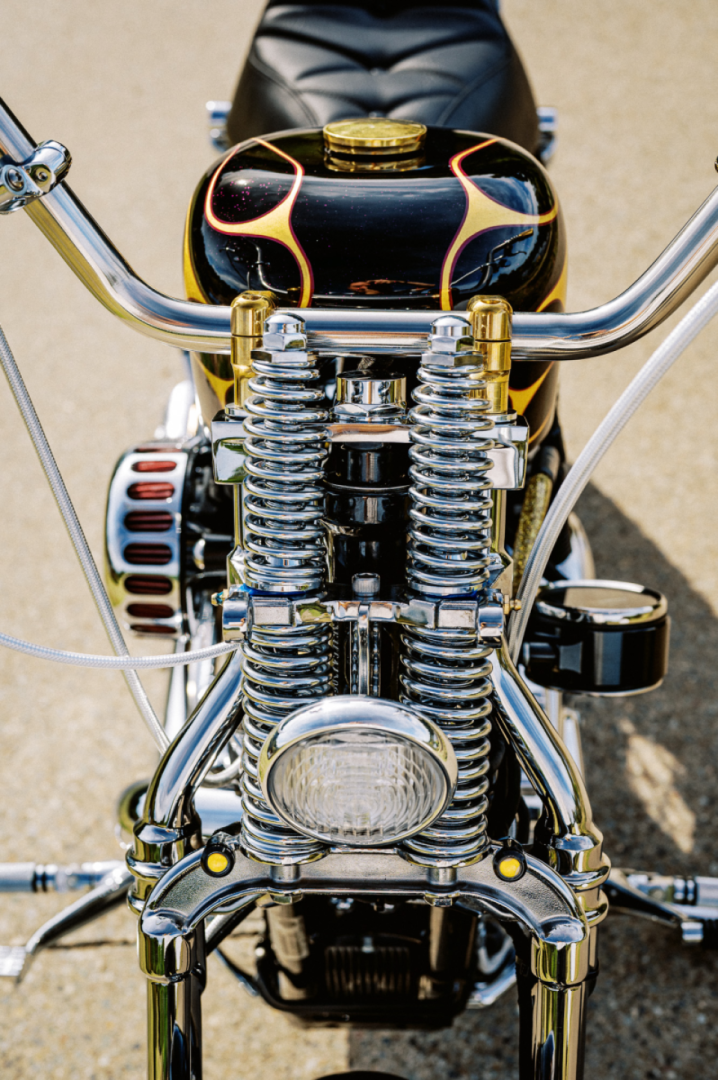 Having neatly avoided any Titanic steering issues, the bike was ready for paint. Having seen the bike in the sun with my own eyes, the custom deep purple paint with gold leaf flames by Aaron Turner is outstanding and with the addition of touches of brass on the bike, there's little doubt & it will really stand out in a crowd. And while the paint might look black in the photos, once the sun hits it some retinal magic happens and the beautiful purple show's its face. It's one of those paint jobs that has you wondering if you could actually go swimming in it. It's that good.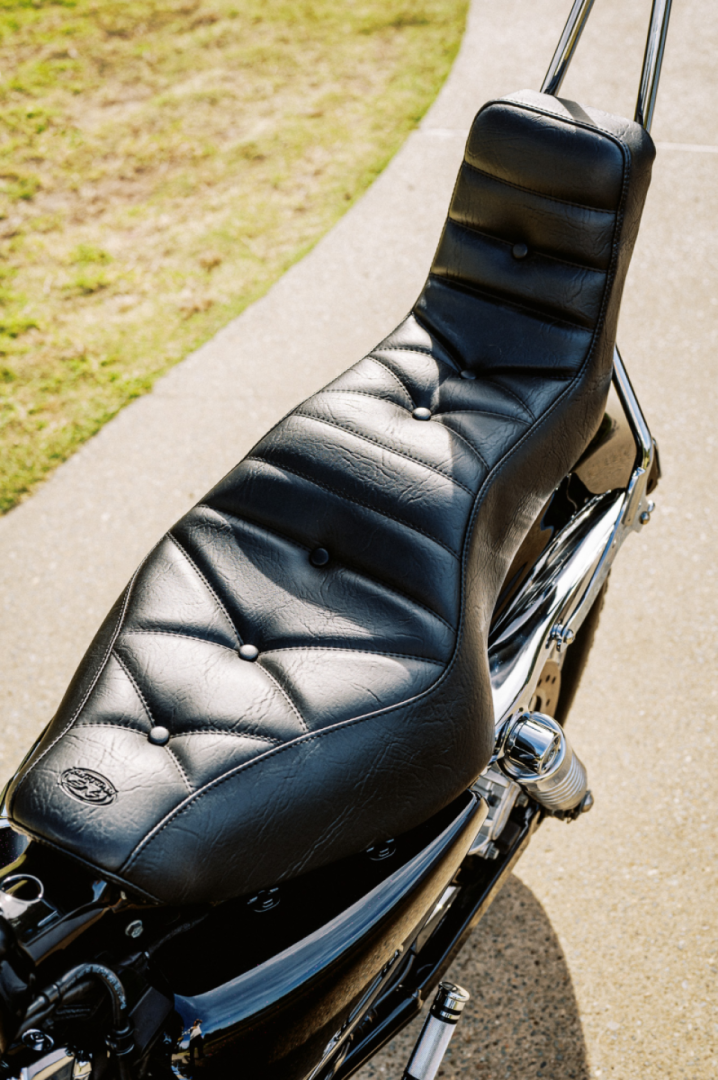 We are really happy with the end results," says Bruce in conclusion. "The countless hours and all those late nights really seem worth it when the customer finally rides away on his dream bike with an enormous grin on his face." Amen to that.
Zen Motorcycles – Facebook – Instagram
Images by Machines That Dream