Italian manufacturer Exan offers three Euro 5 and one race only 4-2-1 exhaust system (that can be integrated with one of the silencers) for the popular Kawasaki Z900 naked superbike.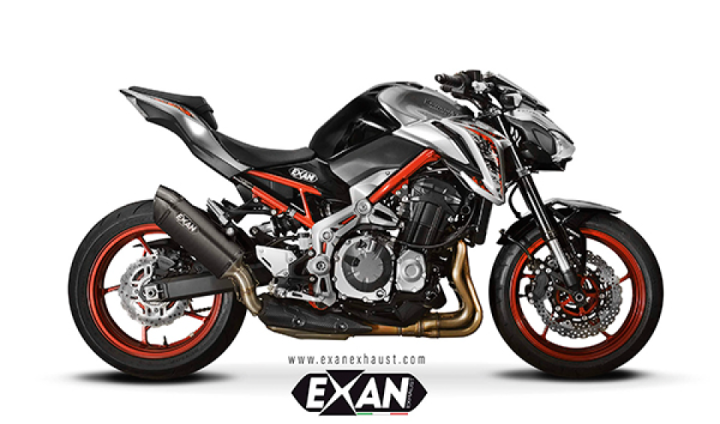 The company's 'Carbon Cap Ovale' (seen here) features a "classic look with racing character and a carbon heat shield". It is lightweight, slips onto the stock manifolds without modifications, and is available in carbon, titanium and light or black satin steel.
Featuring an aggressive look and carbon finish for a "decidedly racing character", the Exan 'X-BLACK OVALE' slip-on is "extremely light, regardless of the material chosen", and available in light or black satin stainless steel, titanium or carbon and described as delivering "extraordinary power and torque at any speed".
The Exan ' X-GP' is a cylindrical exhaust with a "classic finish". It excels at medium and high revs and improves the agility of the Z900, as well as the power. Extremely light, regardless of the material chosen, it is also available in carbon, titanium and black or light satin steel.
The complete Racing 4-2-1 in stainless steel (silencer not included) "is a modification-free, fully reversible install with a 24-month warranty that ships complete with everything you need, including the fixing kit and heat-resistant adhesives to be applied on the drain". Exan recommends "the installation of an additional control unit to ensure maximum performance".