Barcelona based parts and accessory designer Puig has released a huge range of product applications for the 2022 BMW R1250GS, including selections of screens, mirrors, protectors, covers, rear spoilers, chassis plugs, rear spoilers, upper and lower deflectors, headlight protectors, auxiliary lights, levers, footpegs, risers, device mounts, tank pads, side mount extenders, fender extenders and kickstand extensions. All needed hardware and instructions are supplied, and most products are additionally covered by online instructional videos. Here is a small selection...
Screens
Puig offers several windscreen styles in a choice of colourways that ship with its aerodynamic study comparing its screens with the original. Manufactured from either 3 or 4 mm acrylic (methyl methacrylate/PMMA), they are all designed under its 'Ever Flowing Design' concept - a design philosophy that can be translated into a design language that ticks all the most important boxes. Such as accessories that are functional - "without purpose, there is no design", adaptable - "versatile designs that can be purposed to different uses and needs", aerodynamic - "the basis of everything", ergonomic - "designs for every kind of rider", minimalistic - "designs with nothing unnecessary getting in the way", Smart-Electronic - "technological and useful" and interactive - "a bike that responds".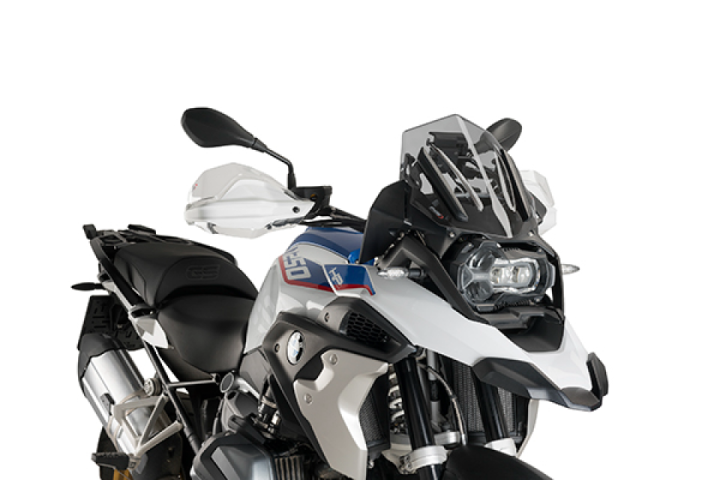 Puig's Sport Screen for the R1250GS matches the lines of the bike, available in different colours, and aerodynamically protects the rider by offering a clear and optimal field of view for relatively short trips or urban riding. Slightly smaller than the original screen (if fitted), the field of vision is optimised, and as with most Puig screens, they are finished with rounded edges (to comply with German TÜV regulations) and measure 320 mm high, 340 mm wide and are 120 mm lower than the original.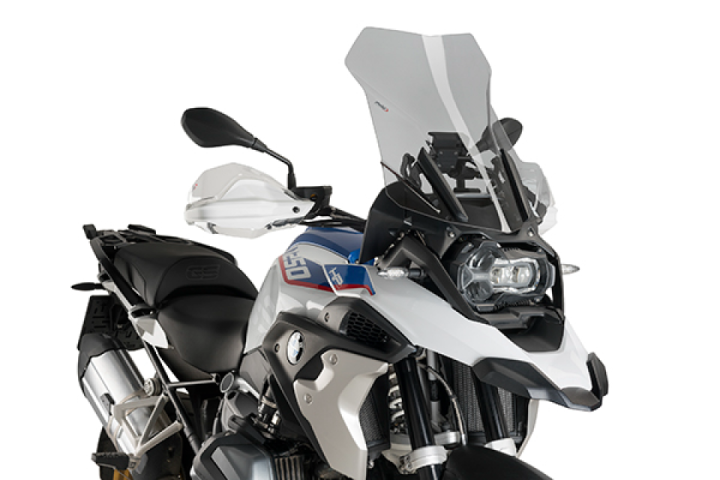 Also seen here, Puig's Touring Screen for the R1250GS is a perfect fit and aerodynamically optimised with a choice of colours and options.
Manufactured using 4 mm thick acrylic material, with UV protection and the 2 mm rounded edge, this easy install design is compatible with OEM handguards and is 150 mm higher than the original and 110 mm higher than on the ADV model.
Finally, designed to be mounted with the original screen or with one of the Puig models, its E.R.S. (Electronic Regulation System) allows riders to adjust a screen's weather response during the ride with an electronic lifting mechanism with which the rider can vary the position of the windshield with one finger using the next-generation Joystick-type actuator button located on the handlebar.
The E.R.S. system allows the rider to raise the windscreen 6 cm more and lower it by up to 2 cm compared to the original - ideal for use in off-road riding. It does not require a fixing support and its structure significantly improves the rigidity of the original part on the bike.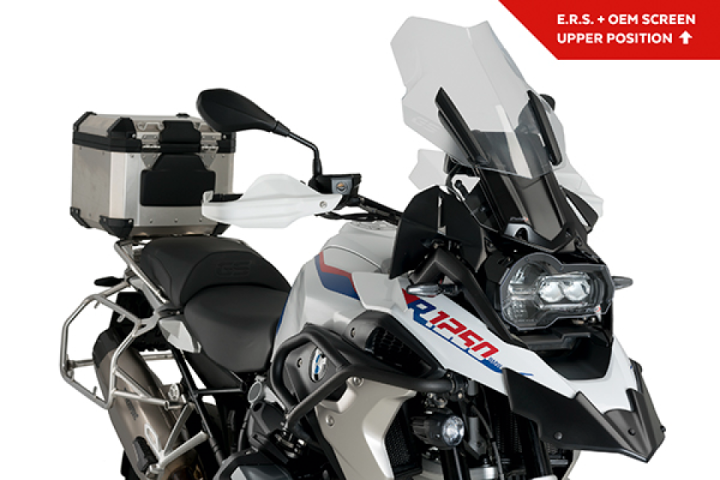 While the OEM mechanism must be operated while standing still and having to release the handlebar with your right hand, this button will allow you to do it with a single finger, due to its dimensions and placement on the handlebar. The mechanism includes two aerodynamic wind deflectors designed for when the screen is placed in the high position, diverting the air flow (that would pass under it) to the sides, leaving the pilot completely protected.
Infill Panels
Puig side easy-install covers are designed to cover the hollow parts of the motorcycle, protecting them from possible splashes and dirt that can adhere to riding all kinds of tracks. The ABS construction protects the rider from small objects and debris.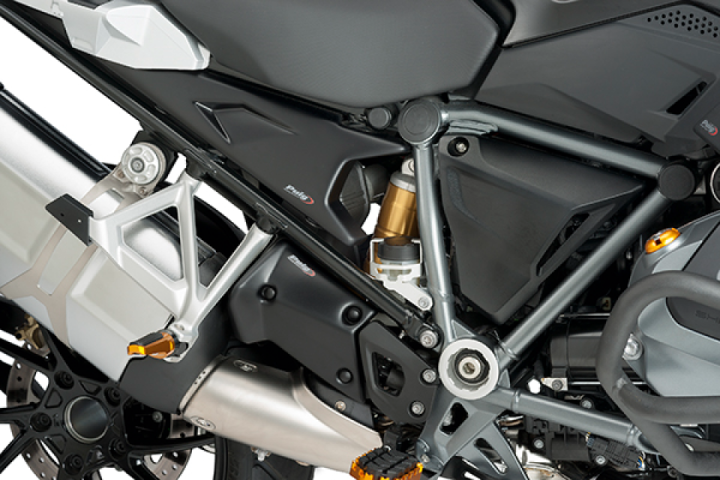 Aluminium Chassis Covers
Designed as stylish covers for the chassis holes that prevent dirt or water from accumulating inside, they are machined from a single block of aluminium with a black anodised finish, with laser-engraved logos to create a perfect finish. Being model-specific, they are ensured to be a perfect fit, preventing them from loosening. They are a modification-free easy install using just one (supplied) Allen key.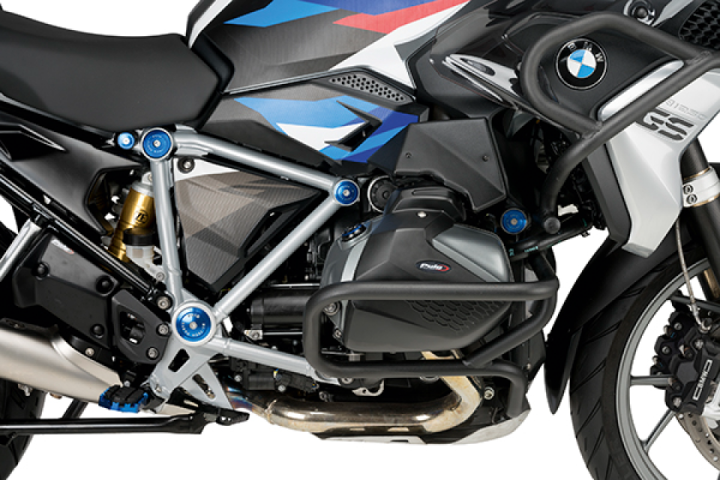 Engine Guards
Delivering comprehensive protection of the motorcycle engine area, Puig has developed a wide range of steel tube protections, manufactured using high quality precision machining and welds for a precise mounting process. Designed to compensate for the absence of a full fairing on ADV models, these are model-specific designs that add safety and rigidity. Available in black or grey; lower engine guards in 20 or 25 mm.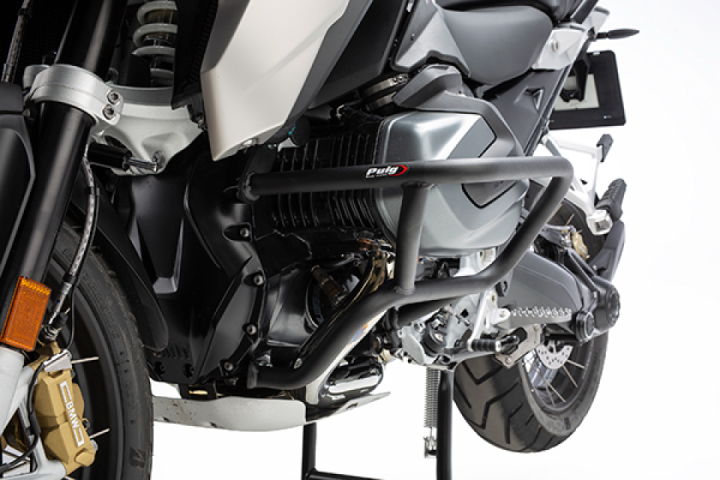 Footpegs
Puig offers a wide range of footpegs for tourers, sport bikes, Nakeds and ADV models. Manufactured in high strength anodised aluminium for light weight and durability, these Sport footpegs measure 72 mm long and 27 mm wide and weigh only 90 g.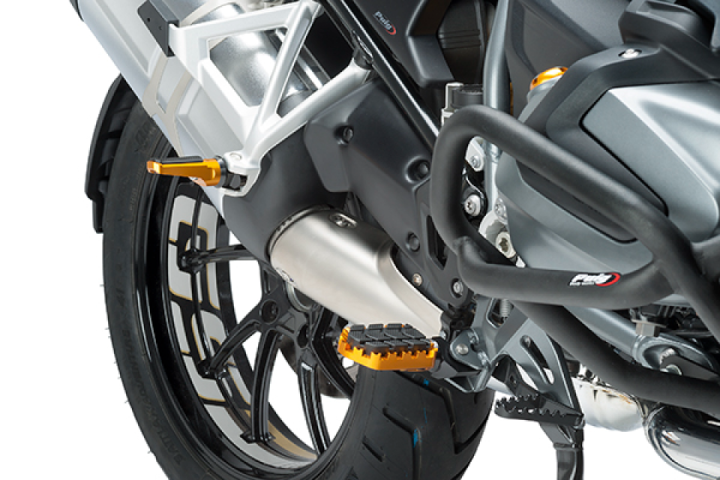 The ergonomic design increases ground clearance for improved lean angle, and they are in inclination and incorporate precision markings. They are rubber isolation-mounted and available in blue, black, gold, silver, red, orange and green. TÜV certified and ABE document supplied.
A wide range of additional footpeg styles are available from Puig, including the R-Fighter, Heritage and 85 mm by 51 mm Trial styles also seen here.
Credit: Puig