The "Lab Rat" – a modern two-stroke street bike based on Yamaha RZ350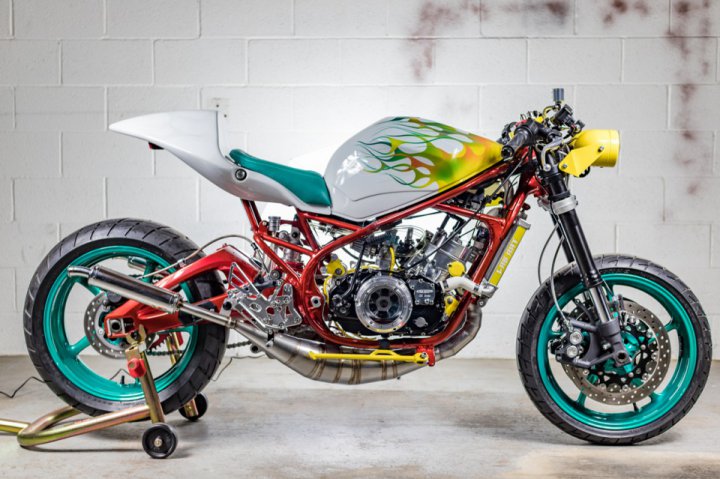 The RZ350 model is the final evolution of Yamaha's RD series street bikes with two-stroke engine and liquid cooling.Since his youth, a mechanical engineer Daniel Swinney of Swinndustries has been rebuilding two-strokes with his old father. They constantly wondered how the modern Yamaha RZ350 might look like, so they decided to create their own interpretation and called the project the "Lab Rat". It took seven years to finish the process, and the final result was presented at the prestigious 2018 Handbuilt Motor Show in Austin, Texas.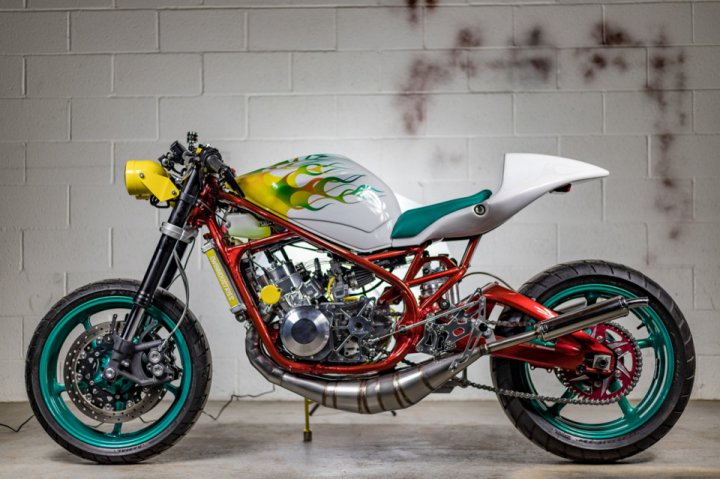 Frame and Suspension

• 1984 Yamaha RZ350 Frame, split down the middle and widened 41mm in a custom jig to accept 2005 Yamaha R6 Raven swingarm. Maintained original frame centerline and swingarm pivot location
• Yamaha R6 Raven front suspension, triple tree, and disc brakes. Custom order tapered roller bearings in steering head to accept R6 Raven triple tree.
• Custom rear shock hoop and frame structure designed to accept R6 Raven rear swingarm and suspension linkage while maintaining original dynamic action. Extended suspension linkage member
• Truss style subframe designed for integration of Honda RS125 tailpiece. Tailpiece bracket attachment system for additional seat rigidity and ease of tail installation/removal.
• Frame alteration and bracketry for R6 gas tank.
• Hand formed tank accents
• Re-designed and relocated rearset frame mounts
• Right hand side magnetic kickstand.
• Undertail license plate relocation.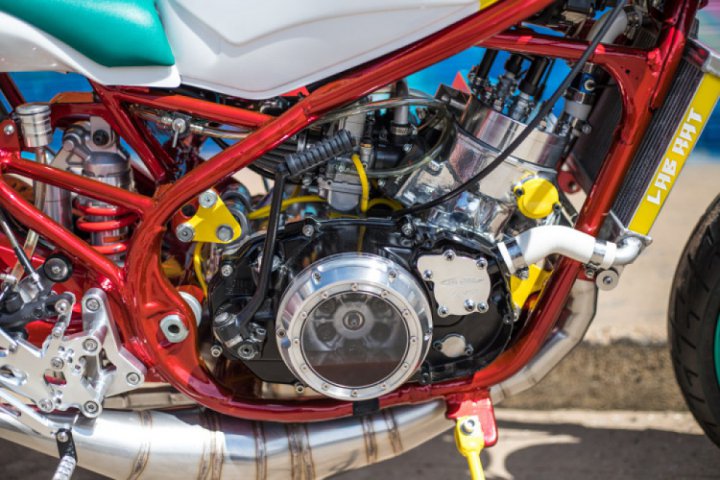 Engine, Cooling System, and Driveline
• Original RZ350 case halves and cylinders, walnut blasted and ceramic coated
• Vito's Performance Crank, trued and welded
• Spec II Stage II porting and port chamfering
• .05 over cylinder boring
• Duncan Racing Powerhead with 22cc compression domes
• Removal of original oil pump mechanism (replaced with block-off plate)
• Removal of mechanical tachometer system (replaced with block-off plate).
• 28mm Mikuni Flat Slide Carburetors
• V-Force 4 Reed Valve System
• Jim Lomas Stainless exhaust system
• Hinson Performance Clutch Kit
• Mattoon Machine R/H engine case with see-thru Lexan Clutch Cover
• Oversized Radiator
• High flow cooling impeller with quick-drain water pump cover
• 25mm offset drive sprocket
• Chariot Performance stator cover with driveline bearing support, offset and retrofitted with
extended output shaft nut for offset drive sprocket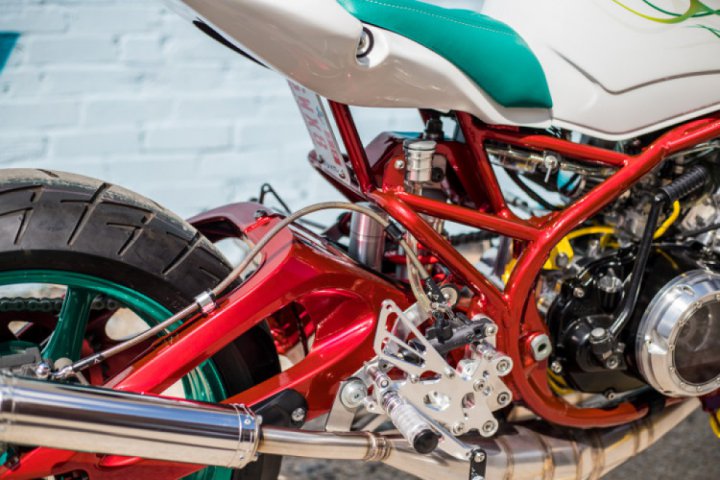 Electrical
• Re-designed aftermarket stator
• Custom wiring harness assembled with deutsch style waterproof connectors
• Zeeltronic programmable CDI and Powervalve control unit
• KOSO DB02 all in one digital gauge cluster with magnetic speedometer kit and supplemental
water temperature sensor
• Yamaha R6 Raven handlebar controls
• Upgrade to blade style fuse block
• Dual headlight setup, aftermarket tail light and license plate lights
• LED auxiliary lighting
• Hidden battery box and electrical panel
• 3D printed wiring harness capsule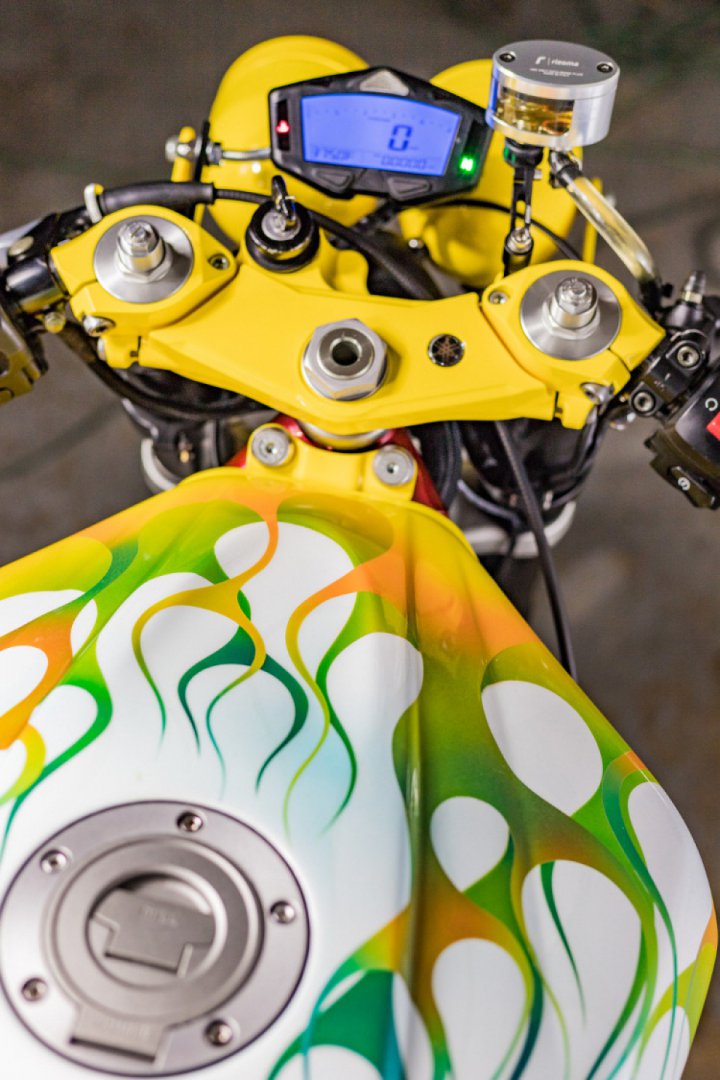 Controls and Brakes
• Custom, made to length clutch and throttle cables
• Venhill stainless steel front and rear brake lines
• CAD designed, CNC fabricated frame adapter plates for Yamaha R6 adjustable rearsets
• Custom shift linkage
• Rizoma front and rear brake reservoirs with clear brake line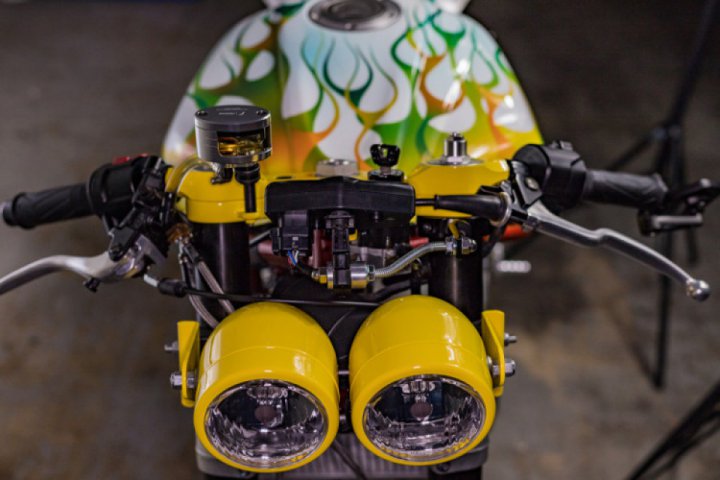 Cosmetics
• Yamaha R6 Raven gas tank
• Yamaha R6 Raven wheels
• Honda RS125 tail
• Thermo formed kydex seat pan with CAD designed, custom upholstered seat
• Thermo formed kydex undertail cover
• Custom paint job by Mark Seely
• Electrocoated frame paint job
• Powder coating on wheels, headlight assembly, and small components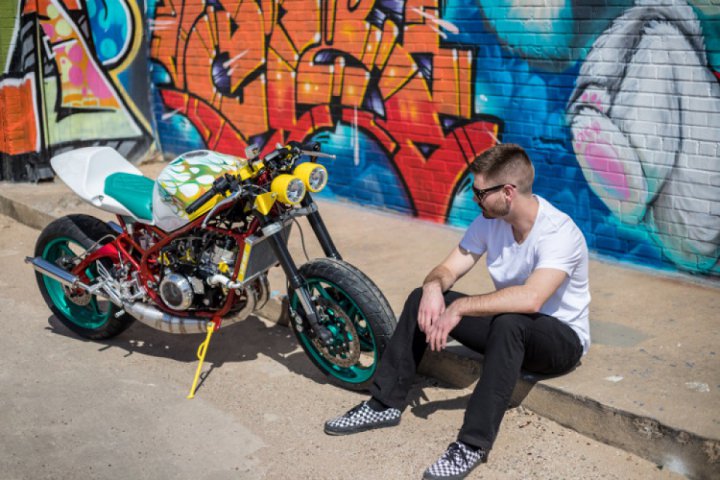 Credit:bikebound.com