We have to admit that when Yamaha first started its Yard Built program, and followed it up with the Faster Sons theme, we weren't quite sure what they were getting at. As we recently explored, however, some of these modified UJM-like machines have a cross-generational appeal, and Yamaha can be credited for some foresight with regard to market direction. We have yet to see, however, how the first Yamaha production model derived from this thinking, the 2016 XSR700, will sell when it hits dealers' showrooms later this year.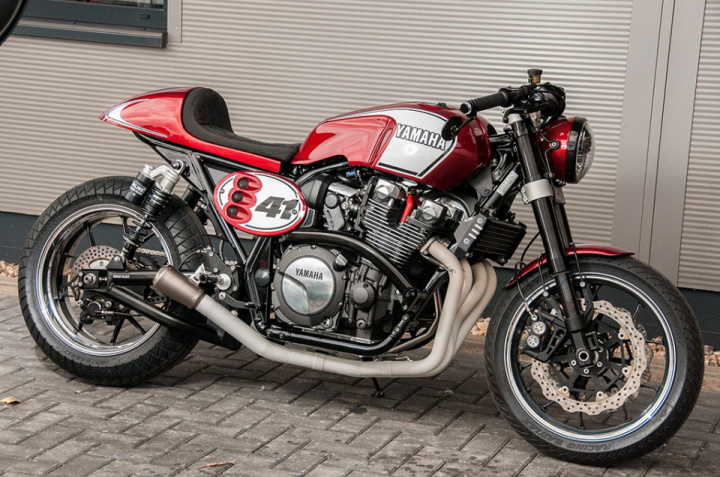 In the meantime, we take a look now and then at the Yard Built projects on Yamaha's web site. This one caught our eye. It is a beautiful modification of a Yamaha XJR1300 by the German dealer Motorrad Klein.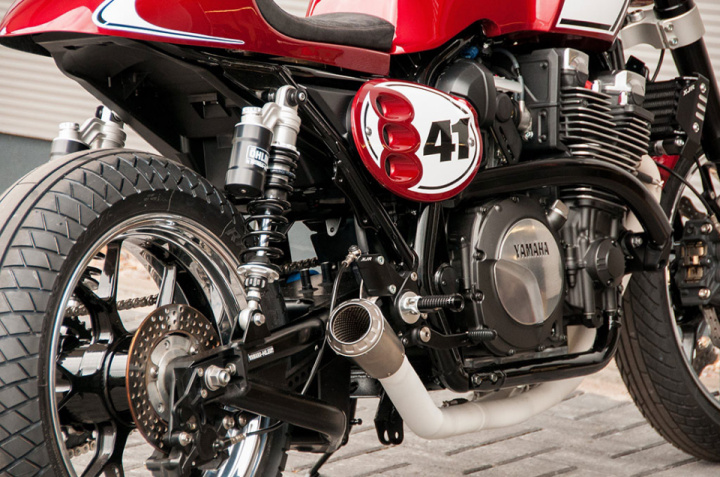 Here is how Yamaha describes the mods:
Custom made triple clamps (only one piece!) by BKG, designed by Klein, with milled Yamaha Yard-Built Logo, blasted with glass bead and anodised;
BKG-3D handlebars, blasted with glass bead and anodised;
Motogadget digital rev-meter/tachometer;
Motogadget grips, buttons,
M-Lock-System,
handlebar-indicators and mirrors;
painted and polished PVM 5Y Spoke rims of forged aluminium,
design FE-brake discs,
brake calipers from the 2015 R1 with steel-flex brake tubes;
MT01 fork, DLC coated inner tubes and modified damping;
Bridgestone Moto3 front rain tyre and a hand made rear tire by Bridgestone;
Magura HC³ radial forged brake- and clutch-cylinder (there is only one piece world-wide of each in black color, thanks a lot Magura Powersports-Team!);
Nolden 7″ Bi-LED headlights with hand-made attachments;
Billet rearset kit, sprocket cover,
swingarm pivot covers,
custom fuel injection covers and oil cooler side covers;
Öhlins shocks with black anodised parts;
OVER-Racing modified and black anodised swingarm,
OVER-Racing black anodised sub frame kit;
Hand-made seat; a Yamaha Sport Tracker mudguard with hand-made attachments;
Alu-sprocket; a Lightech black anodised tank cap;
220mm rear brake disk,
OW01 brake caliper with custom made attachment;
White ceramic coated exhaust system with Akrapovic "silencer" and Brandy-Red paintwork from a 1973 Yamaha RD350.