It was a great qualifying session for the 2018 Isle of Man TT, with Michael Dunlop (MD Racing Honda) to top the Lightweight leaderboard and Dean Harrison (Silicone Engineering Kawasaki), who became the fastest in the Supersport ranks.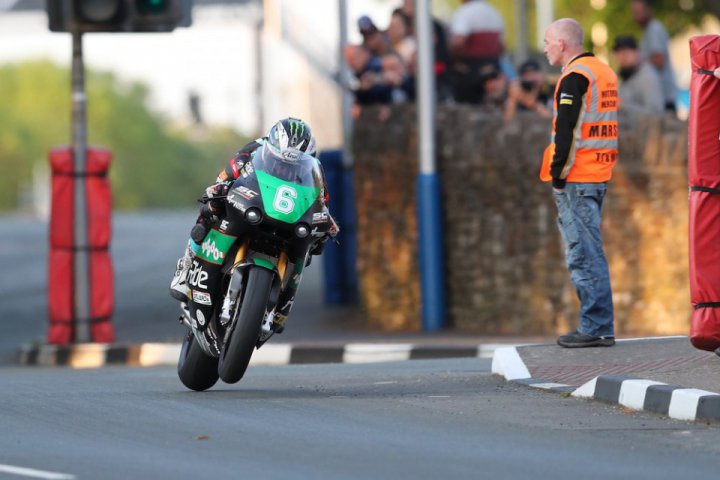 The session was slightly delayed due to oil being cleared between Cronk ny Mona and Signpost, but it did not stop Michael Dunlop to brake the Lightweight lap record. The former 2015 race record of 120.848mph belongs to James Hillier. On Saturday session Dunlop scorched to a 120.875mph lap.
Ivan Lintin (Dafabet Devitt Racing Kawasaki), the former Lightweight winner, was second with a 120.660mph.
Derek McGee, KMR Kawasaki pilot, took the third position with a 117.571mph result, leading his teammate Peter Hickman. The pilot was fourth with his best 117.508mph lap. The next position was taken by Stefano Bonetti, Paton rider, who rounded out the top five with a 117.119mph.
In the Supersport ranks, Dean Harrison set the fastest time of the night and flashed across the line at 125.797mph to top the leaderboard. Michael Dunlop was only half a second slower the leader's pace. The CBR600RR of Dunlop finished the race second at 125.741mph, beating Conor Cummins with his 125.152mph.
The Manxman had set the fastest time from the off, pushing his Honda to a 123.209mph, but Harrison's fourth lap of six gave him the quickest time of the evening, 0.479s clear of Dunlop.
Dan Kneen (Jackson Racing) was the fourth fastest with a 124.703mph, while Peter Hickman, Triumph rider, went fifth a 124.447mph.
Stay tuned! There are still a lot of exciting and unpredictable races ahead! Don't miss the next one on Monday.
Credit photo: motorcyclenews