Fallout: A Post Nuclear Role Playing Game is an open-world role-playing video game developed and published by Interplay Productions in 1997. And we can safely say that it changed the face of computer gaming forever. The game has a post-apocalyptic and retro-futuristic setting, full of deathclaws, robots, in the aftermath of a global nuclear war in an alternate history timeline mid-22nd century. Fallout is considered to be inspired by 1988's Wasteland computer RPG, based on Steve Jackson Games' system GURPS, but Interplay eventually used an internally developed system SPECIAL. It was followed by a number of sequels and spin-off games, the Fallout series.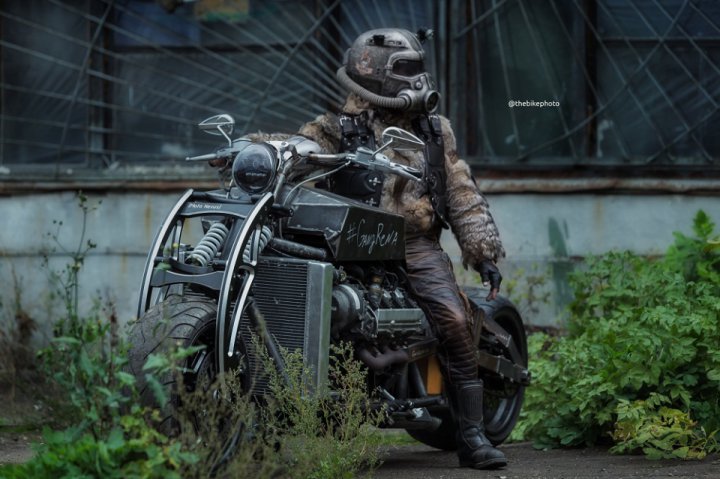 But why are we talking here about nerd games? Because a motorcycle enthusiast from Ufa, Russia decided to build a Fallout-inspired "Crazy Bike" this past summer, and it's, without a doubt, pretty cool. The idea first came to him when he saw a V8-powered bike from a US-based builder, but the Russian wanted to change the way it looked.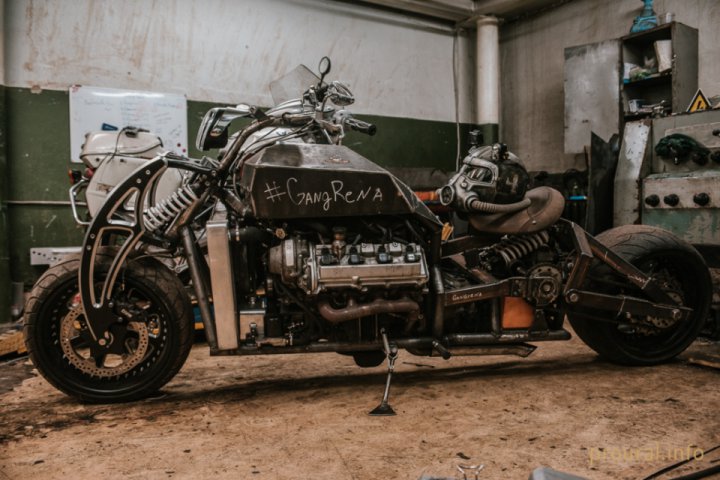 Artem Boldyrev, the creator of this crazy rat bike, named the 'Gangrene', decided to build the two-wheeler around the monstrous Lexus V8 engine with an overwhelming 300 horsepower and an automatic transmission. Then he welded up a very sketchy-looking frame out of box section steel, grafted on a crazy girder-style front end, slapped some car tires on it, and one DIY V8-powered monster bike is ready.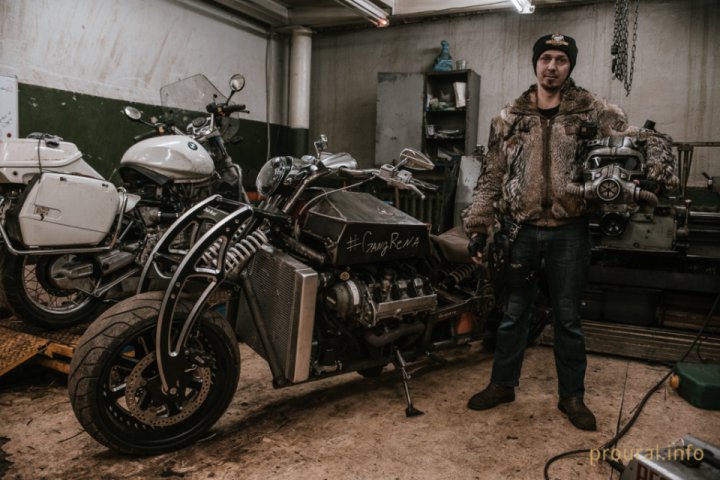 "It's a 300 hp engine." says the guy, "we wanted our bike to be really nice, but we also had to put it in in a way that doesn't make the bike longer than 3 meters to stay road legal".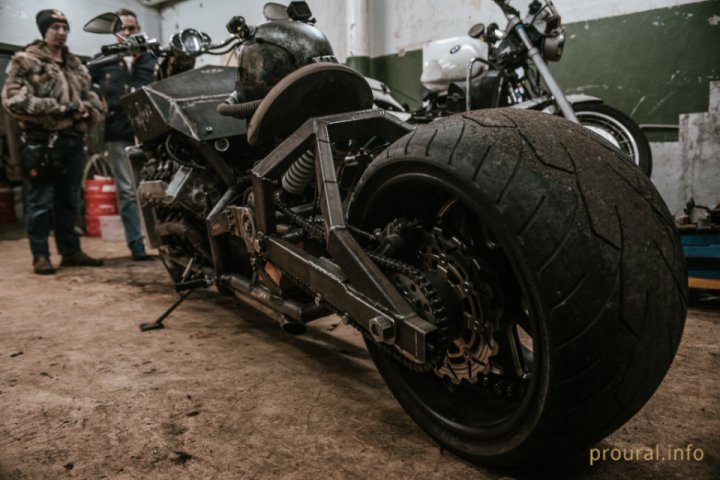 The rear wheel is huge – over 360mm (1'3″) wide, has two chains coming from the engine, one on each side of the wheel. The big bike also received a specially-made gas tank for long-distanced travels. By the way, the weight of the bike is 800kg, and what looks like the riser, headlight, handlebars, and instrument binnacle off a Harley V-Rod.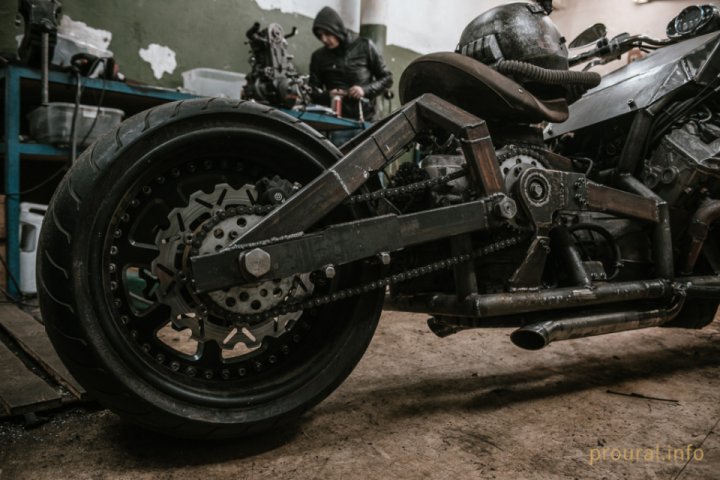 As his creator says, the "Gangrene" is always in the spotlight, and people come up to him to take a photo all the time.
Boldyrev also made a matching Fallout-inspired helmet to complete the wasteland look of this insane bike. He plans to go from Ufa to Vladivostok (Russian Far East, over 5000km from Ufa) next summer. So, good luck, man! You're gonna need it.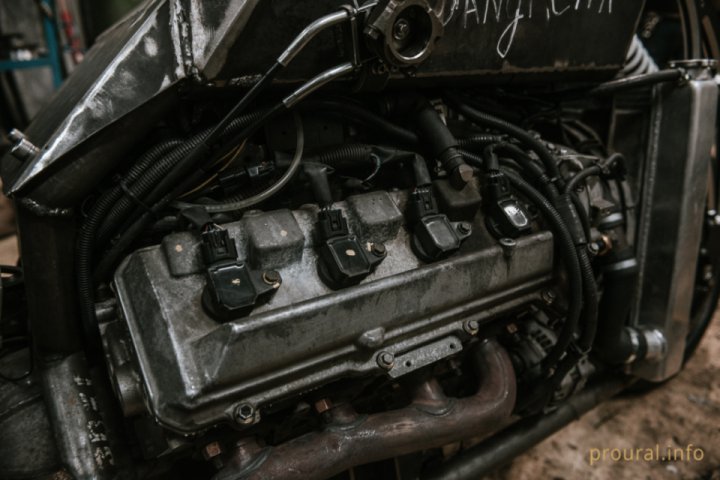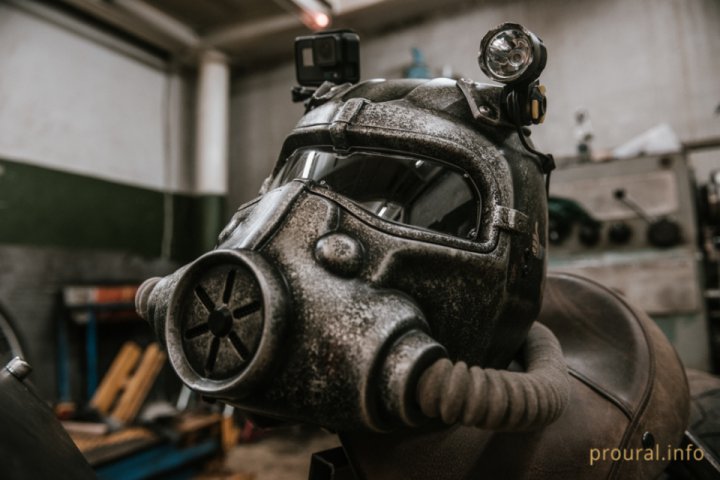 Credit:rideapart.com