Krauzer Domani is a three-wheeled miracle with radical late-80s cyberpunk styling.
The creator of this miracle is Michael Krauser (1926-1991), a German racer, engineer and motorcycle dealer.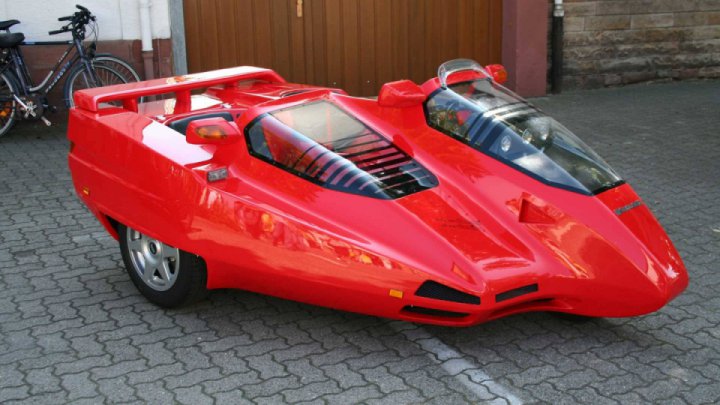 Why did he create it that way? Why was the BMW K100 motorcycle taken as the basis for that project?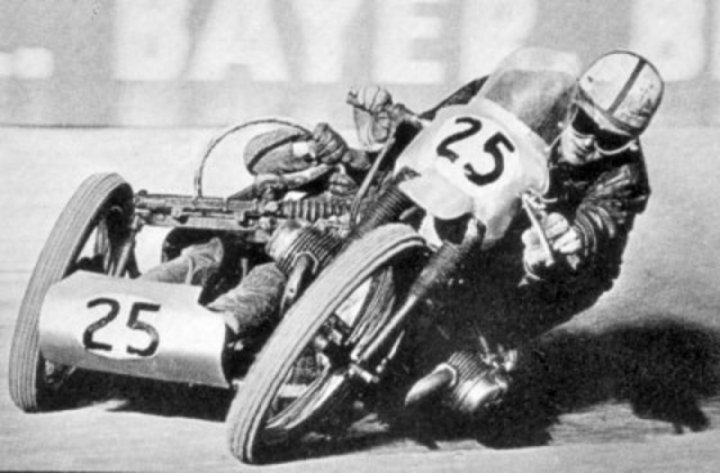 Krauser was a works BMW sidecar racer on a sandy track. He won at the & National German Championships in '55, '56, '57, and '58 attest.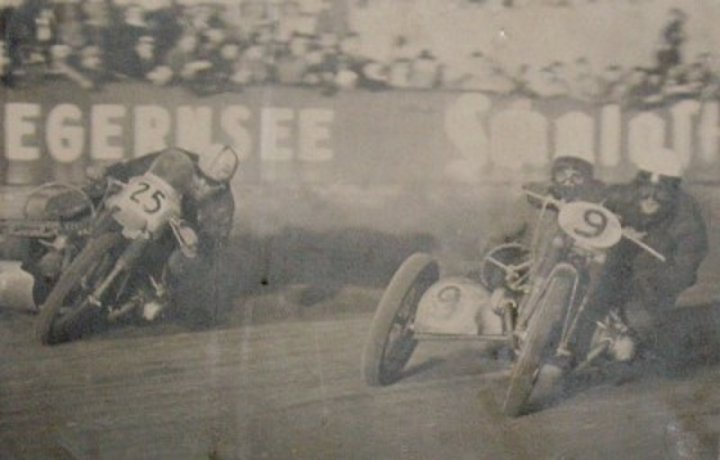 Michael and his sidecar mate Franz Preisl
Michael and Franz under the legendary number "25" are attacking another BMW sidecar
The second racer with the help of a & special handlebar controlled the inclination of the motorcycle and & sidecar. But later, such a complex scheme did not justify itself and & they returned to the standard, rigid mounting of the sidecar.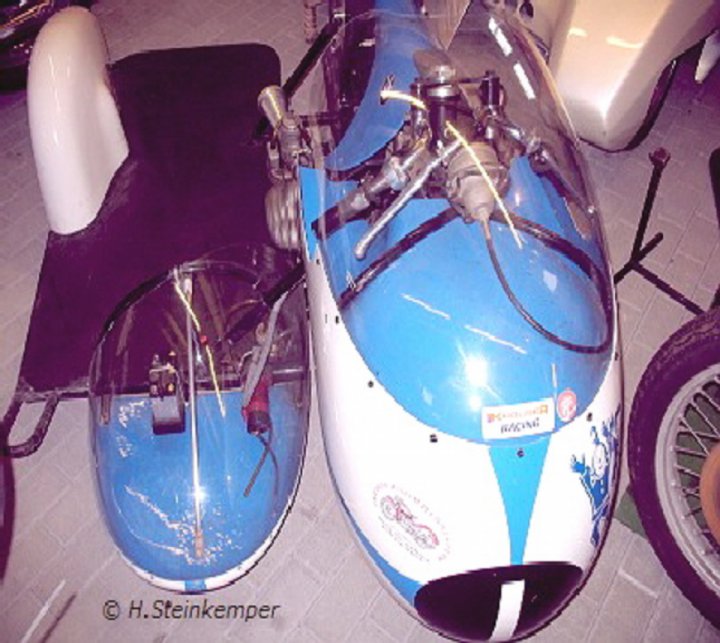 The BMW motorcycle made by Krauser, run by Max Doibel and Emil Hörner, won four times from 1961 to 1964.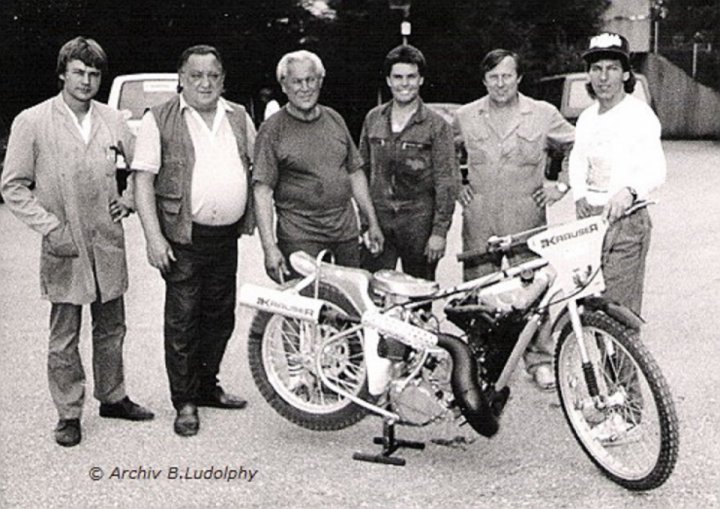 The team's all here, Michael is the second from the left, in front of a Suzuki motorcycle for a speedway with a 250-cc two-stroke engine
Eventually, he moved from the saddle to team management. In the 70s he retired from big-time sports and began producing motorcycle luggage.
But the bike luggage business wasn't enough for him. He'd always dreamed of building and selling his own motorcycles and, in the late 70s, he decided to take a crack at it. He'd saved a pretty good amount of money selling saddlebags to BMW riders and he had decades of experience with the Bavarians so he decided to base his new bikes on Beemers. On the R100RS, to be exact. He started producing hand-built custom BMW road bikes with four-valve heads, racing body kits, and branded frames (hello BMW P9T).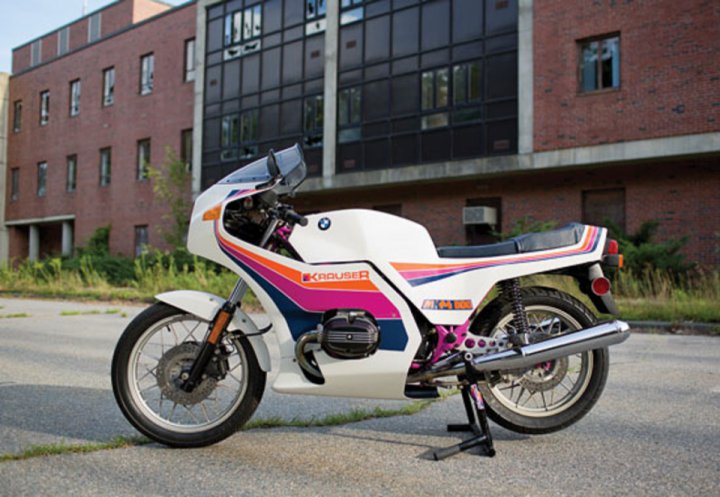 BMW MKM1000 motorcycle with a Krauser racing kit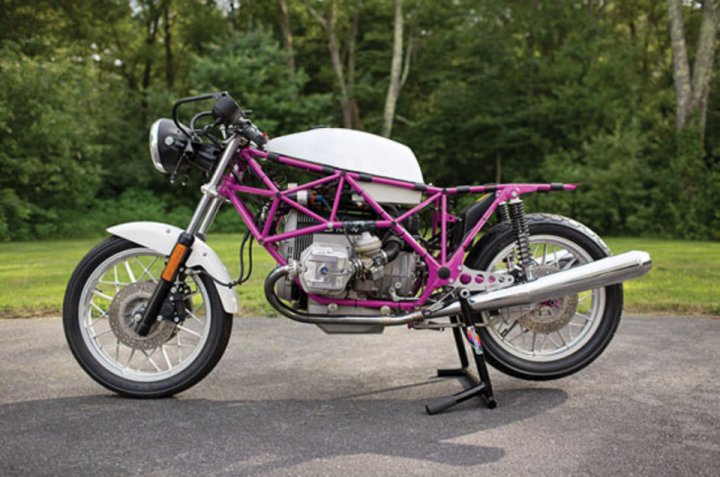 BMW with original four-valve heads and a branded purple frame from Krauser. Racing fairing is taking off.
But even this was not enough, so he started building a three-wheeled, truly cyberpunk miracle, created according to the canons of the construction of three-wheeled racing cars.
I can't even name it a motorcycle with a sidecar. Oh no. It was a sci-fi three-wheeled BMW car powered by BMW "flying brick" inline fours. The Domani, which we're talking about here, is just one of his amazing creations, and just look at it.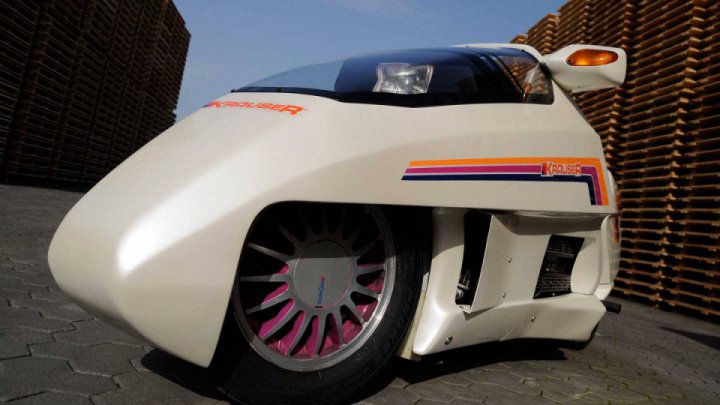 I was a young boy when these things were produced and they look exactly like the weird mechanical creations I doodled in my notebooks while I was supposed to be doing homework.
The Domani is powered by a K 1200 engine that puts 150 horsepower to the ground via a five-speed gearbox.
The three-wheeled vehicle is a custom designed torsionally rigid tubular steel frame with a structurally integrated sidecar frame, using the main components and parts of a BMW motorcycle.
It is hard to imagine a late-80s cyberpunk motorcycle without a front swingarm. The front suspension is a hub-centered setup. The rear has double-wishbone independent suspension. The main difference is wrapped in super radical aerodynamic bodywork that looks more like a spaceship than a sidecar rig.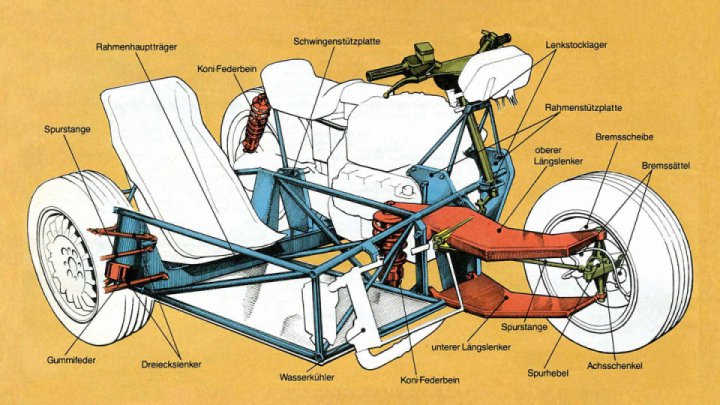 Despite it looks like a motorcycle, the Domani is definitely more a trike or three-wheeled car rather than a sidecar rig. The suspension and drivetrain gives the Domani very car-like handling, especially on the wide automobile tires with which it was sold. The trunk occupied the whole rear of the machine. The gas tank and fuel filler neck were placed between the rear wheel and the "sidecar". It was offered with an optional spoiler to complete the look. You could even get them turbocharged, which is just an extra layer of lunacy.
In February 1991, Michael Krauser died at the age of just 63 years as a result of his heart failure.
In total, about 100 Domani cars were produced.
Most of them were sold in Japan. And it is not surprising, given the love of the Japanese for cyberpunk, fur (manga and anime about manned robots), everything unusual and crazy.
And now some videos for the overall development
Pictures: